Attention all action-seeking Rovers!
 I'm back in Dubai and this time around I'm making it my mission to try all the adrenaline-packed activities the city has to offer. If, like me, you consider yourself a bit of a daredevil, these awesome extreme sports are sure to make for a fun day out. I quickly check into my base for the week, Rove Downtown Dubai, and immediately call some friends to join me on this crazy adventure of the holiday. Find out all about my thrill-seeking week in the UAE below…
BUNGEE JUMPING
Bungee jumping has long been on my bucket list of adventure sports. Feeling fearless and never one to back away from dizzying heights, I book in a session at Dubai Gravity Zone. We opt for the 'FAB' bungee jump set at a 160-foot platform. With a harness safely attached to my foot, I plunge through the air at a speed of 60mph towards the ground. The incredible feeling of my limbs loosening and mind clearing quickly takes over any initial jitters.
Need to know: Make sure you meet the criteria in order to bungee jump. Jumpers must be aged between 14 and 50 (above requires a doctor's note) and weigh less than 120kg.
Find it: http://bit.ly/1XoCzg0
SKYDIVING
Eager to push my limits even further, my friends and I book in for skydiving.
My Emirati friend Khalid tells me that the best place to visit is SkyDive Dubai located next to the Palm Jumeirah and Dubai Marina. Our plane climbs to 13,000 feet until we hit our drop zone. As the door opens, I summon up some courage with my legs dangling over the city and…jump! Twirling around the sky, I go into free-fall, plummeting towards the ground before my parachute opens and I glide to the ground while capturing epic views of the city. The extreme experience gives me an amazing bird's eye view of the city in all its glory – you might even spot Rove Downtown in the distance from way up there! If you're fearful of heights, skydiving might not be for you, but daring sports fans will love it.
Need to know: You'll need to be above 18 and weigh no more than 100kg to skydive.
Find it: http://bit.ly/1Q33cRH
ZIP-LINING 
I'm no stranger to zip-lining and have enjoyed this exhilarating activity on my travels to Costa Rica and through the jungles of Thailand. Next up? Dubai. Speaking to Ahmed from the front desk team at Rove Downtown, I discover that zip-lining is popular in the Emirate and located close to the hotel at Xline Zipline. I take the leap from 295 feet high off the W1 Tower in Downtown Dubai and whizz over The Dubai Fountain. Covering a distance of 1,800 metres, the exciting ride offers mind-blowing views of the Burj Khalfia and the Downtown Dubai neighbourhood.
Need to know: Anyone below 18 needs to be accompanied by a guardian. The weight range must be between 50kg and 110kg.
Find it: http://bit.ly/1qiI0SJ
Buy your tickets at The Dubai Mall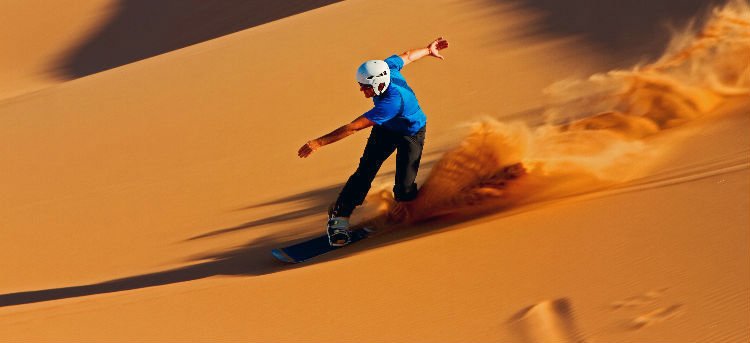 SANDBOARDING
Yep, you read that right, I'm told the latest wave of super sports to hit Dubai is sandboarding. Forget mountains and ski slopes, this unique experience takes place within the epic sand dunes of the Arabian Desert. I meet a group of fellow Rovers from Spain who share stories about sandboarding down Al Hamer – one of the world's steepest sand dunes. I'm sold and immediately contact an activity company to book in. At 1,000 feet, the sand dune, commonly known as 'Big Red', makes for a thrilling slide down. I'm more used to boarding snow, so it takes a few sand-surfs down to get into the swing of things. If motors are more your style, you can also ride the dune by 4X4 instead.
Need to know: Sandboarding is open to all.  
Find it: http://bit.ly/1UVJcZi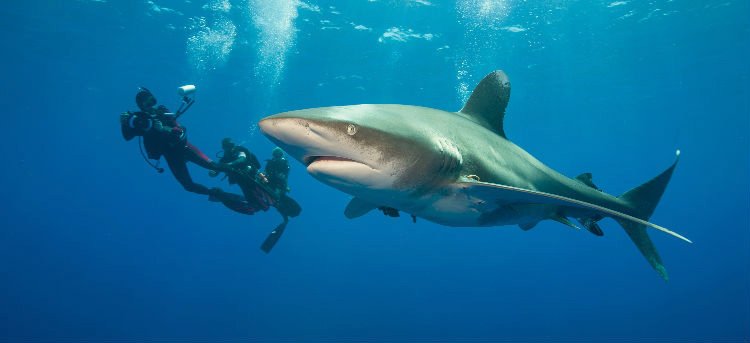 SHARK DIVING
To top off my daring quests, my friends and I look into some extreme water sports. We finally decide to dive with the marine world's ultimate predators, sharks. This adventurous activity is offered at The Dubai Mall right opposite Rove Downtown Dubai. Set amongst the hundreds of shops and restaurants, The Dubai Aquarium & Underwater Zoo is a 10-million-litre tank that ranks as one of the largest suspended aquariums in the world. I find out they also house the largest collection of Sand Tiger Sharks in the world. Supervised by a highly trained Dive Master, I come face-to-face with these extraordinary creatures, along with more than 70 other species in the tank. It's an aquatic experience to never forget and one I highly recommend for visitors to the city.
Need to know: Whether you're an experienced diver or not, the activity is open to all over the age of 10.
Find it: http://bit.ly/1qiI0SJ
Buy your shark diving tickets at The Dubai Mall
Happy Roving everyone!