Rove City Centre is located at the heart of the bustling Deira district, in Old Dubai. The neighbourhood is full of iconic city landmarks, busy alleys and images that remind us of Dubai's rich maritime heritage.
Keep reading to discover more about what Deira has to offer.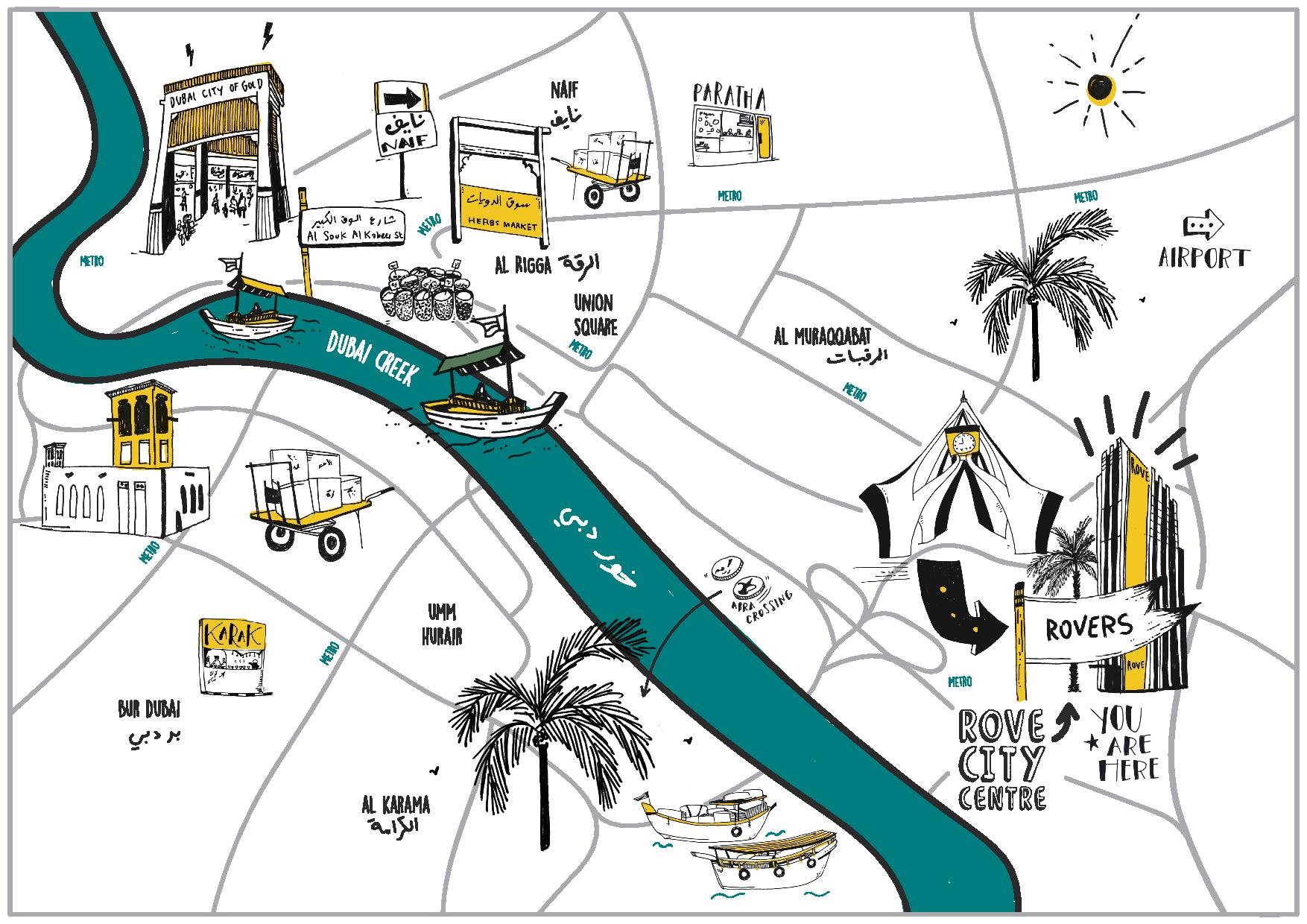 Deira Gold Souq
Another unmissable shopping and cultural experience is the Deira Gold Souk – a lively market spot filled with a vast array of jewellery shops offering diamonds, gemstones, silver and beautiful gold trinkets. Here, you will find an eclectic mix of large jewellery retail chains, as well as smaller boutiques and independent stalls which specialise in making intricate custom pieces, for the perfect souvenir or gift for family and friends.
Abra trips
One of the most popular and authentic ways to take in the sights of Deira is from a traditional abra boat on Dubai Creek – either on an hour-long cruise or simply crossing the water. These small motorised water taxis can hold around 20 people and offer the cheapest, fastest means of travelling between Deira and Bur Dubai.
Photo credits: Shaima Al Tamimi for Rove Hotels | Saleh Al Tamimi for Rove Hotels
From the Al Sabkha Water Taxi Station visitors can climb aboard an abra boat and cross Dubai Creek for just 1 Dirham, where they'll find the Al Fahidi Historical Neighbourhood packed with galleries, exhibitions and museums, including the Dubai Museum.
Explorers will also enjoy sunset walks along the Dhow Wharfage, where they can savour the vista of brightly-coloured boats and cargo carriers loaded with exported goods from all corners of the globe. Many of the dhows have now been converted into floating restaurants where visitors can enjoy an on-board feast to the sounds of live music and views of Deira at night.
Spice Souq
A must-see for every adventurer in Dubai, the Deira Spice Souk on Sikkat Al Khail Street is a bustling community packed full of bold colours, inspiring textures and exotic aromas. The souk offers plenty to explore and buy, from fresh herbs and spices to henna, accessories, homewares and perfumes, all tucked away in traditional narrow lanes lined by family-owned shops that have inhabited the souk since it first opened several decades ago.
It's easy to spend an entire afternoon browsing the spice stalls, taking in the countless mounds of multi-coloured spices and herbs such as saffron, cinnamon sticks and nutmeg and making memories to last a lifetime.
Al Naif

Photo credits: Saleh Al Tamimi for Rove Hotels
On Rove City Centre hotel's doorstep is one of Dubai's oldest communities, the ever-bustling Al Naif which was originally a camel market. Although today there are no camels in sight, it remains a culturally rich, authentic part of town best experienced at night. Full of authentic souvenirs in nestled-away shops, it is also popular for silk fabrics suitable for traditional Indian and Moroccan outfits and street-side eateries.
Fish Market
For an authentic and off-the-beaten-track experience in Dubai, Deira Fish Market is a vibrant hub of activity from sunrise to sunset, located on the Corniche Road.
Photo credits: Shaima Al Tamimi | Saleh Al Tamimi for Rove Hotels
Early risers can watch the hundreds of traders pulling in their morning haul, caught locally and further afield; whilst everyone will enjoy perusing the extensive variety of seafood, meat, fruit and vegetables on offer, or enjoy a delicious meal in and amongst the action.
Authentic food
Rovers can follow the locals' lead with an array of traditional food options beyond the amazing kebabs paired with freshly baked manakeesh or home-cooked Arabic rice. Find the famous parathas accompanied by karak tea at tea stalls, local gelato made with camel milk that can be found near Deira Old Souq Abra station, a popular Indian sweet dish Jalebi, chicken or mutton biryani, naan bread filled with lamb, delicious mandi, and China's hot pot concept – all in Deira.

Photo credits: Shaima Al Tamimi | Saleh Al Tamimi for Rove Hotels
Historical district

Photo credits: Saleh Al Tamimi for Rove Hotels
Deira is part of Dubai's historical district which is being developed today – for Emiratis to reconnect with their history as well as for visitors to explore the rich culture of the city. This is where the old residence of the Al Maktoum ruling family stands and witnessed the birth of His Highness Sheikh Mohammed bin Rashid Al Maktoum, Vice President and Prime Minister of the United Arab Emirates and Ruler of Dubai.
#ROVEAROUNDDEIRA