La Mer – Beach, Bustle & Bundles of Fun
La Mer by Meeras is a self-contained 'playcation' spot on the beach that overflows with eye candy, tummy fillers, sea splashing and street art. Our Rovers will find themselves part of an 'open-air canvas' surrounded by the works of internationally acclaimed artists and unique pieces of local talent at every step. To stay in Rove La Mer Beach is to dive down Dubai's very own rabbit hole of the weird and the wonderful; with out of this world cuisine, adventure water park, concept stores, luxury boutique entertainment and of course, the beach.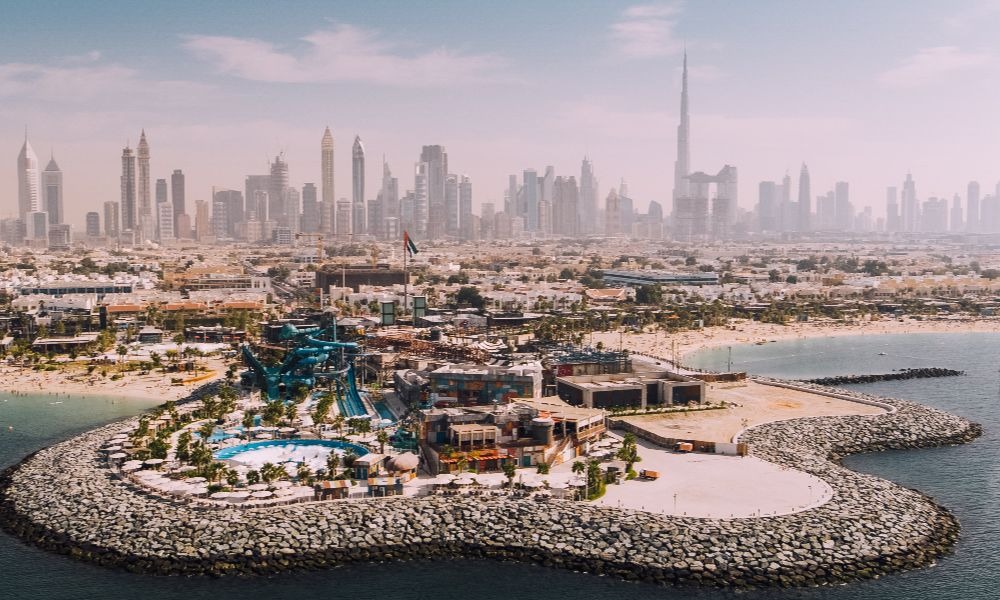 Sandwiched between a big city backdrop and sunsets that shimmer over the Arabian Gulf Sea, La Mer starts your Dubai adventure right where it's own began, nestled within the larger area of Jumeirah 1. This original centre of town is now home to our very first beachfront hotel, Rove La Mer Beach! An epic destination that neighbours the Dubai Financial Centre, The Dubai Mall, Dubai Opera House and even the Burj Khalifa, all a speedy 10 minutes away.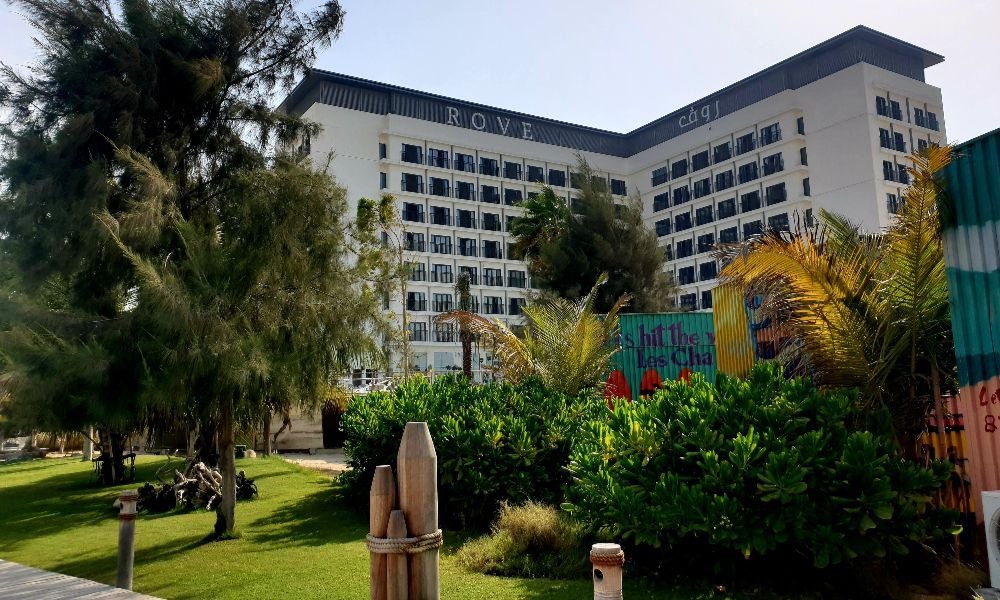 Roving Around
If you like shoreline strolls, La Mer offers 2km of sandy white beach with plenty of cafes and restaurants to fuel your way and should your feet become weary, you'll find a Rolls Royce styled cart to usher you home in style. When you're ready to burst out of your beach bubble, there are lots of transport links to connect you to the rest of the Emirate.
Our Rovers will have access to a complimentary a shuttle bus to transport them through a journey of local learnings from Rove La Mer Beach hotel to important landmarks around the hotel. Alternatively, the local Metro service which runs as the spine of Dubai will take you from one end to the other without making a dent in your wallet. It runs from Al Ras (literally translating to 'the head') all the way through to New Dubai and out to the Expo2020 site at the other end. Feel free to hop-on, or off, where you like with direct air-conditioned access to the 'Mall of the Emirates and the Dubai Marina to connect to the Dubai Tram to access the iconic Palm Jumeirah & JBR Beach. If you want to start your adventure by train, the Financial Centre is the closest Metro station to La Mer, just 10 minutes away.
Dubai RTA taxies are a-plenty around the city and you can hail them from almost anywhere. Additionally, rideshare apps such as Uber & the region local provider Careem can also be utilised for fast and comfortable connections.
Our Top 5 Things To Do In And Around Rove La Mer Beach
Deborah, the hotel manager has put together for you a list with plenty of cool stuff to see and do while staying with us at Rove La Mer Beach. Check them out below:
Have Fun! – Laguna Water Park / Hawa Hawa / Boutique Cinema
For those visiting with kids or those who are just big kids at heart, you needn't look further than your very own doorstep in La Mer. There's so much to rave about when it comes to family entertainment that it was hard to whittle it down. However, some of our favourites include the Laguna Waterpark with its very own simulator surf experience, slip 'n slides to make your heart race and the lazy river to soak up the sun. If you're more of a watersport than a waterpark enthusiast, La Mer offers everything from stand-up paddleboarding, Kayaking, jet skiing, fly-boarding, water-biking and more! Why not try this for a unique way to dry-off: Hawa Hawa – a whopping 1,800 km of inflatable dunes to bounce on till your heart is content. The Roxy Cinema offers a stylish and intimate, boutique setting for family-friendly wind-down evening entertainment– it's the movies, but not as you're used to.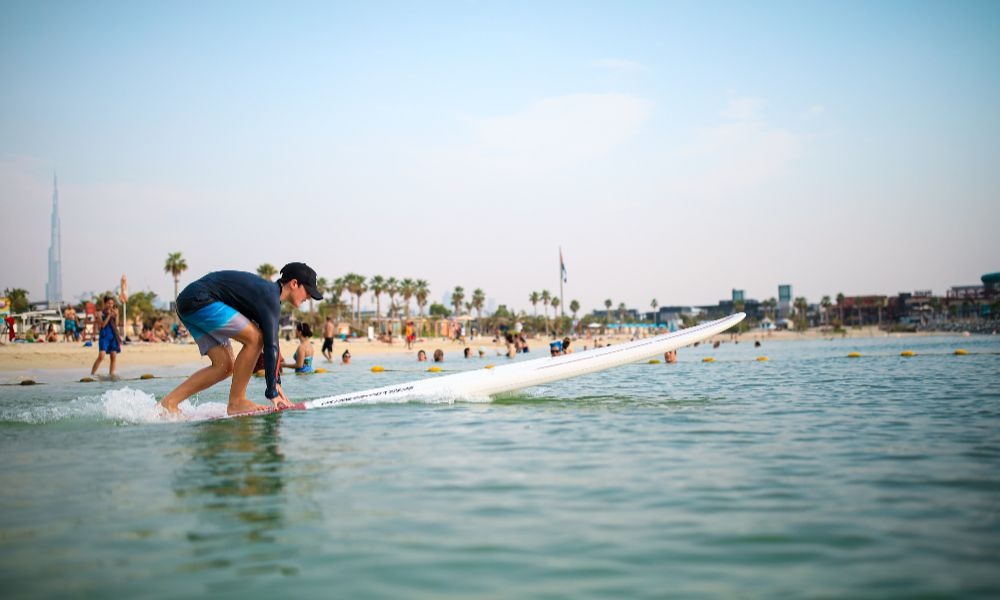 Dine – A World of Flavours from Around the World
For tastes that are made of make-believe wonder and fairy tale splendour, La Mer has an unbelievable array of over 30 different Café's & restaurants all with something unique on the menu. #Re-hydrate with some bubble tea, #refresh with fruit sushi or a Tepanyaki ice cream roll, #re-fuel with a rainbow spectrum of sliders and #re-live your Willy Wonker fantasy with the likes of liquid nitrogen-infused frozen Cheetos (don't knock it till you try it). For night-time frolics, Rovers can enjoy some 'fun and mischief' – the literal translation for the name of one of La Mer's vibrant licenced restaurant concepts with epic sunset views – or perhaps catch the match at the resident sports bar where you can talk, play video games, or just chill.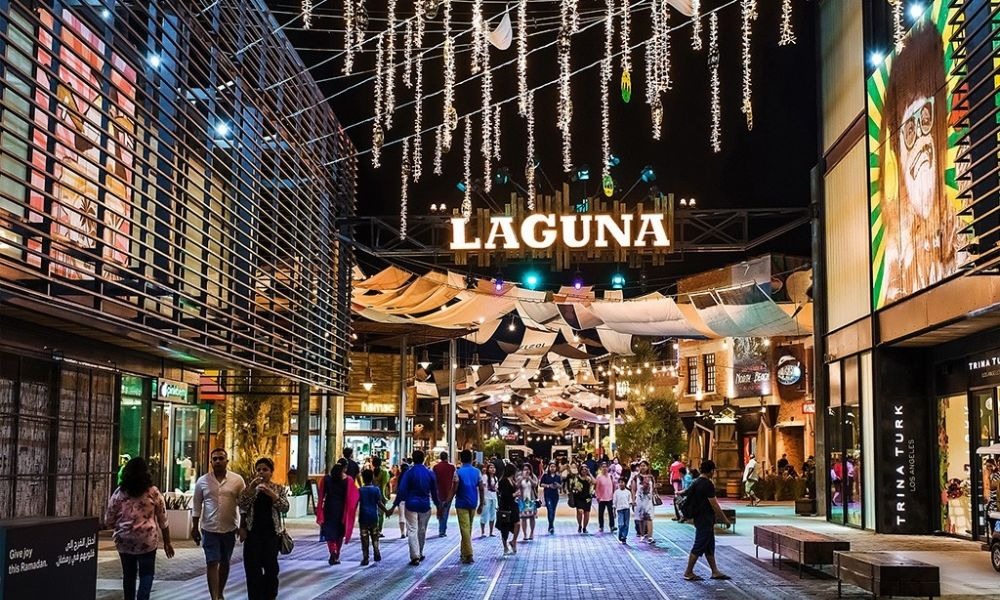 Sight See – Satwa, Dubai Mall & Burj Khalifa
Head to the biggest, the greatest, the Dubai trophy achievements that are The Dubai Mall and Burj Khalifa! Rove La Mer will be offering Rovers a *free* shuttle bus service to these iconic experiences that are a short 15-minute drive away. Once you've gotten your fill of the glitz and glamour, we'd recommend that you check out what's hiding behind them. Best known to Dubai dwellers as a living version of that kitchen draw, Satwa is the kind of place where you find everything you want and never knew you needed. Stroll through the busy streets filled with colour-bomb fabrics from afar, traditional Indian and Pakistani sweets, bargain homewares and budget-friendly tailors. If you're feeling thrifty, why not take along a picture of an item of clothing to copy and get the tailors to whip it up for you for a fraction of the luxury price tag the original comes with.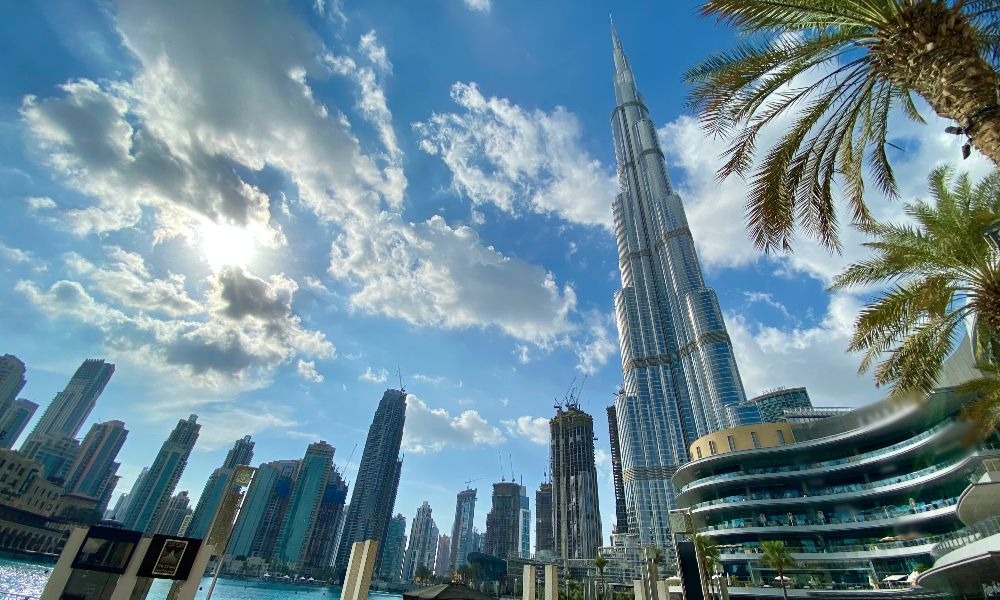 There's No Place Like Home
For the days you need to catch a breath, take a pew and rest your flippers, you needn't look further than Rove La Mer. Experience a Rover favourite at The Daily, our in-house café & restaurant famed for our abundant breakfast buffets and eclectic lunch menu. Add a pit-stop into your La Mer itinerary at the sea-front terrace at Rove for a #refuel before heading off to your next adventure, or grab a good book and switch-off to float in our pool with a view followed by a sunset stroll along the shoreline.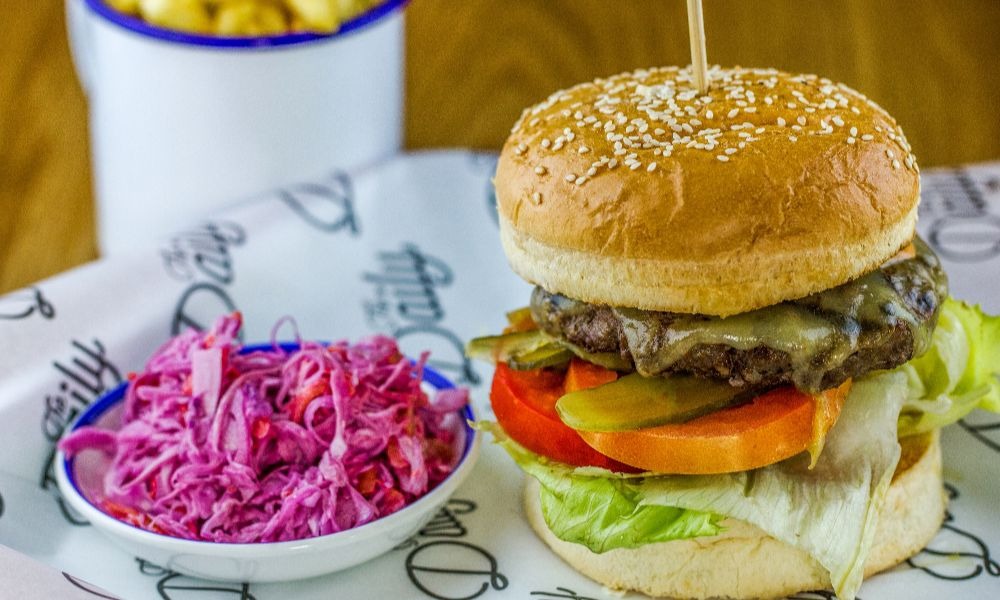 Discover Emirati Culture
Embrace the Emirati culture, its history, its modernity and the spirit of the union. Dubai has moved at record speeds the past 50 years, achieving what others only dreamed of and dreaming of things no one dared to think of. The Etihad Museum is a dedicated space that showcases the UAE's past, present and future. For the culture buffs amongst our Rovers, a visit to the Jumeirah Mosque will satisfy your curiosity for local traditions. With the motto 'Open Doors. Open Minds', all questions will be answered on a guided tour of this flagship landmark for cultural understanding. Enjoy some Emirati refreshments and as rich as the experience.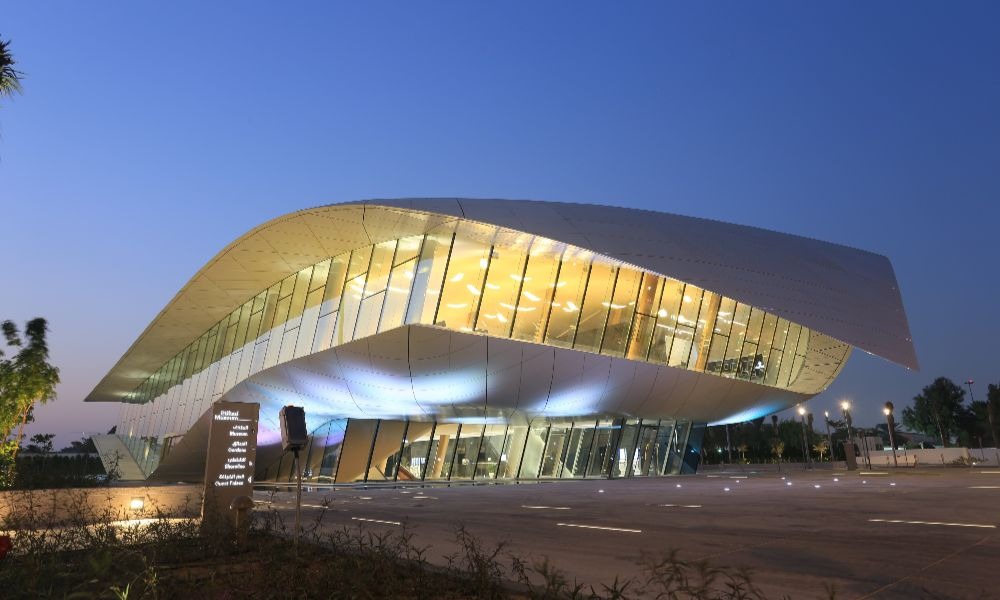 Stay at Rove La Mer Beach and you can enjoy all this and more, whilst our Rovesters set you out onto the adventure of a lifetime. Whether you want a springboard to launch into your Dubai adventure, or soft bed with sea views to relax in at night, Rove La Mer Beach has 366 comfy rooms to serve you. With free Wi-Fi access and staff in the know, you can prepare for an insiders view of Dubai mixed with all the modern glamour the UAE offers at affordable prices! Enjoy our first hotel to offer a sea-front pool and sun deck along with our very own local spot – 'The Daily', an all-day restaurant that serves international flavours with an outdoor terrace and beachside bites.
Book Your Stay the Rovers Way Here!