Attention all action-seeking Rovers!
Planning your next #adventure in Dubai? Discover the vibrant energy of the city full of attractions and futuristic architecture.
Keep reading to discover some hand-picked activities for adventurer Rovers visiting the city.
24 Hour Dubai Adventure Itinerary
7am – At.mosphere, Burj Khalifa
Watch the city wake up on Level 122 and enjoy the breakfast at the world's highest restaurant on the world's tallest building. Breakfast at At.mosphere in Burj Khalifa features savoury and sweet continental breakfast items including an exotic fruit, cold cuts and cheese selection and freshly baked French pastries.
Price: AED325 per person (with 35 per cent discount for guests with Emirates ID).
Timings: 7am to 11am.
10am – Al Seef:
Head over to Al Seef- a bustling waterfront development, full of cafes, restaurants and shops overlooking Dubai's historic creek. With architecture resembling the UAE's traditional houses as well as some modern outlets, Al Seef is designed to reflect the city's authentic heritage and stylish contemporary areas. If you enjoy this part of the city, we encourage you to visit the Al Fahidi District, one of Dubai's oldest and most authentic neighbourhood, which is located just a few minutes away.
Timings: 10am to 12am.
12am – Skydive Dubai:
Looking for an instant adrenaline rush? Then Skydive Dubai is just for you. The intense wait, a racing heartbeat, a surge of adrenaline, a strong gust of wind, before freefalling at 120 miles per hour above Palm Jumeirah!
Incredible experience and should be on everyone's Dubai to-do list.
Please visit the Skydive Dubai website for bookings and availability.
2pm – Rove Hotels:
Our Happiness Ambassador Happyness Chipote (that's his real name!) recommends a foosball session or a swim to refresh after all that fun.  Beat the heat with Rove's signature lemonade made with refreshing mint.
4pm – Safari ride:
Why not head out into the desert for an evening under the stars where you can discover Dubai's alternative nightlife. Forget the typical 'dune bashing' experience and enjoy an unforgettable star gazing safari where you will be given night vision binoculars to not only view the stars, but the chance to learn about the nocturnal creatures who call the desert their home.
Please visit the Arabian Adventures website for bookings and availability.
7pm –  Hub Zero
Head back into the city and to City Walk's Hub Zero and be transported to a state-of-the-art indoor entertainment destination with a total of 18 thrilling attractions, rides, virtual reality and experiential zones.
Don't forget to hang your luggage tag on the Rove wall before heading off to kick start your next adventure.
Price: AED250 per person 
Timings: 2pm-12am. 
Bonus – Hatta Dam
An alternative way to spend your day is a quick drive to Hatta Dam, a calm respite from the busy and buzzing city of Dubai. Surrounded by mountains and filled with stunning turquoise water, it's even a stark contrast to the desert sands you will pass en-route to Hatta. Drive your car along the dam, hike a bit between photo stops, and spend some time soaking up the natural beauty of the mountainous area.
Hatta Dam is approximately 137 km from the city.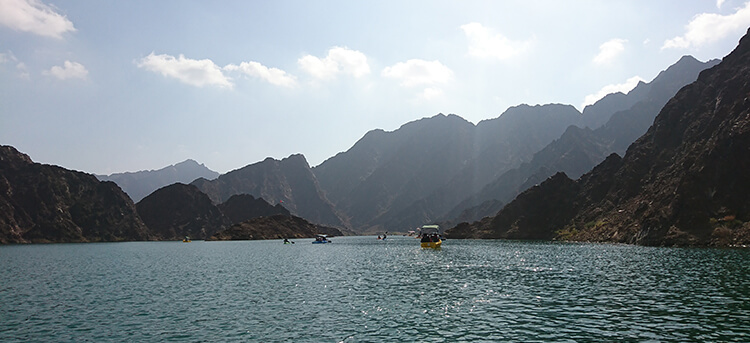 Prices and opening times displayed are as of February 2018 and might have changed at the time of reading this article.
24-hour itineraries: Alternative Shopping
24-hour itineraries: Happiness