Dubai's Ever-Expanding Art Galleries
Hi Rovers,
As I write to you I'm currently on a plane travelling from Dubai to London. With a few hours still to go until arrival I thought I'd jot down and share a few of my favourite art spots to visit in the Emirates.
I have been to the Emirates several times before and on my last trip to the city I caught Art Dubai, an annual fair that presents a diverse line-up of galleries and artists from the UAE and across the globe.
On this trip, I'm keen to show my friends the Middle East's burgeoning art and culture scene, from hidden warehouse galleries to heritage photography exhibitions.
We will be staying for five nights and have booked into Rove Downtown Dubai, located in the centre of the city and close to the galleries and cultural neighbourhoods. A classmate recommended the hotel and knowing my love of all things art-related, raved over the hotel's own impressive collection of local art.
A quick look at the hotel's Instagram page (@rovehotels) confirms my cultural expectations. Inspired by the UAE's heritage and local community, the snapshots show a diverse selection of fun pieces to discover throughout the hotel, including 3D text installations, digital art and unexpected sculptures.
I'm most looking forward to seeing the works by Middle Eastern talent such as photographer Alia Al Shamsi, Emirati illustrator Khalid Mezaina, Bahraini artist Nasser Alzayani and digital illustrator Dina Sami.
A truly creative place to stay, Rove Downtown Dubai is also said to showcase murals throughout the hotel with a series of expansive stencil interventions and street-inspired art works. It seems our artistic tour of the city will start as soon as we check into the hotel!
Our first stop on the trip will be the Al Fahidi Historical Neighborhood. This cultural hub is tucked away in the historic old town of the city and is well known for its many galleries and museums, including the Dubai Museum and the Majlis Gallery – an established fine art gallery. This picturesque district features maze-like buildings filled with lots of little galleries and exhibitions by regional artists, along with craft shops and cafés.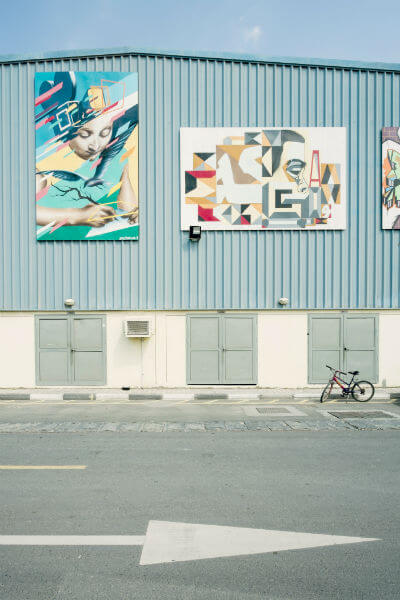 On the second day of our holiday, my friends and I plan on heading to Al Quoz, an industrial part of the city located just 15 minutes from Rove Downtown Dubai. This urban quarter is home to Alserkal Avenue, the region's foremost arts zone. The space was founded back in 2007 and I was lucky enough to visit the numerous galleries and exhibitions on my last trip to Dubai. I'm told there have been big expansions to the area, which now spreads across 50,000 square feet to include not-for-profit artists' studios, project spaces, quirky concept stores and community-led cultural initiatives, as well as hip foodie outlets.
I'm excited to head back to one of my favourite spots in Dubai, Cartoon Gallery in Alserkal Avenue. This one-of-a-kind creative haven showcases a multi-generational mix of regional and global artists specializing in cartoon art – visitors can expect plenty of colourful animations, illustrations and caricatures.
My friends and I are also hoping to expand on our skills during the trip and try one of the gallery's 2D animation and illustration workshops hosted on the upper floor of the space.
One can't go to Dubai and not stop-by the bustling galleries in Dubai International Financial Centre. Situated just a stone's throw from Rove Downtown Dubai, this upmarket district is brimming with prominent galleries including Ayyam Gallery, Cuadro and Opera Gallery. It's definitely worth enquiring in advance as these galleries often host new and intriguing exhibitions that are a must see in the city.
The Dubai Design District or d3 as it is often referred to is also on our list. I'm told that d3 is an impressive area bringing together the region's leading fashion designers, artists and creative thinkers. The vision of His Highness Sheikh Mohammed Bin Rashid Al Maktoum, Vice-President and Prime Minister of the UAE and Ruler of Dubai, the space offers a packed programme of workshops, entertainment, talks and exhibitions showcasing innovation in all it's many creative forms.
All this, and just a stones throw from the hotel. Art lovers – you're in for a treat.
See you there Rovers,
Becky