Hi Rovers,
In just a few days I will be jetting back to my hometown of Dubai for a weeklong vacation. I'm currently studying fashion history at a college in central London, and with the latest semester complete, the summer break will be the perfect opportunity to catch up with family and seek out inspiration for my upcoming school projects.
Follow me on my journey as I explore my childhood neighbourhood of Deira, one of the oldest parts of Dubai and epicentre of some of the city's best souks, galleries and parks.
My older brother also lives in Deira and tells me all about the neighbourhood developments, from new foodie openings to Rove City Centre, a trendy modern hotel in the heart of the neighbourhood. Positioned between new and old Dubai it will act as the ideal base for visiting friends and family across Dubai.
On my first day I wake up and immediately head out for cup of my favourite Turkish coffee at a little café nestled along the bank of the Dubai Creek. From here you can also hop aboard a traditional abra boat at the Al Sabkha Water Taxi Station to cross the creek or simply enjoy the sights on an hour-long cruise.
I stroll over to the Deira Spice Souk on Sikkat Al Khail Street armed with my camera and sketchbook to jot down ideas and sights that might spring any creative ideas for my college projects.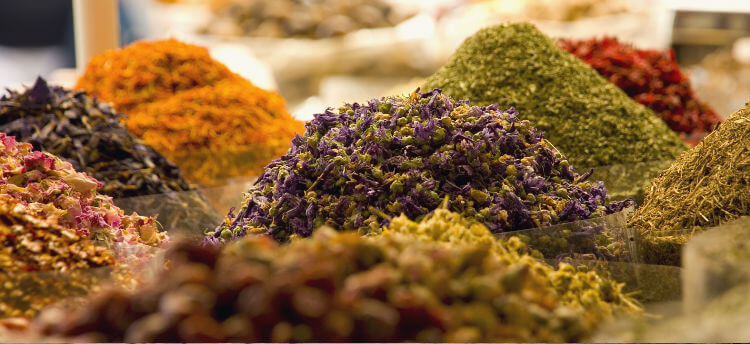 There is plenty to see and buy in the souk, from fresh herbs and spices to accessories, homewares and perfumes, all tucked away in the traditional narrow lanes.
Many of the little shops are family-owned and have been here since the souk first opened several decades ago. I spot a few familiar faces and stop to greet an old friend named Aaliyah, who I've known for years. She owns an authentic henna stall in the souk and I can't resist sitting down to have my hands painted with the intricate pattern. The dye lasts up to two weeks so I'm hoping it will still be evident to show my friends when I fly back to London.
From there, I browse a few of the spice stalls, drinking in the countless mounds of multi-coloured spices and herbs such as saffron, cinnamon sticks and nutmeg. You can also pick up sweet-scented dried rose buds, which my mother loves to place in bowls around our house. The bold colours, array of textures and exotic aromas never cease to inspire me.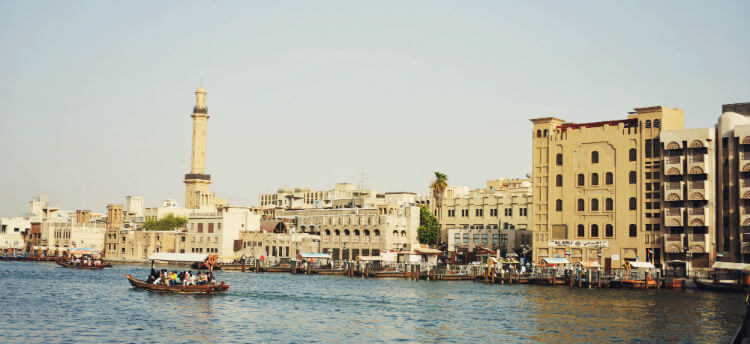 Cross the water on an Abra boat for just 1 Dirham and here you'll find the Al Fahidi Historical Neighborhood, a cultural hub packed with galleries and museums, including the Dubai Museum, which is an interesting spot to check out old photos of Dubai and antique artifacts. This neck of the woods is a wonderful area to wile away an afternoon – I could quite happily get lost among the winding maze-like buildings for hours, wandering around all the little craft shops and exhibitions. And I can never resist stopping by for a slice of mouth-watering date cake at Arabian Tea House, a quaint café within the Meena Bazaar. It's a real hidden gem in the city!
In the evenings, I love meeting up with my friends and venturing out to Al-Mamzar Park. This grassy beachside park is just a 5 minute drive from Rove City Centre which is best hotels in Deira Dubai and has plenty to offer, from a swimming pool to playgrounds, water sports rentals and much more. We usually grab an area near one of the many barbecue pits and cook up a storm in the great outdoors.
A few days later, my brother and I head to the textile souk, located just a few steps from the spice souk in Deira. Here we're met with rows of shops bursting with metre upon metre of every fabric imaginable, from gold thread brocades to velvets and silks in every print and shade under the sun. After a few hours of light-hearted haggling, I walk away with a hefty selection of textiles for my fashion project.
Later on in the evening we wander over to the Deira Gold Souk – a lively market spot filled with dozens and dozens of jewellery shops all offering diamonds, gemstones, silver and plenty of beautiful gold trinkets. Here you'll find large jewellery chains such as Damas, but I like to visit the smaller boutiques and independent stalls to get custom pieces made. After stopping by a few shops, I find the right price and pick up a delicate rose gold necklace with my name in Arabic along with two more to gift my friends back in London.
I spend the next few days soaking up all the neighbourhood has to offer, from meals at the ever-bustling Deira Fish Market to sunset walks along the Dhow Wharfage savouring the vista of brightly-coloured boats and cargo carriers loaded with exported goods from all corners of the globe. Many of the dhows have now been converted into floating restaurants where you can enjoy a feast on-board to the sounds of live music as you cruise the water – it's a fun experience and you'll get a great view of Deira's twinkling waterfront lights at night.
The time to leave has arrived all too soon, but stocked with fresh ideas and finds, my creativity has been recharged and I'm ready to tackle the new term ahead.
Here's a map to guide you around! See you soon Deira!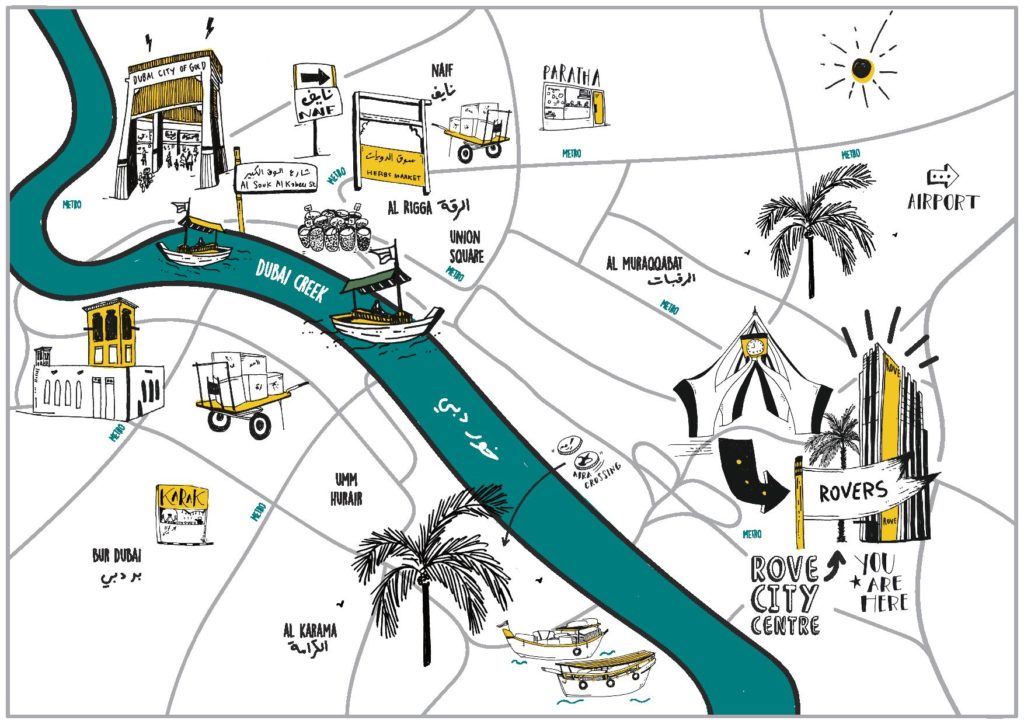 Zeina