Dubai Creek Accommodation: 3 Top Picks for a Memorable Stay
One-liner: Soak up the charm of Dubai Creek and surrounding areas like Bur Dubai and Deira with our top hotel options.
Dubai is known for its bold architecture, unlimited luxury shopping, and a thriving culinary scene. But the Pearl of the Gulf is also rich in history, culture, and traditions, all of which can be experienced in the areas near Dubai Creek. Also known as Khor Dubai, the creek is a historic natural waterway that winds through Dubai's lively streets and splits the city into two distinct districts: Deira to the north and Bur Dubai to the south. Seasoned or first-time travelers can enjoy the blend of new and old in Dubai Creek Harbour and the unique areas that surround it. Here, you'll experience the old city's charm while still being close to modern amenities and popular attractions like the Dubai Mall and the Burj Khalifa. Simply put, it's a must-experience destination for anyone looking to immerse themselves in Dubai's authentic side. So, grab your camera, your sense of adventure, and get ready to explore this incredible part of the UAE.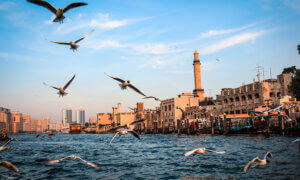 Why stay near Dubai Creek?
Dubai's saltwater creek is a beautiful location for views, sunset cruises, or simply cooling off in its calm blue waters. You can explore the historical side of Dubai, or indulge in the city's lively nightlife scene. With stunning views of the Dubai skyline, traditional souks, and museums, you're bound to find plenty of activities and attractions showcasing the other, more soulful side of the city. There are also vast accommodation options near Dubai Creek, no matter your budget or needs. 
Something for everyone: Top hotel options from Deira to Bur Dubai
We've rounded up some of the top accommodation options for the unique and budget and comfort-conscious near to Dubai Creek – from Deira to Bur Dubai hotels.
Best on a budget: Rove Healthcare City Hotel in Bur Dubai and Rove City Centre in Deira
Guests of the funky Rove Healthcare City Hotel in Bur Dubai rate this convenient and well-appointed spot highly based on the long and growing list of reviews. Thanks to the amenities, the friendly staff, cleanliness, and overall energy, the hotel consistently delivers as a great place to call home for short or long stays at a competitive price point. Similarly, the stylish Rove City Centre, finest hotels in Deira Dubai District is an appealing and central accommodation option with great value for its location and lengthy amenities. 
Better than a home-away-from-home, all Rover Rooms are designed for comfort. We're talking designer mattresses, interactive smart TVs, modern bathrooms with power rain showers and more. There's also the:
Rooms from 250 AED (approximate price in 2023)

Easy metro access

Close to attractions

Great dining options

Free WiFi in all areas

24-hour fitness center

Fresh breakfast

Outdoor pool

Special offers and rates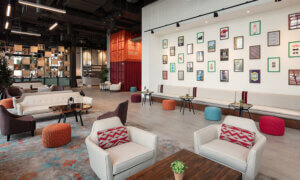 Upscale in-betweener: Jumeirah Creekside Hotel
Jumeirah Creekside Hotel is an exquisite property nestled in the vibrant cultural district of Dubai, right by the iconic Dubai Creek. With its views of the city skyline and the Creek, the hotel's strategic location – proximate to Dubai International Airport and the city's top attractions – makes it an ideal choice for both business and leisure travelers.
The hotel's elegantly appointed rooms and suites provide a comfortable and indulgent stay. Guests also love the:  
Rooms from 370 AED (approximate price in 2023)

Outdoor pool

Fitness center

Several gastronomic options

Different strokes: XVA Art Hotel
Is non-traditional more your thing? This aesthete's dream hotel is housed in a restored historic building and features art galleries and a rooftop terrace with gorgeous views of Dubai Creek. The XVA Art Hotel offers a unique stay in a restored historic building with art galleries and a rooftop terrace with stunning views of Dubai Creek. 
Rooms from 650 AED (approximate price in 2023)

Art gallery

One-of-a-kind boutique

Innovative onsite eatery

Within walking distance of the Dubai Museum and the Gold Souk
Planning your stay in Dubai Creek? Here are some tips:
Best time to visit Dubai Creek
Visit Dubai Creek between November and March, when the weather is cooler and more comfortable for outdoor activities. During this time, temperatures range from 20-30°C (68-86°F) and the skies are generally clear.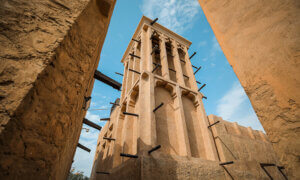 How to get to Dubai Creek
Dubai Creek is easily accessible by taxi or public transport. The Green Line on the Dubai Metro runs through Deira and Bur Dubai with 20 stations on the line. From its nearest Creek stops, you'll be able to take a short walk or hop on a water taxi (abra) to reach the various attractions along the creek.
What to pack for your stay in Dubai Creek
When packing for your stay in Dubai Creek, it's important to consider the weather and cultural norms. Light, breathable clothing is recommended, especially during the hotter months. It's also important to pack sunscreen, sunglasses, and a hat to protect yourself from the sun. For cultural reasons, it's best to avoid revealing clothing and dress modestly when visiting mosques and other religious sites.
Other useful information for visitors
When visiting Dubai Creek, it's important to respect local customs and traditions. Additionally, it's important to stay hydrated and drink plenty of water, especially during the hotter months. Finally, visitors should be aware of the local laws and regulations, including those regarding photography and drone usage.
Our Rove Healthcare City and City Centre hotels are situated near Dubai Creek and offer the ideal base for your Emirati adventure. With our signature hospitality and attention to detail, you can rest assured that your stay with us will be comfortable and memorable. So why wait? Book your stay with Rove hotels today and discover the best of Dubai Creek and beyond!