Jebel Ali is a gem of a neighbourhood in Dubai. While many tourists may flock to more well-known areas of Dubai, this port district is a gem with many exciting opportunities for guests. Here's a look at our Rove hotels in Jebel Ali for close access to this bustling harbour with so much more to offer than meets the eye. 
What to expect in Jebel Ali
Jebel Ali may be best known as an industrial-free zone, with the largest seaport in the Middle East. It also offers tourists seeking the path less travelled a host of sporting and beachside activities. When you stay in Jebel Ali, you'll be privy to all the wonders of Dubai while retreating to the reprise of the inner city. For example, if you fancy a seaside escape, you'll be around the corner from Dubai Marina. You'll also be in close proximity to the pulsating Downtown Dubai neighbourhood. 
In Jebel Ali, you'll find the likes of the Jebel Ali Golf Resort, the Jebel Ali Shooting Club, an equestrian centre, and its own beachfront. This is a destination that offers you a true break from the city, though it still provides travellers with all sorts of exciting experiences – there is truly something for everyone. 
Avid shoppers will enjoy visiting Ibn Battuta Mall and the Festival Plaza for great deals and high-street brand names alike. You can also shop around at the nearby Dubai Outlet Village for special prices on luxury items. 
Foodies can visit the Jebel Ali Recreational Village, perfect for a casual meal and a movie, plus a round of tennis or a few laps in the pool. There is also the Food Truck Stop at Last Exit with a dystopian design from the world of Mad Max.
One of the main attractions in the Jebel Ali neighbourhood is the selection of thrill-seeking adventure attractions. Enjoy the collection of four distinct theme parks at Dubai Parks and Resorts, including Bollywood Parks Dubai, Legoland Dubai (and Legoland Water Park), Motiongate Dubai, and Riverland Dubai. 
Hotels in Jebel Ali
Rove Hotels is a well-known and loved collection of hotels in Dubai. If you're looking for hotels in Jebel Ali, look no further. To be as close to this neighbourhood as can be, check in at Rove Expo 2020 or Rove At The Park. 
Rove Hotels offer guests a comfortable stay, with all of the amenities and conveniences a modern-day traveller requires. From flexible check-in and check-out times to a 24-hour gym and on-site restaurant, you can rest assured that all your needs are met. Your Rover Room includes a designer mattress and mini-fridge that is perfect for storing your midnight snacks. 
Rove Expo 2020 is situated in the heart of Dubai's latest innovation hub, Expo City Dubai,, at the southern part of Jebel Ali. The new district is a smart city that has come to life following the global Expo 2020 event. It serves as a sustainable hub and mixed-use community. It will be driven by technological innovation in a futuristic landscape, becoming home to Artificial Internet over Things (AIoT), blockchain and 5G technology.
Rovers will be immersed in its collaborative workspaces, sporting tracks, greenery, and a number of cultural and leisurely attractions. Expect to set your sights on the Al Wasl Plaza, a true icon of architectural mastery right on the doorstep of the hotel. Business travellers will be conveniently located just steps away from the Dubai Exhibition Centre where events, conferences, gala dinners, exhibitions, award ceremonies, and product launches are set to be hosted.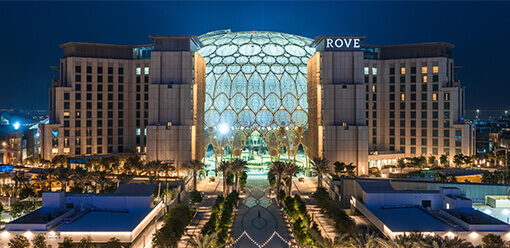 Rove At The Park is a family-friendly hotel on the outskirts of Jebel Ali. You can't get much closer to the steamroll of roller coasters and slip-and-slide rides of Dubai Parks and Resorts. It's also close to the Dubai Outlet Village, where you can bag designer goodies at discounted prices. JBR Beach is also nearby, featuring the sea, sun and sand of the Arabian Gulf coast. 
If you're an avid gamer, you're in for a very special treat. Rove Hotels has partnered with ViewSonic Gaming and Playtonia to offer guests the ultimate gaming experience with our Gamer Caves! Get ready to level up in the likes of Valorant, GTA 5, Dota, and CS GO. 
Rove At The Park's Gamer Caves are fully equipped with a desk, ergonomic gaming chairs, and a high-tech desktop computer with all the trimmings. Check in, get connected and chat with other gamers via the state-of-the-art headsets.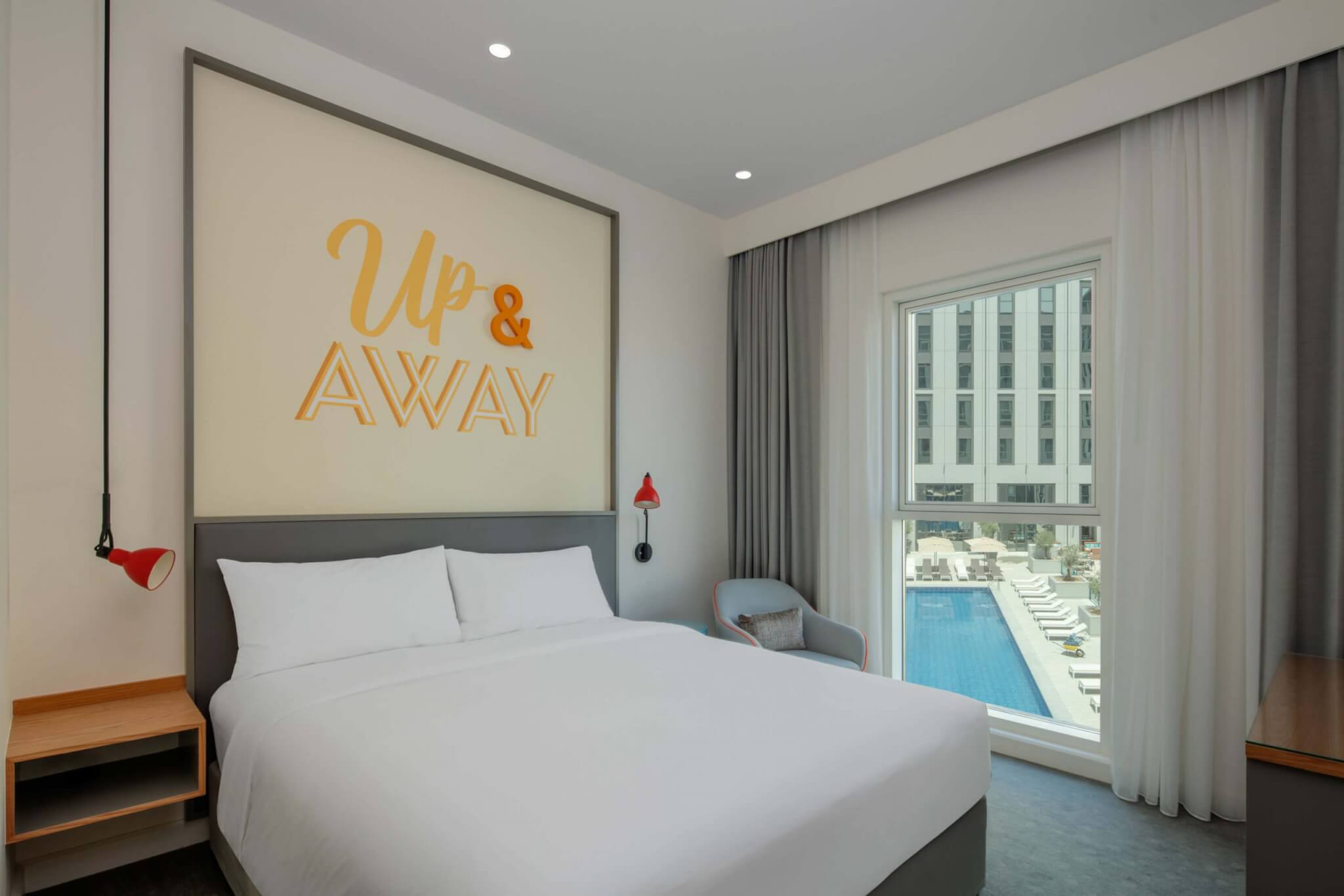 Stay near Jebel Ali with Rove Hotels
Now that you've got your pick of Rove hotels in Jebel Ali, it's time to pack your bags and get ready to explore this exciting gem of a neighbourhood.