The brand pledges to sow one tree per every room booked during the COP28 dates – 30th November to 12th December
Rove Hotels is partnering with W&A Consular and with Eden Reforestation Projects in planting the trees, as they aim to achieve the milestone of at least 28,000 trees planted before the end of 2023.
Known for its strong focus on sustainability, with this initiative, Rove aims to take things to the next level in support of the UAE's efforts towards a greener event.
Rove Hotels, one of the region's most recognisable lifestyle hospitality brands, is excited to unveil a substantial sustainability initiative in the lead-up to COP28 UAE — a global event for transformative climate action scheduled from November 30th to December 12th. Embracing its commitment to sustainability, Rove Hotels has committed to planting at least 28,000 trees by year-end. A tree will be planted for each room booked during the COP28 period.
With almost 3,500 hotel rooms across the city and the only hotel at the COP28 site – Rove Expo 2020 – the homegrown brand is expected to host many summit attendees. As such, Rove is conscious of its important role in making the event a success and aims to be at the forefront of UAE's hospitality sector in terms of sustainability.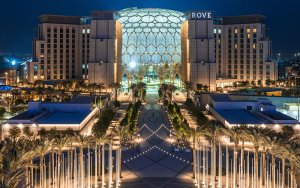 To ensure the initiative's success and credibility, Rove Hotels is planting with Eden Reforestation Projects (www.edenprojects.org), a reputable NGO devoted to ecosystem restoration and climate change mitigation, who will help carry out this ambitious undertaking. Eden Reforestation Projects collaborates with local communities to plant trees on a massive scale, generating employment, safeguarding ecosystems, and combatting climate change.
Another key partner in the launch of this initiative has been Rove's valued client W&A Consular. The company, which prides itself in being carbon-neutral, has played an important role in the conceptualisation of this initiative. As part of their #GreenAtSource project they will also be planting trees for every booking they make at Rove on behalf of their customers. W&A Consular has already supported the last 3 COP summits and many other high-profile events worldwide.
William Fison, the founder of W&A Consular World providing consular services to world leaders and NGOs including for COP summits, remarked "this is a huge step forward for the vision we started implementing at COP26, that is #GreenAtSource. This is the biggest commitment to date for this not-for-profit initiative which aims to plant 1 million trees by COP28. For more information search #GreenAtSource."
The Rove brand boasts a strong track record of sustainability initiatives, a testament to its commitment to responsible hospitality and support of the UAE's Net Zero 2050 goal. All Rove Hotels have attained the prestigious Green Key certification, symbolising their dedication to sustainable practices within the hospitality industry. Furthermore, Rove Hotels is an active member of the Sustainable Hospitality Alliance and proudly emerged as the first hotel group with all hotels meeting Dubai Tourism's stringent sustainability criteria.
Paul Bridger, the COO of Rove Hotels, expressed enthusiasm, stating, "We are thrilled to announce this initiative in which we will plant at least 28,000 trees by the end of the year. This project reflects our determination to impact the environment and support the UAE's efforts positively. By planting trees for every booking, we aim to inspire others to join us in the fight against climate change."
For more information, please visit www.rovehotels.com
For more information about #GreenAtSource, please visit www.waconsular.world
Connect with Rove Hotels on Facebook and Instagram
For enquiries, call +971 4561 9999 or WhatsApp +971 50 517 6833