The rise of the coworking phenomenon took the world by storm around 2014, before that it was but a mere glimmer in the 9-5-er's eye. Little did we know back then, that this 'fancy-free' work style would become the cornerstone for much of Dubai's creativity and indeed the saving grace of 2020. There are many different ways to cowork, but no matter how you do it, coworking shares the common ethos of community, collaboration, accessibility and (hopefully) productivity.
Dubai's Coworking Community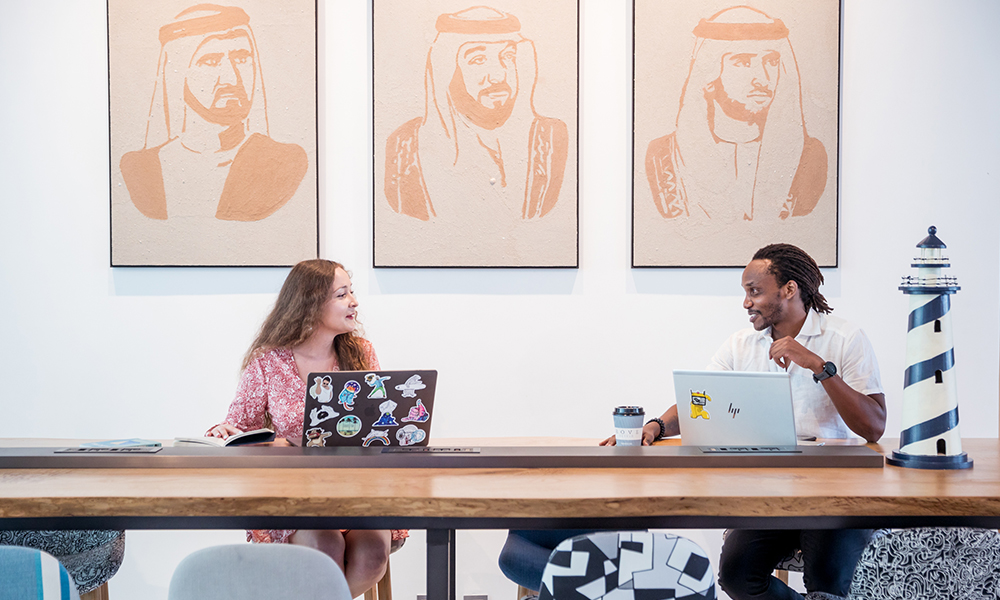 Originally, coworking in Dubai offered an alternative to the self-employed, freelancers and solopreneurs who'd otherwise be working from home with the fridge calling their name, their bed whispering sweet nothings and no one to back-and-forth with on those 'light bulb' moments. But with the world-shift of 2020, the coworking landscape is changing. For many corporate organisations traditionally bogged down with rigid dress-codes, work hours and water-cooler gossip, lockdown proved that remote working is not only a viable possibility, but also aligns with the new-world culture of social distancing; avoiding lengthy, overcrowded commutes and busy lift queues in high-rise office blocks.
Today, you'll find Dubai's coworking spaces putting roofs over the heads of start-up tech geniuses, lone wolf graphic designers and white-collar workers alike. At the very least, when you cowork at Rove, it means no more office politics, ceiling panels, strip lights and grey felt desk dividers. As I'm sure you're aware, grey and dreary is not a part of our vocabulary!
Rove's coworking options are vast and varied! They erase pricey fixed memberships and long-term commitments with options that offer the flexibility to pivot. Our mix of coworking spaces around Dubai are designed to suit all shapes and sizes at little to no budget. Whether it's unique locations or onsite bonus offerings, Rove aims to nurture your ambition, encourage your creativity and provide a community of knowledge & unlimited possibilities for skill-sharing. Here is a little of what you're in for when you use our work spaces:
Get in the [work] Zone
Productivity and motivation can be a fickle thing and chasing it can get tiring, having the option to change it up now and then goes a long way. Rove's thrown in a load of options for coworking spaces so that you don't get buried in the humdrum of the day.
Handle all your business' heavy lifting from one of our Mac Benches! Located in a dedicated well-lit area, close to the check-in desk at any Rove hotel, our Mac desktops are on high-benches and ready when you are.
Keep it free and easy in one of our lobbies. Throw your laptop on your knees, take a call or breakout with a team member. Each of our lobbies are embellished with local art and comfy seating options to inspire your creativity.
Get that email sent with a side salad and ice tea at The Daily, packed full of plug sockets, varied seating and table service. Our more than affordable breakfast is a big hit amongst our Rovers, coworkers and pretty much anyone who is passing by between 7-11 am. Stay all day and #refuel at leisure, we'll keep you energised so that you can keep the dream alive.
Hireable Office spaces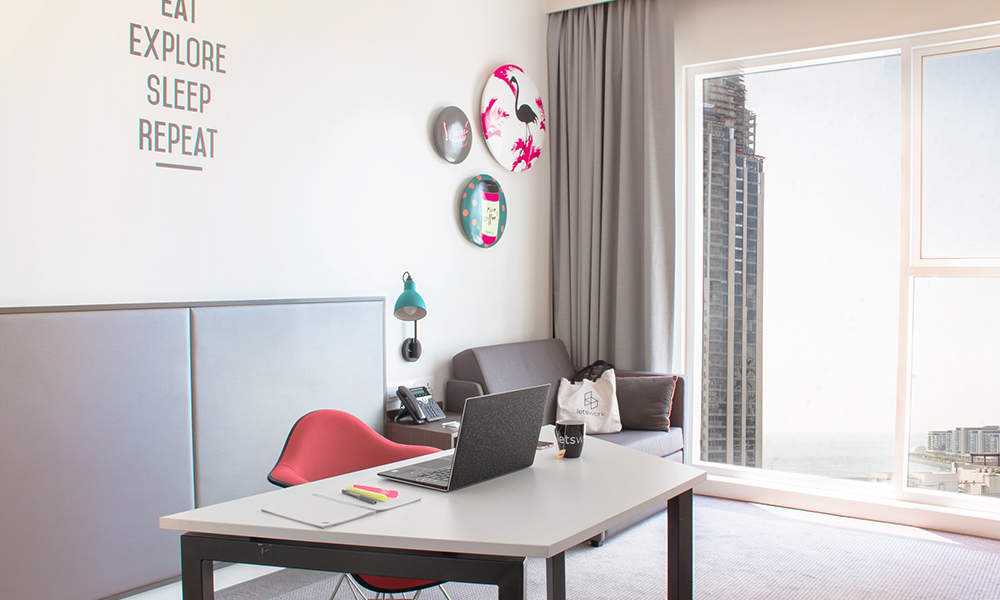 While many of us have reverted to work-from-home lifestyles that (let's face it) are not always work-friendly, Rove launched the Hotel Office solution! Converting rooms into an office space with a desk, coffee ordering, and high-speed internet, we've managed to save the day with your very own private office for the day.
If you need to get the team back together or call in a client-or-two to show them the ropes, our hireable meeting rooms come equipped with Smart screens, customisable desk set-ups, coffee & tea stations and a spot of golf putting in the hallway for fun.
Podcast StudioGot something to say? The Rove Podcast Studio, located at Rove Downtown is a self-service room fitted with easy to use, podcast-ready hardware. Promote your business and share your ideas at Rove with complimentary tea and coffee to keep your creative juices flowing. Book it now via events@rovehotels.com or call +971 4 561 9099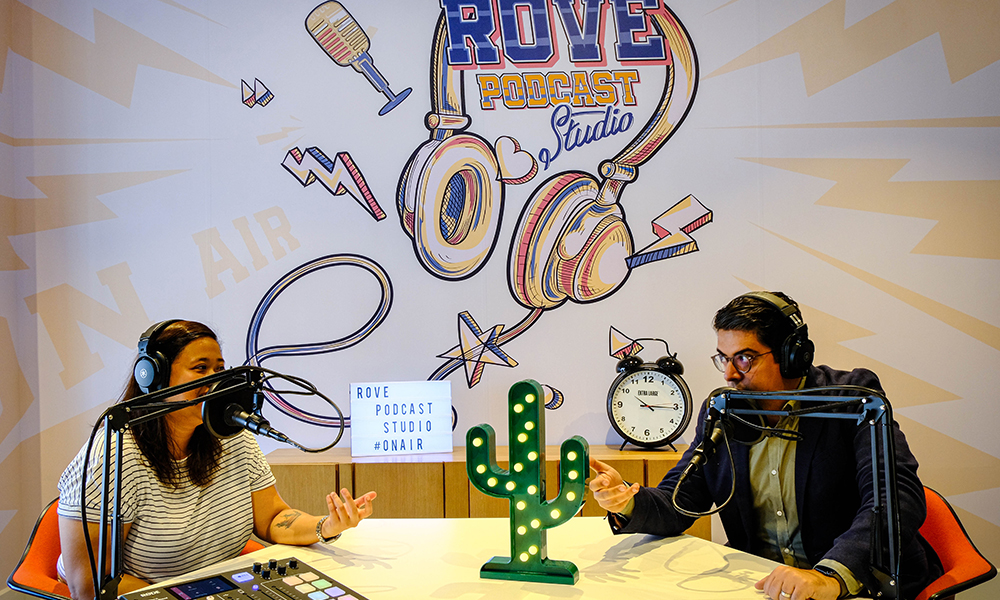 Unique LocationsOne of the best things about Rove Hotels is how well rooted we are throughout this vibrant city, making our locations accessible and your coworking lunch breaks worth the leg-stretch for a stroll around the neighbourhood. Enjoy the palm-lined promenade at Rove Dubai Marina, cram in some prep at the 
Letswork at RoveOriginating at Rove, Letswork has grown to be the UAE's largest co-working community with over 40 pop-up co-working spaces across the country. Letswork takes venues with cool urban interiors; good Internet, available parking and strong coffee so that you get to enjoy them as affordable alternative workspaces for their members.All of our hotels are available to use as coworking spaces in collaboration with Letswork. Not only will we supply you with copious amounts of tea & coffee, our water is free of charge and any food ordered comes with a tasty 20% discount.When you said yes to coworking, so did a whole load of other like-minded people who are all looking to increase their productivity and (as a handy extra) their network. Rove regularly hosts workshops, webinars, panel discussions and meet-ups with Letswork that you're welcome to join. The community of coworking is so powerful, that we've even seen someone with a seven-year-old Macbook find a charger to borrow!Come over and get creating for cheaper than the cost of a cup of coffee. All you need to do is download the Letswork app which is available for IOS and App Store users, sign-up, purchase a package and check-in for instant access. When you want to make an order, just let them know you're with Letswork.
Why cowork? Why not 
The perks are plenty when coworking with Rove! Have the flexibility at our hotels without being tied down to the space or our place. Expand your network, your toolbox and your mind whilst reducing your daily budget. Gain the peace of mind that you're contributing to a better planet by supporting a business who puts sustainability at the forefront of everything we do.
If your 2021 looks to be full of remote working, trading in the traditional office and dedicated desk for a more fluid working environment, then come and cowork in Dubai at Rove by taking full advantage of the new Live + Work package in conjunction with Dubai Tourism & Commerce Department. The one-year virtual working programme by the Government of Dubai allows for a completely fuss-free experience for digital nomads and remote workers coming to Dubai. The new monthly co-living package makes sure all the essentials are covered at a great value – combining flexible accommodation options, special transportation discounts with Careem and dining discounts with co-working spaces across all Rove Hotels in collaboration with Letswork.
To find out more about Dubai's one-year virtual working programme, click HERE