There's a time for work and a time for play, and this is a city that caters to both. When you need to buckle down and get things done, there is no better place to do so than in a creative co-working space in Dubai. Here's a look at what all of the Rove hotels dotted around the city have to offer worker bees.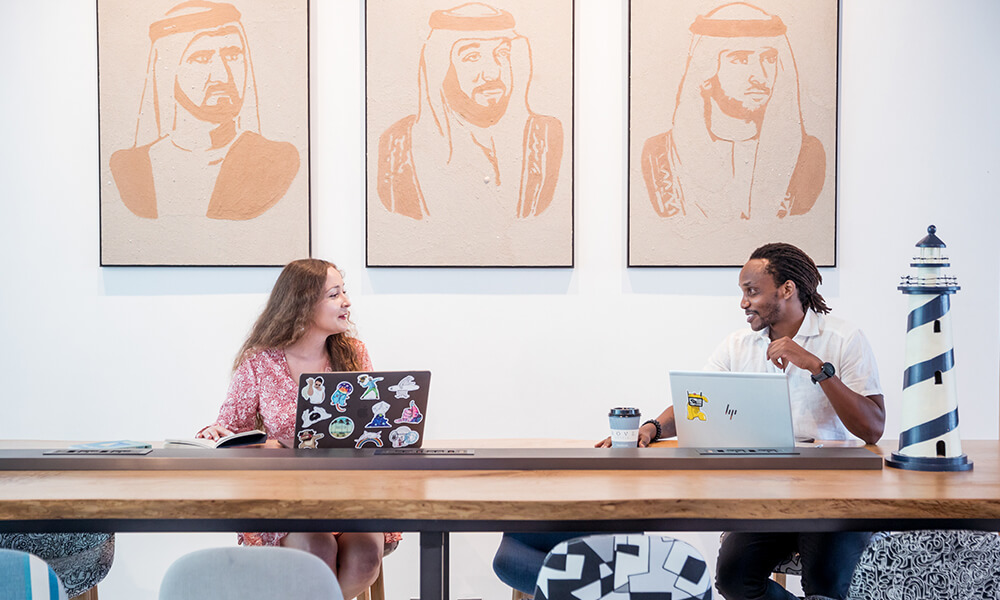 Creative Co-Working Space in Dubai
We welcome all digital nomads, creatives, freelancers, entrepreneurs and the like to our co-working spaces in Dubai. We provide more than just an office to our Rovers. Pull up a chair in our spaces designed to foster productivity and inspire you to produce your best work. After all, we are situated in the Arab world's best-rated country for remote working. 
The co-working spaces are designed with you in mind. From the layout to the decor and technology, we want you to feel comfortable, driven, and free to collaborate if that's on the agenda for the day. No need to drown out the noise of a bustling coffee shop where you need to order bottomless drinks, or sit holed up in a stuffy office – or your bedroom for that matter. 
You can get right to work when you enter Rove's working spaces without any fuss. Our friendly Rove staff members are happy to help. You can get plugged in (quite literally) anywhere, and get connected to our high-speed internet in an instant. We've designed spaces that inspire you to get your thinking cap on and let the creativity flow. 
When it comes time to get really serious, you can head over to the meeting rooms to be joined by your clients, colleagues, and partners. If you want a desk to yourself, you've got it at one of our Private Office Rooms; if you want to sit at a table with others, be our guest. Rove has the flexibility of an inspiring space and a positive working culture, meeting the needs of modern lifestyles in true Rove fashion.
Furthermore, we've partnered with Letswork who have more than 40 working spaces all over Dubai. That means you can join the letswork network and make any of the Rove hotels your office plus you get unlimited coffee, water and tea, as well as many other benefits. Be near the sea one day, and in the heart of the city the next. What's more, we draw all sorts of workers from all corners of the world to our spaces, which means you'll be presented with ample opportunities to network.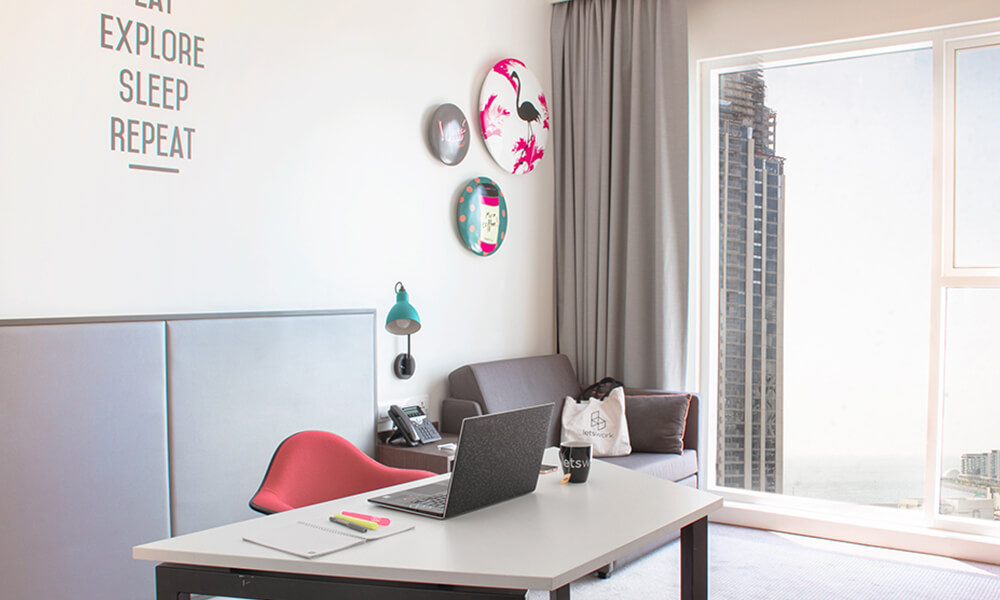 Work Remotely From Dubai
The Dubai government has recently introduced a new Virtual Work Programme for those looking to relocate to Dubai. Rove Hotels has hopped on the bandwagon with our Live+Work Package, perfect for Rovers looking for long-stay accommodation while working in Dubai! With affordable monthly rates, Rove gives you access to accommodation and over 40 creative co-working spaces peppered across the city, thanks to our awesome partnership with Letswork. 
Additional benefits include:
No hidden costs – our rates are inclusive of all taxes and fees

No long term commitments as you can renew your stay on a monthly basis

Inclusive of housekeeping service as well as all utilities and high-speed internet

50% off laundry services

30% off at The Daily restaurant and more!
We know Rovers are doers and go-getters. You can set up and work with us, then relax in your Rover room when all the hard work is done. The city of Dubai awaits, with well-deserved entertainment on tap when it's time to mix leisure with business. Chat to us about the Live+Work package – we'll be ready and waiting for your arrival.