Bur Dubai is brimming with so many excitable activities to enjoy, and we've got you covered with a Rove hotel in Bur Dubai that places you at the forefront of all the vibrant attractions! Rove Healthcare City is located in Bur Dubai, a historic district that acts as your gateway to the city's bustling souks, Sheikh Zayed Road, the Dubai Frame, and more. Keep reading for everything you can expect to enjoy from our quirky hotel and beyond.
Exploring Bur Dubai
Bur Dubai has so much to offer Rovers, impressing culture vultures and history boffins with its plethora of sightseeing and dining options. As the historic district of Dubai, it is one of the oldest neighbourhoods where the saltwater Dubai Creek runs. Just west of the Dubai Creek lies the site that was once the city's original settlement, long before Dubai became the booming cosmopolitan city it's revered as today. 
There are many ways to enjoy the authenticity of this district, but we recommend Rovers kickstart their Bur Dubai adventure by paying a visit to the Al Fahidi Historical Neighbourhood. Be wowed by the traditional barjeel wind towers, visit the Dubai Museum at the Al Fahidi Fort, browse the collection of old coins at the Coin Museum, and navigate the winding cobblestone alleyways to see where the road takes you next. Don't forget to make a pitstop at the Arabian Tea House, a favourite among locals and tourists for authentic Arabic coffee, Emirati treats and its enchanting environment!
The Shindagha Museum is the ultimate way to discover what life was like for Emiratis back in the day, providing a multimedia experience that takes you on a sensory journey into the past. Make a pitstop at the Perfume House for a journey into fragrant perfume-making done the Emirati way.
Next up is souk shopping and a visit to Al Seef. Al Seef is a must-visit renovated modern shopping, dining and entertainment mall that was designed to breathe new life into traditional Emirati architecture. Be sure to visit the Textile Souk next for attractive bargain purchases on beautiful kaftans, pashminas, raw silks, embroidered cushions, and more.
Rovers looking to visit one of Dubai's landmark locations will be pleased to know that the Dubai Frame is just a moment away from our Rove hotel in Bur Dubai! This world record-breaking frame is the largest one in the globe. Gear up for a towering glimpse of Dubai (perfect for a selfie moment) before viewing what the city looked like in the past, what it looks like now, and what it is imagined to become in the future.
All the exploring in Bur Dubai is bound to work up an appetite, but this neighbourhood certainly doesn't disappoint with its bountiful amount of dining options! Whether you enjoy a bite from one of the courtyard cafes at Al Fahidi or visit the Meena Bazaar for a true taste of Indian cuisine, there's something to satisfy even the most discerning palate.
End off the day with a relaxing ride aboard a traditional abra, an enchanting motorboat that sails along the saltwater creek for just AED 1.
Staying at Rove Healthcare City
Old Dubai's charming attractions are just a stone's throw away when you stay at our Rove hotel in Bur Dubai. Rove Healthcare City offers you a humble taste of the good life, boasting convenient hotel facilities and all the comforts you've come to expect from a Rove Hotel!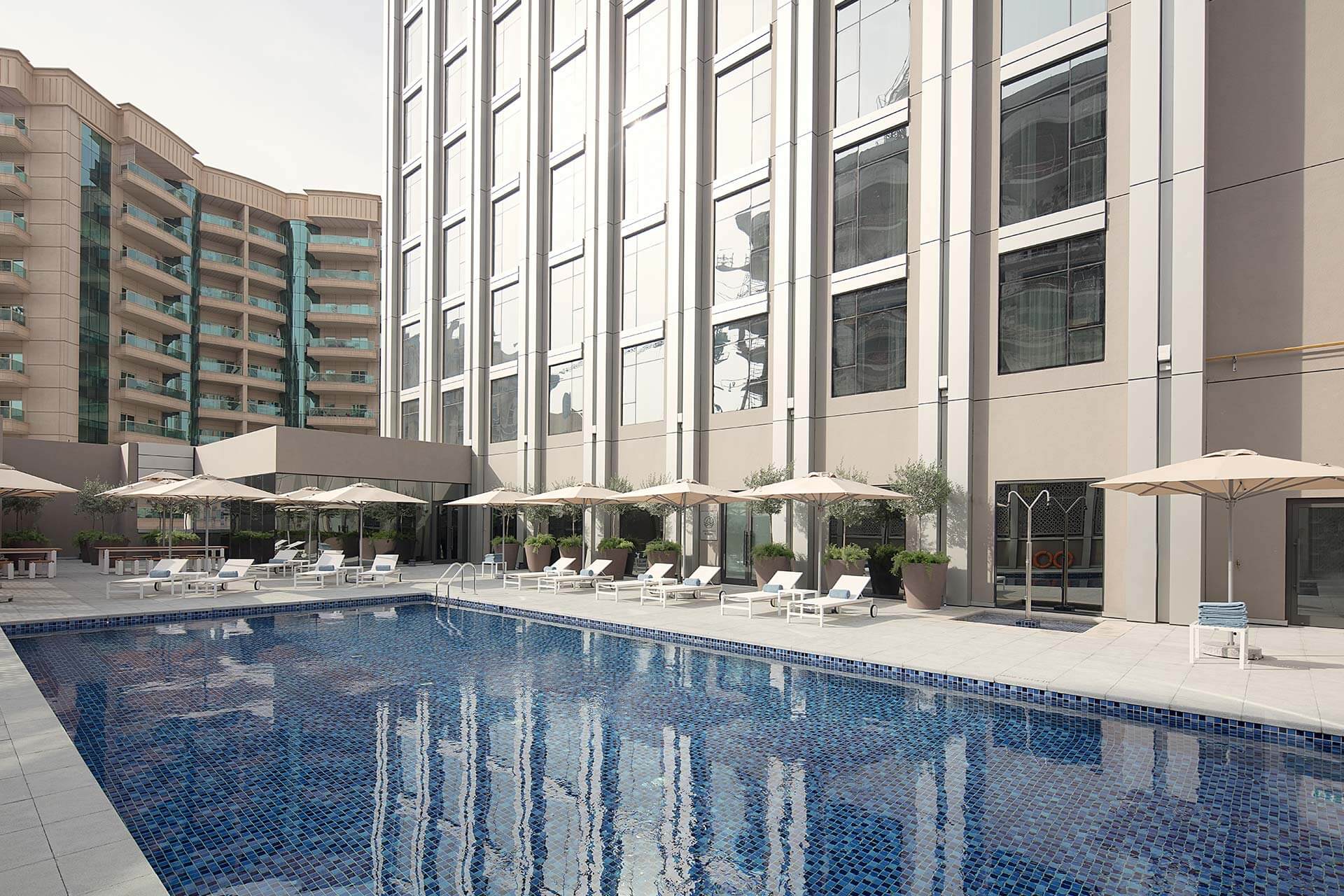 Take a dip in the outdoor temperature-controlled swimming pool, enjoy a pumped workout at the 24-hour gym, grab a bite to eat at The Daily restaurant on-site, or unwind in the cosy surrounds of your Rover Room.
We also have 24-hour self-service laundromat facilities to keep those Insta-worthy outfits squeaky clean, high-speed internet and 220V universal power sockets to ensure you stay connected, USB outlets across the hotel, and coworking spaces for those who enjoy a bit of bleisure (business and leisure, of course)!
We make it easy for you to enjoy a value-for-money stay with us without breaking the bank or compromising on all the hotel facilities you wouldn't want to sacrifice during your stay. All Rove Hotels also feature sustainable amenities, with environmentally-friendly touches like our saltwater pools.
Looking for extra service while staying with us? Simply look for a friendly Rovester to provide you with extra care or advice on what to explore nearby.
Book your stay at Rove Healthcare City and prepare for a cultural trip like never before!