Sprawled over the Arabian Gulf lies the man-made archipelago that the world beholds as the Palm Jumeirah. Shaped like a palm tree, its daring 3-mile-long trunk is dotted with five-star residences, the world's largest water park, celebrity chef-owned restaurants and other glamorous attractions.
Its outstretched fronds welcome you to venture into even more of the dazzling destinations waiting to be explored. Nestled on the outskirts lies the trendy hotel in dubai marina, Rove Dubai Marina, where you're sure to enjoy an unforgettable stay while exploring some of the best attractions scattered around the beautiful Palm Jumeirah.
Get ready for a bookmark-worthy guide to discovering this iconic attraction from the doorstep of the eclectic Rove Dubai Marina hotel.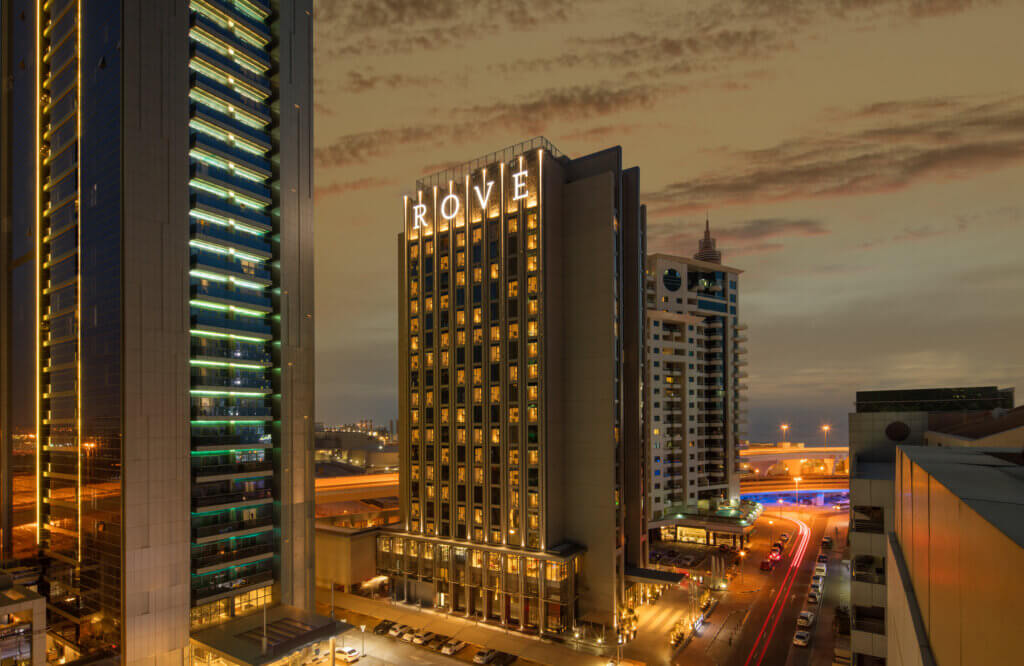 Savour a mouth-watering meal at The Daily
Before you jump into your Palm Jumeirah escapade, fuel up for the day of adventure and thrills with a salivating breakfast and freshly brewed coffee at The Daily restaurant. Located within Rove Dubai Marina, this all-day dining spot serves up enough to get your taste buds in a twist. Think banana pancakes drizzled in syrup, shrimp tacos, tandoori butter chicken, truffle flatbread pizzas… have we got you drooling yet? Pair your dish with The Daily's signature chocolate peanut butter smoothie and you're ready for a day of recreation and adventure.
Stroll along the Palm Jumeirah boardwalk
Spanning 11 kilometres long and 6 metres wide, this scenic boardwalk stretches itself all along the breathtaking coastal shoreline. Grab a beverage from one of the refreshment stands as you prepare to walk off those calories and browse the plethora of souvenir stands and other tourist attractions seasoning this scenic strip. 
Be one with the ocean at the Lost Chambers Aquarium
Wind your way towards the Lost Chambers Aquarium and dive into the lost city of Atlantis for an experience that leaves a lasting impression! Located at Atlantis, The Palm, this major tourist attraction tells the tales of lost shipwrecks and marine life. If you're feeling daring, get up close and personal with the 14 species of sharks and rays for a truly unforgettable aquatic experience! Make sure to snorkel your way through the lagoons to encounter the 65,000 marina animals that call this place home.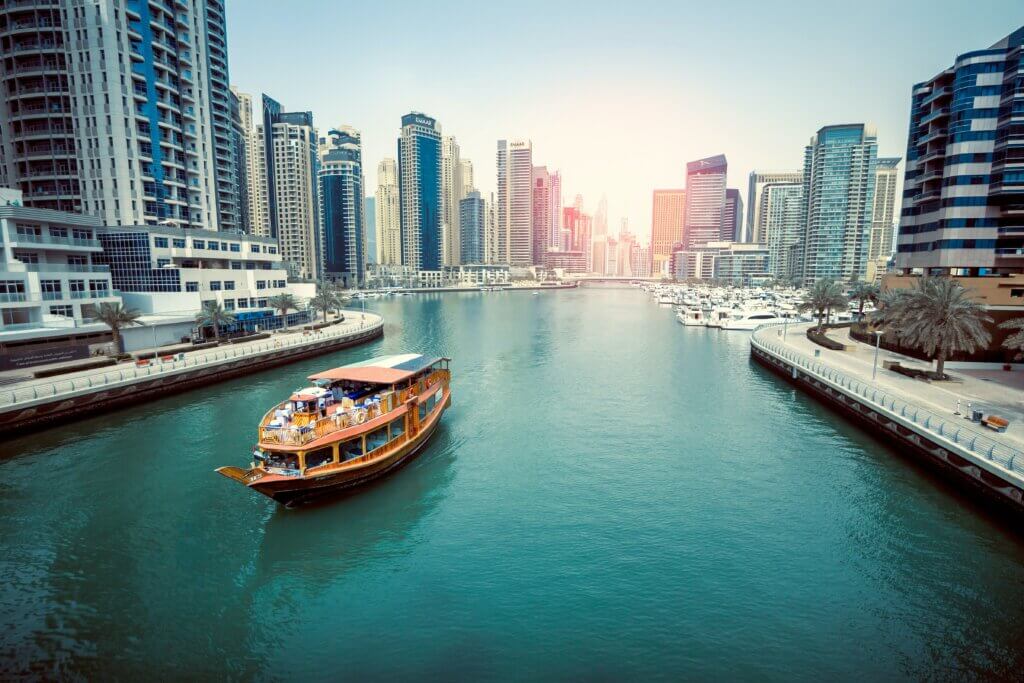 Experience a world of thrills at Aquaventure Water Park
The world's largest water park beckons you to embrace your inner thrill-seeker! Boasting 79 record-breaking slides and attractions, Aquaventure Water Park is a must-visit location when spending a day at the Palm Jumeirah. Freefall from The Odyssey of Terror, take a "Leap of Faith" as you plunge down 9 storeys in a near-vertical drop through a shark-filled lagoon, or wind and drop down the Zoomerango's 25-metre-high and 156-metre-long tube. Whatever floats your boat.
Jet set with Splash Tours
If the exhilarating rides weren't enough to get your heart racing, book a 90-minute speedboat experience with Splash Tours. Alternatively, soak up the scenic surroundings as you cruise along the Dubai Marina on a 30-minute tour along the waters as you take in all that the city has to offer.
Marvel at the Palm Jumeirah from above
Freefall over the historical Palm Jumeirah with SkyDive Dubai! Jump out of a plane from the Palm Dropzone during a tandem skydiving experience as you take in the views of the Palm, the sparkling Arabian Gulf and the stunning Dubai Marina. 
Shop 'til you drop at The Pointe
Calling all shopaholics: discover this jam-packed shopping and entertainment waterfront destination that features everything from the most luxurious retail brands to quaint cafes with breathtaking views. The Pointe also has a host of entertainment facilities to keep you occupied if shopping is not on your to-do list. Catch a movie at Reel Cinemas if you feel like snuggling into a cinematic experience with buttery popcorn to match.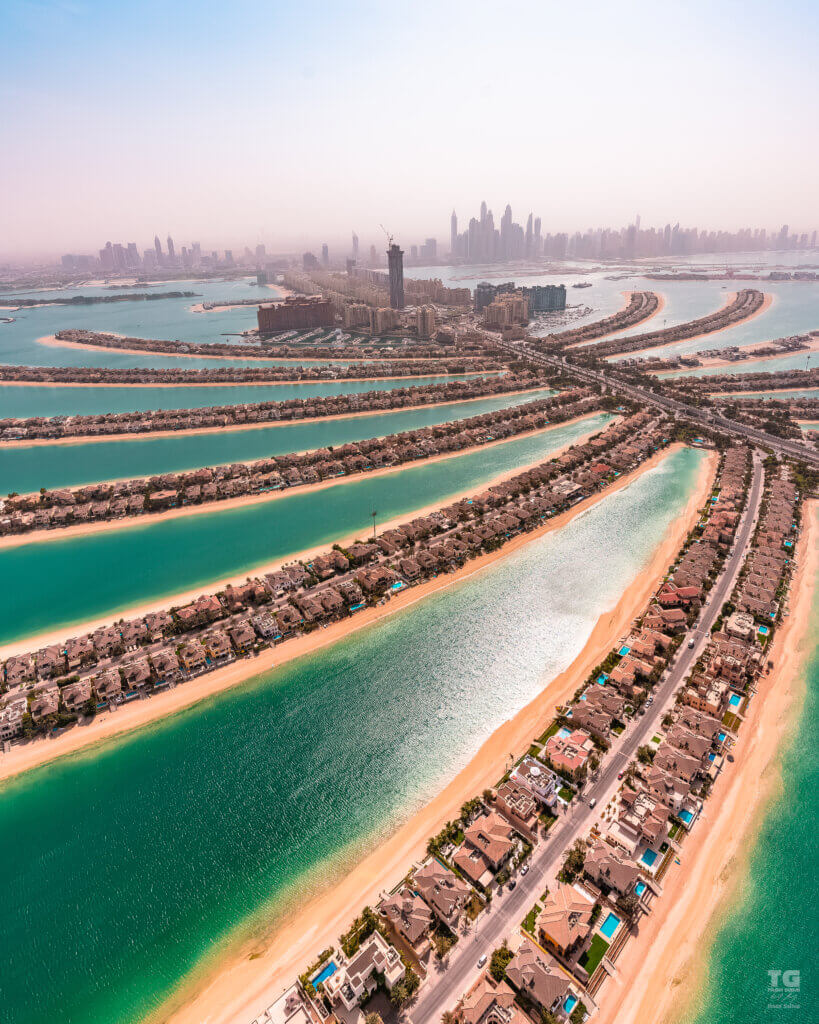 Discover the spectacular Palm Fountain
A sight for sore eyes, the marvellous Palm Fountain totes the Guinness World Record for the world's biggest fountain. It's no secret that Dubai enjoys holding records for many noteworthy attractions, with this one boasting 2 massive floating platforms hovering above seawater. Towering at 105 metres, it sets the Dubai sky alight with an incredible 3,000 LEDs. End off a momentous day by visiting the boulevard at The Pointe mall anytime from sunset to midnight to catch this awe-inspiring show.
With so much to see, do and explore, the Palm Jumeirah leaves little room for want. Whatever your idea of a memorable experience is, trek to the breezy shores of this world-renowned destination while enjoying a stay at Rove Dubai Marina for the ultimate Dubai experience.