So little time, so much to do! Dubai has so much to offer avid travellers trotting the globe from all corners of the earth, and believe it or not, it's possible to tick off most (if not all!) of your bucket list items when you stay at Rove Hotels. Our 9 hotels are scattered across the city and offer late check-outs and bag drop-off facilities, giving you more time for adventure. Here's all you need to know.
What is the extended check out time at Rove Hotels?
You can choose to check out at 2 pm and still explore even further when you make use of our self-service locker rooms for storing your personal items.
More time for fun with late checkout
Rovers, gear up for more fun and adventure in Dubai when you stay at our funky hotels in the city! 
It's worth mentioning that our check-in times are at 4 pm to ensure your Rover Room is super cosy for when you arrive, but we do allow you to use all our on-site facilities should you arrive a little earlier!
Enjoy a workout at our 24-hour gym, or grab some lunch, enjoy a piping hot cup of our 100% Arabica coffee or sip on one of our signature energy booster drinks when you visit our on-site restaurants, The Daily and TGI Fridays.
Alternatively, chill out with your fellow Rovers in the games area or take a walk around the city! We've also got a temperature-controlled swimming pool to cool you down. Whatever you need, we've got you covered.
Bag drop-offs for added adventure
As if our late check-out times aren't enough, we've thrown in bag drop-off facilities to sweeten the deal even further! If you've arrived earlier than the 4 pm check-in time and want to start navigating the city, take advantage of our bag drop-off facilities and lock up your luggage in our self-service locker rooms.
Looking to extend your time before heading to the airport after checking out? No problem! Our easy-access self-service locker rooms give you peace of mind knowing your goodies are safely stored so you can enjoy your last few moments in Dubai.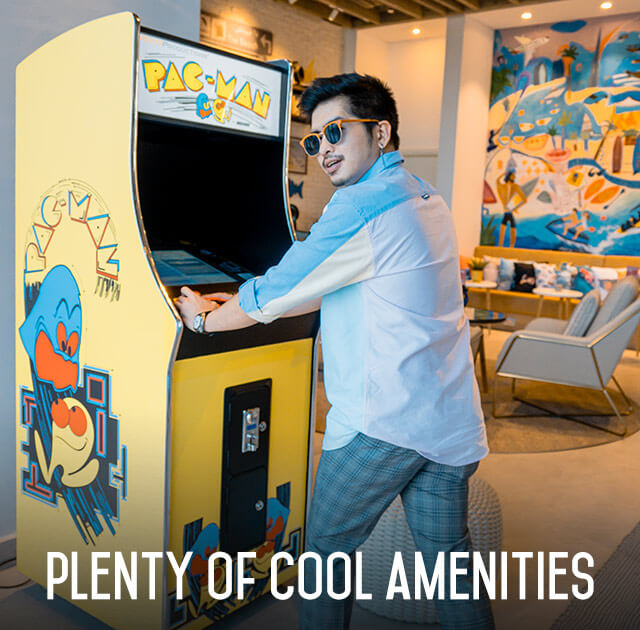 Facilities you'll love during your extended hotel stay
At Rove, we love making sure that all your needs are catered for when you come and stay with us! Besides our convenient late check-out times and bag drop-off facilities, we've equipped our 9 hotels with a variety of additional services to make your stay as comfy as possible.
Rovers who are travelling for work can make use of our fully equipped co-working spaces available at each of our hotels. As an added bonus, you don't have to worry about paying extra to use these spaces! Connect with your colleagues or catch up on emails when you visit our furnished open spaces kitted with iMac computers, universal 220V sockets, USB outlets, and high-speed WiFi for the best connectivity.
Looking to keep your OTT (outfit of the day) fresh and clean? Make use of our self-service laundromats where you can wash, dry and iron your clothes for a small fee. You can also enquire with our Rovesters at the reception desk if you want to learn more about our dry cleaning and express laundry services.
Now that you've got all the necessary information about what you expect when visiting Rove, get ready to discover Dubai like never before. 
9 Hotels in Dubai that Offer Late Check Out Times
All our Rove Hotels are laid-back and offer you the option of a late check-out, giving you more time to enjoy getting ready for your next adventure, visit one or two more highlight attractions, or simply chill out and enjoy our facilities available.
Late check hotel: Rove La Mer Beach
Late check hotel: Rove Dubai Marina
Late check hotel: Rove City Centre
Late check hotel: Rove City Walk
Late check hotel: Rove Healthcare City
Late check hotel: Rove Downtown
Late check hotel: Rove Trade Centre
Late check hotel: Rove At The Park
Late check hotel: Rove Expo 2020
Are you in the UAE? Make the most of your time in the city by staying at hotels with late check out near me. Gear up for thrills and excitement across Dubai with Rove Hotels. 
If you require assistance with travelling to and from the airport for an additional charge, our Happiness Centre will be able to assist you. Simply pop us an email at hello@rovehotels.com for more information.