The Dubai World Trade Centre is a skyscraper frequented by millions each year. There are hundreds of events hosted here each year in its halls, event space, and meeting rooms. If you're visiting for a business meeting or a fun-filled exhibit, you won't have to look far for hotels near Dubai World Trade Centre. 
Introducing Rove World Trade Centre
Wake up in the heart of Dubai's business hub at Rove Trade Centre! It's aptly named after its convenient proximity to the Dubai World Trade Centre. It's also close to two prominent metro stations, making it perfect for city excursions.
Another reason why this location is so popular is that it's right on the dividing line between new and old Dubai so you get to experience the best of both. With so many attractions close by, this is a great choice for business and leisure travellers alike. Spend your days on the cusp of Downtown Dubai, with the Burj Khalifa and The Dubai Mall within easy reach. If a seaside escapade is on your wishlist, head over to the beautiful La Mer beach nearby. 
Rovers are welcomed to a comfortable hotel stay, with eclectic decor to reflect the vibrancy that awaits them in the city. Our on-site restaurant, The Daily, serves wholesome meals for breakfast, lunch, and supper. While you're out and about, we'll ensure your room is kept neat and tidy so that when you return, all you need to do is enjoy the power rain shower and designer mattress. 
Our outdoor temperature-controlled swimming pool overlooks the famous Sheikh Zayed Road, which can take you from Dubai to Abu Dhabi and beyond! Fitness fanatics have access to our 24-hour gym while worker bees can grind away at our fully kitted co-working spaces. If you prefer gaming, you'll spot Foosball tables, table tennis and a PS5 ready for you at the hotel. 
At Rove Hotels, we're all about convenience, which is why you'll also have access to a 24-hour laundromat service. Guests can drop off their luggage with us before or after their stay with us, and we do our best to accommodate early arrivals. We also offer later check-outs of 2 pm for Rovers who want to continue exploring before they head off to their next destination!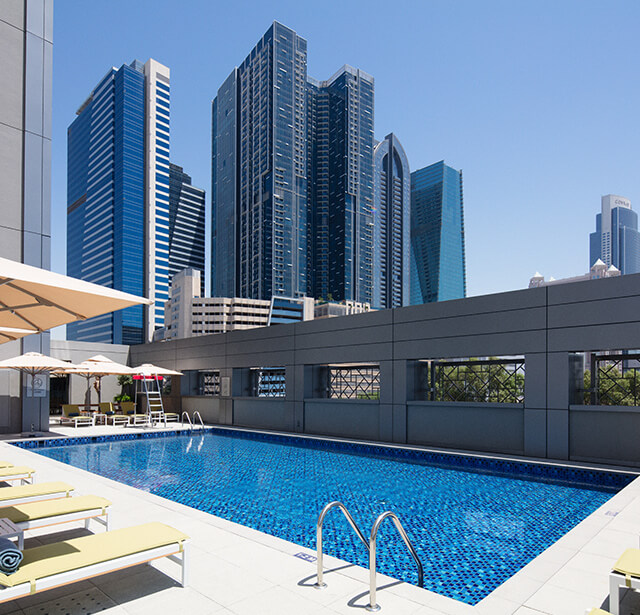 Explore Dubai from Rove Hotels Near Dubai World Trade Centre
The Rove World Trade Centre hotel is near the Dubai World Trade Centre, along with many of Dubai's distinct neighbourhoods. Escaping from the business hub to the ocean is a breeze when you visit the Dubai Marina, which offers visitors a laid-back atmosphere. Sit down at a cafe, lounge on the beach, or get active in the ocean waters – this is perfect for a well-rounded day break!
If you're looking for a dose of heritage and culture, head to the Deira district. It is home to historical sites along with contemporary spaces, creating an eclectic mix of the two. From here, you can visit the iconic Dubai Creek and head over to the other historical hub in Dubai known as Bur. Bur Dubai is situated along Dubai Creek, presenting a traditional look at the city. The souks are a must-visit, as is Ravi's in Al Satwa for a tasty and authentic meal!
Now, let's talk about the exciting icons to add to your bucket list when staying at hotels near the Dubai World Trade Centre:
Museum of the Future: To get a glimpse of the concepts, ideologies, and research into the potential of the future, visit the Museum of the Future. Visitors will see a showcase of ideologies, services, and products

that are designed to tackle the challenges faced by the world through testing inventions and partnering with research institutes across a range of industries. This is great for meetings of the mind between researchers, inventors, financiers, and curious travellers alike. 

The Dubai Frame: Capture a photo within the world's largest picture frame, featuring a picture-perfect view of Dubai. There is a museum at the top, with a 150-metre-high glass floor SkyDeck that you can walk across. 

Etihad Museum: Prepare to be architecturally enveloped as you soak up the UAE's past on display at the Etihad Museum. It holds collections and preservations that tell the story of heritage across social, political, cultural, scientific, and military spheres.

City Walk: If you're in need of some retail therapy with a laid-back vibe, head to City Walk. The design is modelled in a Europeanesque fashion, featuring high-end stores, restaurants, and wellness centres.

Laguna Waterpark: If you'd like to get your adrenaline pumping, Laguna Waterpark is the place to be. Slip and slide your way along the rides designed for all ages and thrill levels!
Book your stay with us at Rove Trade Centre for your next business, pleasure, or bleisure trip to Dubai.