Dubai is just an hour away from Doha, Qatar, where all the soccer action will be taking place for the World Cup between mid-November and December this year! If you're looking for the go-to guide on all the weird and wonderful things to tick off on your bucket list while in Dubai, look no further. Rove has got you covered with our handy list below!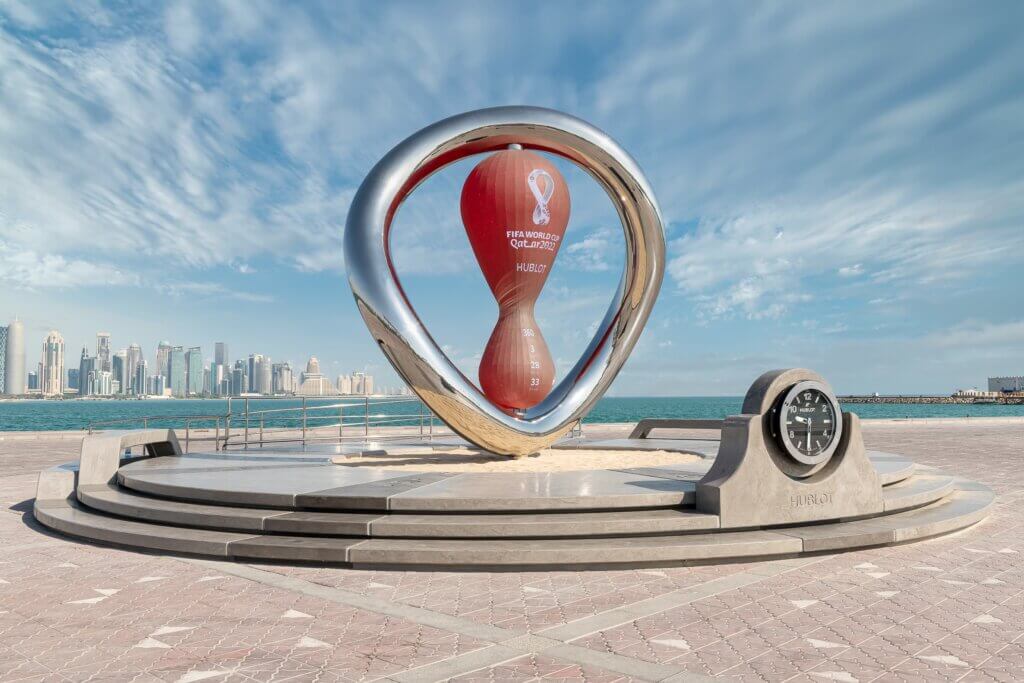 Shop up a storm
When in Dubai … soccer fans may not list shopping as one of their favourite hobbies, but you're going to need a shirt sporting your team's badge, right? The Dubai Mall is iconic and will house just about anything you're looking for. While you're there, be sure to catch a synchronised dancing water performance at the famous Dubai Fountain. 
Fit in some culture
What's a trip to the Middle East without experiencing Arabian culture? You can hop on an abra (a traditional boat) across the Dubai Creek for just 1 AED to get an idea of what life was like for Emiratis way before Dubai's transition into a bustling metropolis. Another option is to visit the souks (traditional markets), especially if you'd like to purchase some fragrant perfumes, gold jewellery, silk textiles or aromatic spices as a souvenir of your time. 
Soak up the sunshine
Dubai is known for its year-long sunny days that make it the perfect city for water-based adventure. Head on over to the beaches that beckon you to stretch yourself out on its shores, or stroll the vibrant promenades. If you'd like to stay at the beachfront, Rove Dubai Marina and Rove La Mer Beach are the go-to accommodation options for you. Other options for some fun in the sun include the plethora of water parks, and the palm tree-shaped Palm Jumeirah that can be explored during a leisurely boat cruise. 
Head to the desert
What's a trip to the Middle East without venturing into the desertscape? You can enjoy a day trip complete with a sunset BBQ dinner, tanouri dancing, and other memorable finishing touches. Experience it the way you prefer, whether it's on a board, atop a camel, or in racing in a 4X4 desert vehicle! If you're looking to take it slow, hop on a desert safari instead.
Behold the panoramic city views
You can head up the Burj Khalifa for iconic views of Dubai that stretch as far as the eye can see. If this is the view you'd like to wake up to, stay with us at Rove Downtown, best hotel in downtown. Alternatively, you can book your spot in one of the cabins on Ain Dubai, which happens to be the world's biggest observation wheel.
Get your camera ready
One of the most iconic photos you can take in Dubai is one captured at the Dubai Frame. It's the biggest in the world, and you can actually make your way to the top of it for some epic views of the city. The tour includes a look at both the historical and futuristic sides of the city, so you can get yourself properly acquainted with the marvellous city.
Tell your friends you had the camel's milk
That's right: camel's milk. If not, why not? It would make a pretty cool feature in the collection of memories you'll be collecting in Dubai. The Majlis Cafe is situated by the Jumeirah Mosque, a beautiful sight to behold in itself. Seat yourself under ancient trees as you listen to the call to prayer, and of course, trip out the dairy section of everything from milkshakes to cheeses prepared using camel's milk. 
There's tons of fun to be had that stretch far beyond this list, but this is a pretty good start as football fans unite and get ready for a trip of a lifetime. Dubai is a city filled with thrills for you, your friends and family.
Join us at Rove Hotels to book your spot in the region that will be at the centre of the world stage and enjoy an assortment of festivities like no other.