The new Dubai Exhibition Centre (DEC) is a state-of-the-art venue located in the District 2020 neighbourhood and community space, located on the grounds of the former Expo 2020 site. The new DEC space is set to be operated by the Dubai World Trade Centre and is one of the largest event spaces in Dubai, and Rove Expo 2020 hotel is the closest accommodation to the DEC! Here's everything you need to know about the new exhibition space.
About the new Dubai Exhibition Centre
The new high-tech Dubai Exhibition Centre is an extension of the current Dubai World Trade Centre that's ideal for conferences, gala dinners, concerts, exhibitions, product launches and more. The new DEC in District 2020 will increase Dubai's exhibition capacity by 45% while offering new opportunities for the Meetings, Incentives, Conferences and Exhibitions (Mice) industry.
Coming in at a substantial 45,000 square metres, it's the largest venue at the Expo/District 2020 location. It boasts 24 meeting rooms as well as 4 suites for gala dinners, seminars and workshops. The DEC South Complex comprises 9 halls that occupy 28,000 square metres of event space and can accommodate between 300 to 20,000 people. The DEC North Complex can house between 200 to 11,000 people in its 5 halls that take up 17,000 square metres. The DEC also sports its very own Majlis and VIP lounges for more private gatherings.
The DEC has been purpose-built to increase Dubai's events infrastructure and attract some of the most influential companies and industries around the world. It's also adjacent to the Dubai metro Route 2020 station, making travelling for business a seamless experience! Rovers can expect to enjoy easy access to a host of restaurants and other hospitality attractions, all just 15 minutes away from District 2020.
DEC's culinary offering
The Dubai Exhibition Centre has a number of multicultural menus available for its attendees, making it ideal for special events like galas, weddings and large-scale conferences. Sustainability is at the heart of the DEC kitchen and the venue's overall operations. The DEC catering team prepares dishes with ingredients that are strictly sourced from local farms in the UAE.
Rovers looking for added convenience can make a quick pitstop at The Daily restaurant, Rove's international dining spot located just a quick 5 minutes away from the DEC. Here's where you can enjoy sensational meals to suit every palate.
The closest hotel to the Dubai Exhibition Centre
Rovers who are travelling to Dubai on business and need to be within close reach of the DEC will be pleased to know that the Rove Expo 2020 hotel is right on the doorstep of Dubai's new exhibition space! Rove Expo 2020 is strategically located within walking distance to the new Dubai Exhibition Centre.
The Rove Expo 2020 hotel features 312 king, twin and accessible Rover Rooms, plus an additional 19 Rover Suites. Visiting the DEC for business and a bit of leisure? No problem! Our hotel also offers contemporary facilities that include a rooftop swimming pool and sundeck that overlooks the Expo/District 2020 site, plus a 24-hour gym that's been fully kitted to meet all your workout needs. Need a caffeine fix? Rove your way down to the grab-and-go Rove Café and The Bar where our freshly brewed Arabica coffee awaits.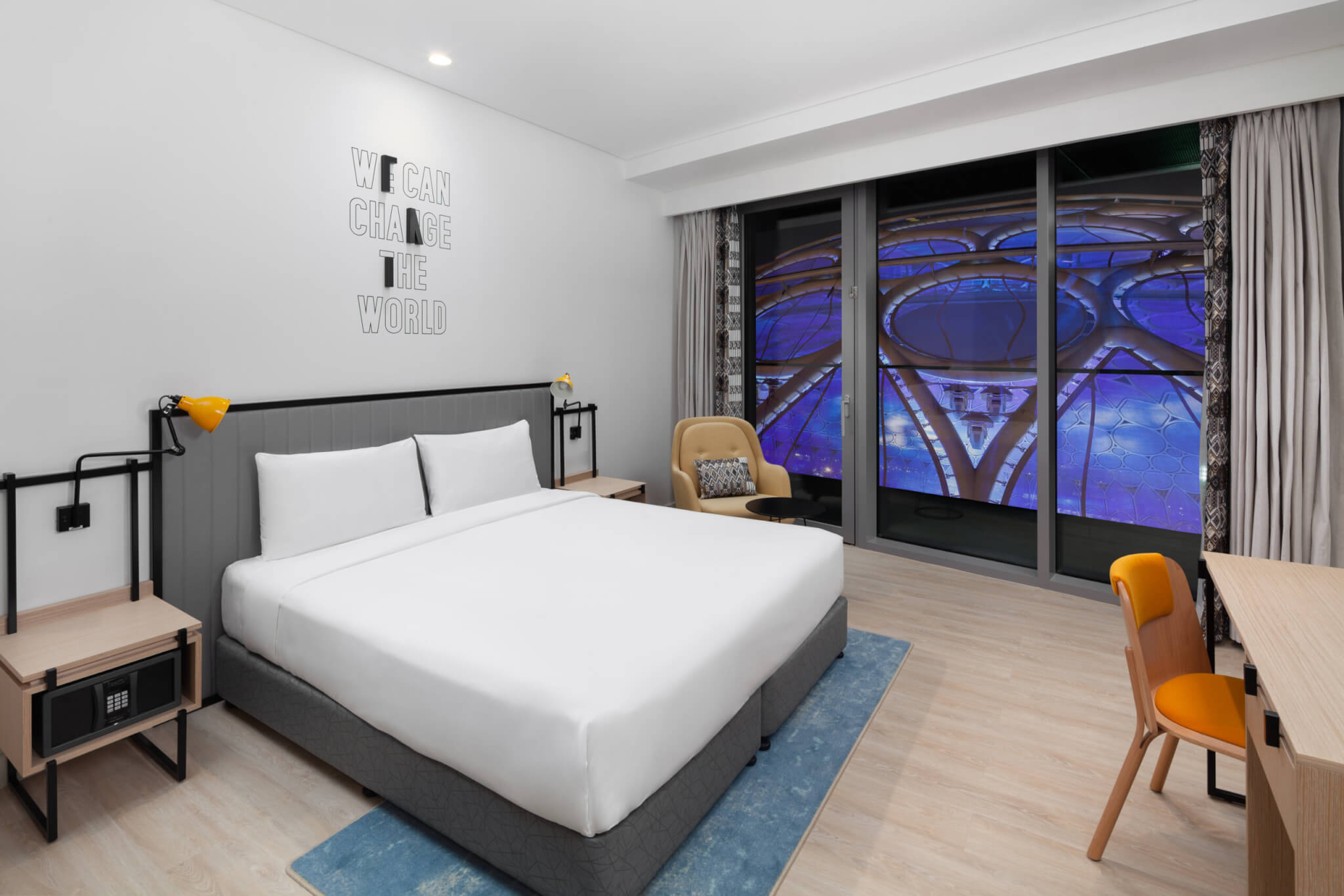 The Rove Expo 2020 hotel also offers Rovers access to our prayer rooms on-site, sustainable in-room amenities, and an all-day-dining restaurant called The Daily for salivating breakfasts, lunches, dinners and snacks. Grab a signature energy booster drink before you head to the DEC, prepare for a meeting while dining or in your hotel room when you connect to our high-speed WiFi and unwind in our games area when you need to let go of your stressors after a long day!
Whether you're visiting the DEC for business or are planning a large-scale social event like a wedding at the exhibition centre, Rove Expo 2020 is perfect for those who need to be close to its quarters.
Ready to stay with us while visiting the all-new Dubai Exhibition Centre?
Book your stay at Rove Expo 2020 today!