Dubai is no stranger to welcoming working travellers from far and wide. With all the business facilities you might need, Rove Downtown Dubai welcomes digital nomads and business professionals alike to enjoy a stay at our fully equipped hotel in Downtown Dubai that is great for a business stay.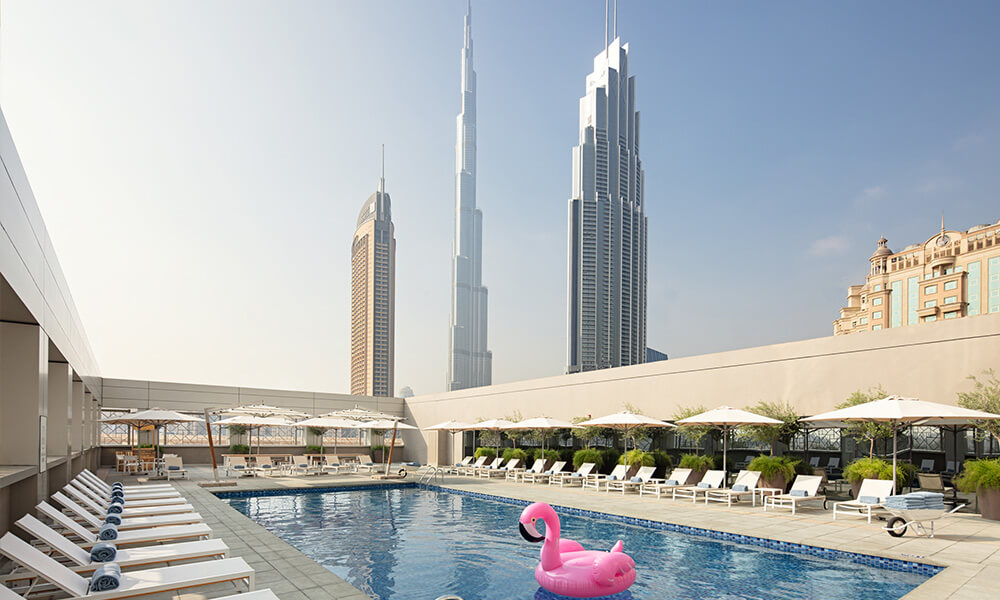 Get down to business from our hotel
Business travellers are busybodies, and we know that. They're constantly on the go and ready to get to work, which is why we welcome our guests to make use of our facilities before check-in time! Ideally situated in the thriving hub of Dubai, our hotel is a great base for your business stay. From Rove Downtown, you have quick and easy access to the metro, placing you near anywhere and everywhere you need to be on your professional trip.
Rovers can kick-start their business stay with a shuttle or Uber ride from the airport. To get your day off to a great start, we've got delicious breakfast spreads served up at TGI Fridays, our on-site restaurant. If you've got business attire that needs to be laundered and pressed, we've got you covered with our laundry services operating 24 hours a day. You don't have to skip out on your usual fitness routine either – just head over to our fully equipped gymnasium at any time of the day or night to burn some calories or let off some steam. You can also chill after a long day of work at our outdoor swimming pool, boasting stunning views of Burj Khalifa and Downtown Dubai.
Get working in Downtown Dubai
There are all sorts of people who come to Dubai for business. Whether you're here for a conference, meetings with partners, exploring new opportunities, or jet setting as a remote worker, you can count on Rove when looking for a hotel in Downtown Dubai that is great for a business stay.
Rovers can get to work in- or outside our hotel while on their business trip. We sport some seriously kitted out co-working spaces available at each of our Rove hotels that we welcome you to pop into for those days where you want to shake it up and work in a space that doesn't include your hotel room. Discover our uber relaxed and efficient working space where we offer visitors convenient discounts on food and beverages to quench that thirst or settle those hunger pangs. 
What exactly do we mean by "kitted out?" We've got iMac working stations, desks, high-speed internet connection, plugs everywhere, meeting rooms and more! We provide you with innovative workspace solutions and state-of-the-art facilities so all you have to worry about is planning the perfect business pitch or finishing off that writing piece. Simply grab a spot all to yourself for work that requires solitude, host meetings and events with your team, or network with other working Rovers to grow that LinkedIn profile!
If you'd prefer to work alone, you can book a private office room at Rove Downtown, best hotel in downtown dubai. It's got everything you need to keep you productive, including your own bathroom and a sofa for moments of repose. The rooms can be used by one or two people, with unlimited tea, coffee, and water available to keep you going.
Our hotels boast high-speed WiFi for both work and leisure. Also, if your work includes podcasting, be sure to check out our Rove Podcast Studio which is fully set up with all the equipment needed to make a recording of epic proportions and get your voice heard!
For those coming to Exhibitions and trade shows happening in the city, Rove Downtown is also a great option. The hotel is just a 5-minute drive away from Dubai World Trade Centre, the city's largest exhibition centre, as well as the popular DIFC business district.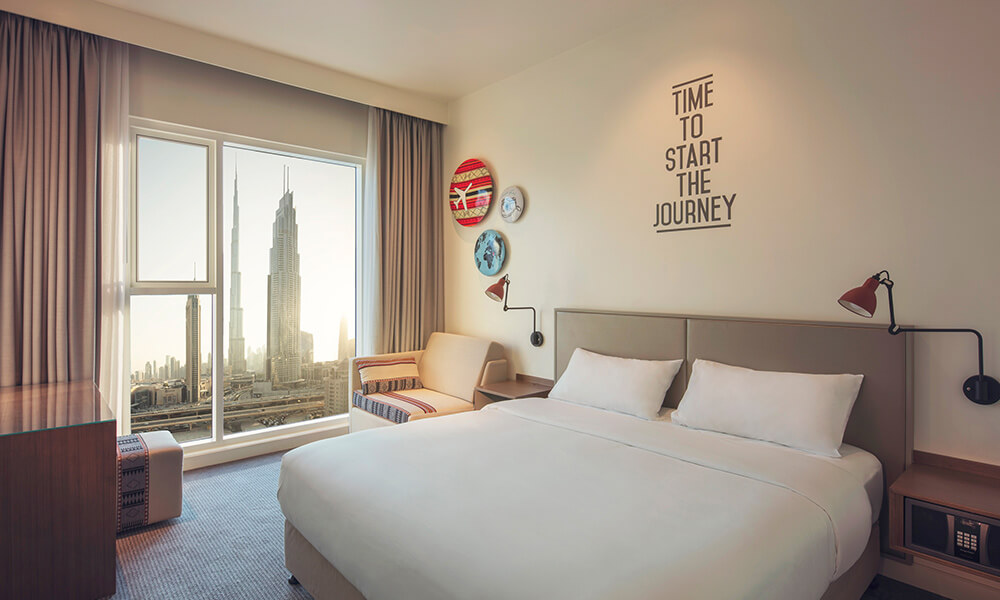 Get comfortable during your business stay
At Rove, we understand that business travellers are short on time and value convenience. That's why our hotels are commonplace for leisure to be blended into your business trips. 
Being based in Downtown Dubai means you'll be a quick trip away from some of the city's most thrilling attractions, so you won't miss out on the exciting activities you might try to squeeze into your business stay! The iconic Burj Khalifa is visible from your Rover Room window. Being just a short stroll away from Rove, The Dubai Mall and The Dubai Fountain is your ticket to enjoying a much-needed round of shopping paired with some iconic snaps of your experience in Dubai! 
When on the hunt for a hotel in Downtown Dubai that is great for a business stay, you'll need to ensure it includes comfort and convenience. Unwind by watching your favourite shows and jumping into your power rain shower. Not forgetting the importance of a good night's rest, we've got cosy sheets for you to slip into while you catch some Z's. 
You can also get your entertainment fix without venturing into the city with a visit to the hotel's cinema. Did we mention that each room has a coffee station and mini-fridge? You can also head down to the convenience store in the hotel lobby and stock up on all sorts of necessities and snacks. There's housekeeping too, so rest assured that your space will be kept in tip-top shape!
With everything you need at your fingertips, you can count on us to be ready to host you. The working world of Downtown Dubai awaits, and Rove Hotels are here to welcome you on your next business stay. Book your stay at our hotel today.