When in search of hotels near Dubai World Trade Centre, Rove World Trade Centre ticks all the boxes. Business travellers and vacationers in Dubai can look forward to the ultimate convenience within this booming business hub, with Rove Trade Centre connecting the city's new and older parts for a relaxed business or leisure stay. Learn more about our Rove hotel located in the Dubai World Trade Centre below.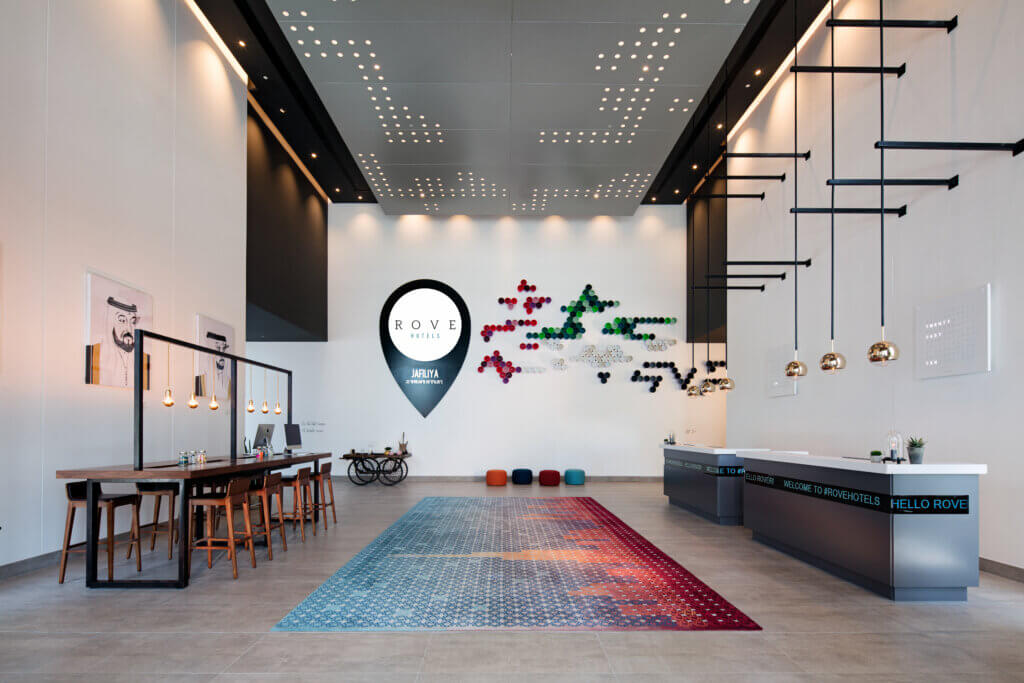 What you need to know about Rove Trade Centre
Gear up for eclectic interior decor inspired by the vibrant city of Dubai when you choose Rove Trade Centre as your accommodation of choice. As one of the hotels near Dubai World Trade Centre, our ideally situated hotel places you at the forefront of Dubai's highlights and attractions. Just minutes away from the city's most notable exhibition centre, the Dubai World Trade Centre, you can look forward to easily accessible attractions including the Burj Khalifa, the Dubai Mall, Downtown Dubai, the mesmerising La Mer beach, and more.
As part of our commitment to the environment which has earned us the Green Key certification, our hotel takes sustainability seriously, with our energy consumption levels remaining low due to the use of motion sensors and energy-efficient appliances, while AC drainage water is utilised for plant irrigation and food waste is used for composting.
Some of our hotel amenities worth mentioning include an outdoor pool overlooking the stunning Sheikh Zayed Road, a 24-hour gym and plenty of games in public areas, including a PS5, foosball, table tennis and more! What's more, we also have our very own multicuisine all-day dining restaurant, The Daily, available on-site for your favourite snacks, meals and beverages. Business travellers can enjoy the coworking spaces available around the hotel, fully kitted with WiFi, USB outlets, and 220 V universal power sockets.
Rove Trade Centre is also conveniently located near two of Dubai's major metro stations, making it easy to paint the town red or navigate to that business meeting ahead of time.
Whether you're visiting Dubai for business or leisure, we make sure you'll enjoy a comfortable and convenient stay while exploring the city's best attractions!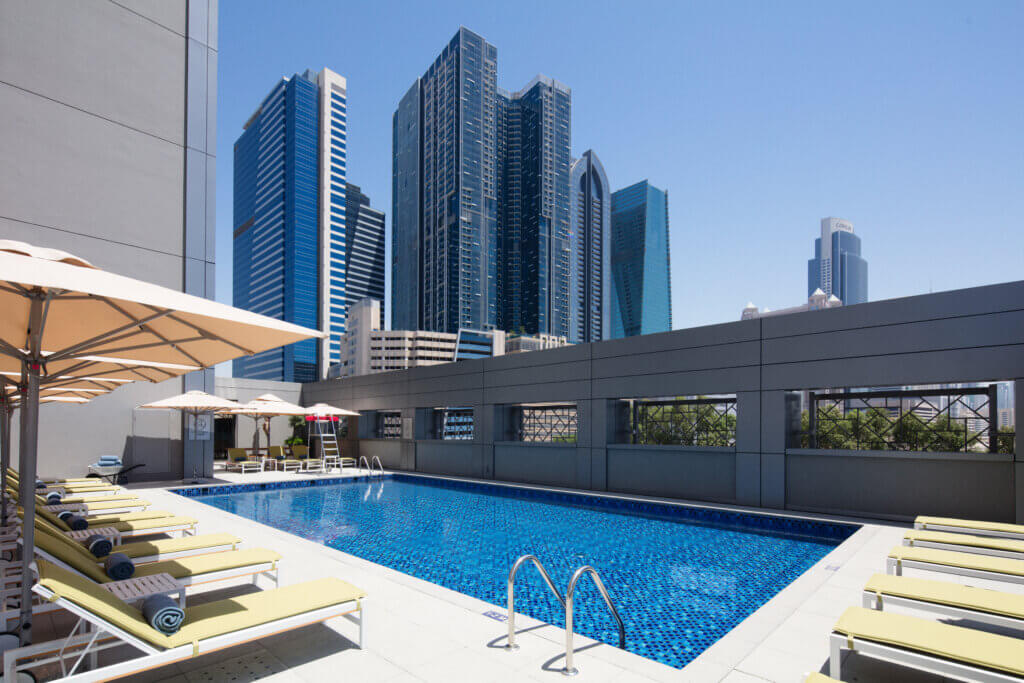 Things to do around Rove Trade Centre
As one of the hotels near Dubai World Trade Centre, Rove Trade Centre is your gateway to exploring top landmark locations such as the Burj Khalifa and more. We've broken down a few must-visit attractions below that are near our hotel, providing you with some options to consider adding to your itinerary:
1. City Walk
City Walk is a multipurpose lifestyle space that invites visitors to shop, dine, unwind and enjoy the host of leisurely activities available. This urban hub is brimming with enviable retail and dining destinations for shopping enthusiasts and foodies alike, with a variety of entertainment for younger and older Rovers to enjoy too. Discover the Green Planet's magical tropical rainforest, explore the theme rooms at NoWayOut for an immersive escape room experience, shop or marvel at the variety of high-end boutique items, or catch a hearty lunch at one of the many restaurants.
2. Al Satwa
Explore one of Dubai's oldest neighbourhoods for a unique culture trip. Venture through its vibrant streets, grab some lip-smackingly good Arabic fast food, or visit Al Khazzan Park for some well-deserved downtime and a dose of relaxation-inducing nature.
3. La Mer
Behold the seaside beauty and what is arguably the most happening beach location in Dubai. La Mer invites you to rove along its stretching promenade, surf some waves, or lounge about along its iconic beach strip, watch the twinkling waterfront in the evenings while enjoying a mouth-watering dinner at one of its restaurants, or enjoy a taste of aquatic adventure at Laguna Waterpark. Don't forget to snap a picture of the European-style buildings adorned in artistic graffiti to share on your Instagram feed!
4. Etihad Museum
Culture vultures will love the Etihad Museum for its contemporary way of showcasing UAE history. Besides being able to stand within the very walls where the constitution was signed in 1971, Rovers can enjoy Etihad Museum's interactive take on showcasing photos and videos that take visitors on a journey through the rise of the city. From the rich Middle Eastern heritage to the advanced development that the Emirates is known for today, the Etihad Museum is the ideal place to learn all there is to know about the UAE and Dubai itself.
Get ready for the best Dubai experience yet by booking your stay at Rove Trade Centre. Immerse yourself in the pulsating beat of the Dubai cityscape while discovering its attractions, or enjoy the ever-convenient proximity to the business hub that is the Dubai World Trade Centre and other prime corporate locations. See you soon!