From luxury skyscrapers and thrill-seeking attractions to world-class beach destinations, Dubai is the perfect location for your honeymoon adventure. Stay at a Rove hotel and enjoy the most memorable honeymoon in the city while welcoming a host of exciting activities together with your loved one. Check out our list of fun ideas to make your Dubai honeymoon an extraordinary one.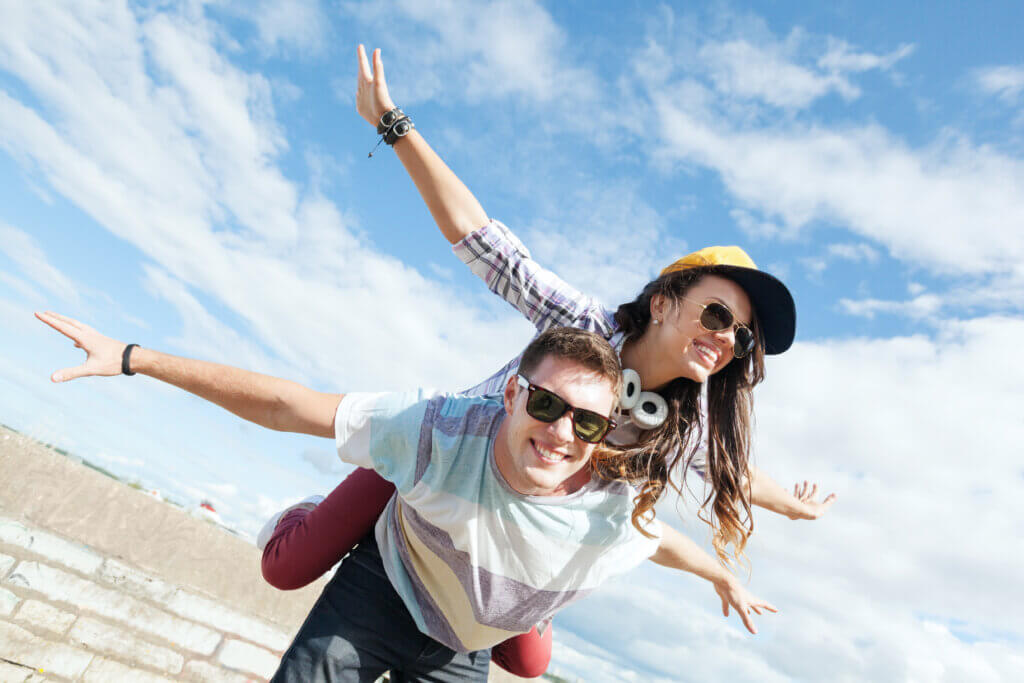 When Is the Ideal Time to Visit Dubai?
Dubai is known for its humid climate, so be sure to visit between November and March if you want to comfortably enjoy outdoor activities. However, people visit Dubai throughout the year and still manage to enjoy the multitude of exciting thrills, with the city's beaches being a notable attraction during the hotter months of the year.
Dubai at a Glance
Chances are, you won't have enough time to tick everything off your honeymoon bucket list unless you live in Dubai – with so much to see and do, that's all the more reason for you to fill your itinerary with the most memorable activities! From the world's largest indoor ice rink located at The Dubai Mall to the expansive desert that invites you to discover camel riding or tackle the dunes in a 4×4, you couldn't grow bored in Dubai, even if you tried!
Dubai is a magical city that marries tradition with cosmopolitan life and simplicity with luxury. Whether you stay in the charming Deira district or opt for accommodation near Jumeirah, getting around Dubai is easy thanks to the variety of metro stations available to transport you to your next destination.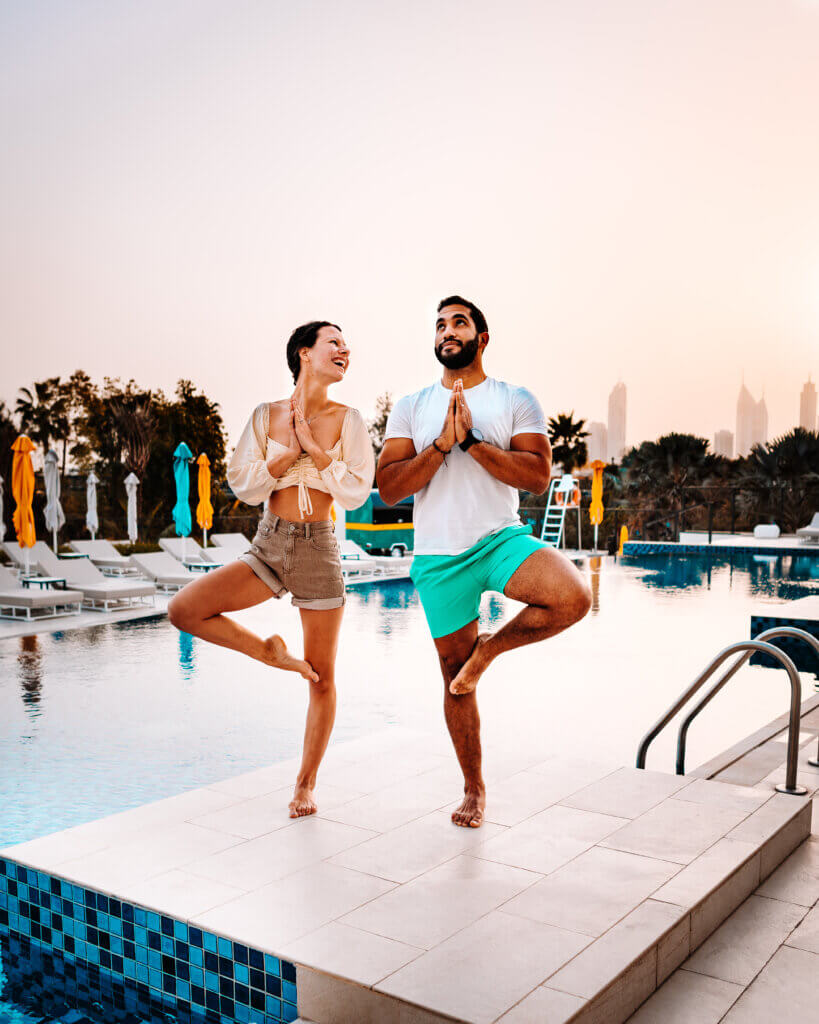 Unique ideas to filter into your Dubai itinerary:
1. Visit the Palm Jumeirah
Shaped like a palm tree, this incredible man-made archipelago has a variety of fun and leisure activities that almost ensure you won't want to leave! Visit Aquaventure Water Park, the world's largest water park, for an adrenaline-pumping experience as you take on the 79 record-breaking slides, or choose to soak up the Arabian sun's rays on the 1 km private beach instead. If a thrill-seeking experience is what you're after, try the Trident for a riding experience you won't soon forget! Splash Tours also offers an exhilarating boat riding experience that jets off from the breathtaking Dubai Marina and cruises along the Palm Jumeirah.
For a truly extraordinary experience in Dubai, enjoy a tandem skydiving experience with SkyDive Dubai, or swim with the dolphins at the Lost Chambers Aquarium. Once the hunger pangs kick in, take a leisurely stroll along the boardwalk and seat yourself at one of the many trendy restaurants for a well-deserved bite to eat.
2. Welcome a desert drive and dining experience
Dune bashing is a must-do activity while in Dubai. There are a variety of places to enjoy a dune bashing experience, so buckle up for a 4×4 driving experience like never before! If that isn't your cup of tea, then you could go for camel riding, sandboarding, horse riding and other exciting (or leisurely) activities. Alternatively, get in touch with one of the many tour guide companies that offer these experiences.
3. Admire the views from the iconic Burj Khalifa
Standing tall at 829,8 metres, the world-renowned Burj Khalifa skyscraper is a phenomenal way to view Dubai from a bird's eye view! Make your way to the 124th floor of this building and be sure to catch the dancing Dubai Fountain Show after. Don't worry, you'll have plenty of time to view this spectacular 'performance' as it starts at 6pm daily and continues for every half-hour until 11pm.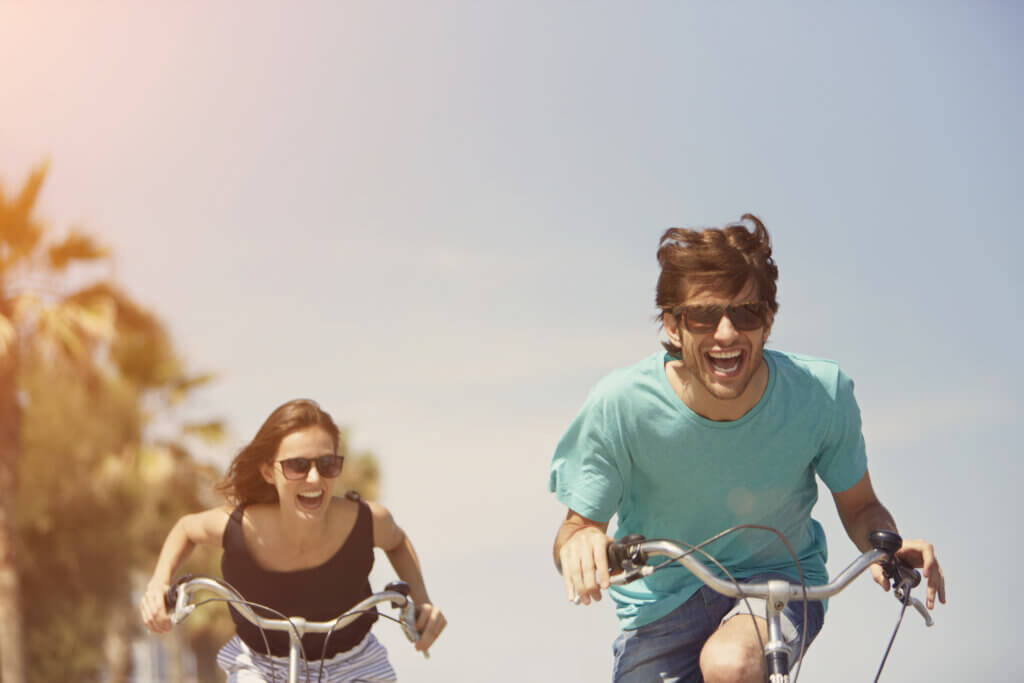 4. Explore the Dubai Miracle Garden
Be wowed by the plethora of breathtaking displays at the Dubai Miracle Garden showcasing 150 million flowers and a range of incredible structures! Take some Instagram-worthy snaps as an ode to your Dubai honeymoon adventure, and finish off this pitstop with a delicious lunch at one of the kiosks or restaurants located within the garden.
5. Cool down at Ski Dubai
Didn't think you'd be able to enjoy a ski trip in Dubai? Think again. Welcome the 22,500 square metres of winter wonderland that is known as Ski Dubai and enjoy the freestyle zone suited to 5 different ski levels – perfect for those longing for some cooler temperatures in the melting pot that is Dubai!
6. Enjoy a day of beach heaven
While beaches may be found in almost any part of the world, you've got to add a beach day to your Dubai vacation. Why, you ask? Dubai boasts some of the most interesting beaches you'll come across, with some even giving you access to water parks, restaurants and more. Enjoy a day of sun, sand and sea as you tackle kitesurfing at Kite Beach, or get your tan on while lounging about at Sunset Beach. If you're staying at Rove La Mer Beach, then La Mer beach is the perfect beach spot to visit; it's also the newest trendy addition to Dubai's beach scene. 
7. Marvel at the cityscape views from Ain Dubai
Seat yourself 250 metres above the ground as you discover the world's tallest and largest observation wheel. The newly opened Ain Dubai allows you to enjoy the indoor air-conditioned cabin with a host of activities and additional add-ons to make your experience even more unforgettable. View our blog on Ain Dubai here and enjoy convenient access when you stay at Rove Dubai Marina.
With so many reasons to visit Dubai for your honeymoon, what's not to love? If you're worried about being able to afford the experiences you want to try, don't be. Rove hotels ensure you can welcome cost-effective yet trendy accommodation at one of our hotels in Dubai, so you get to spend your money where it matters most – living out your honeymoon fantasy in the bustling city. 
Book your stay with us today and start planning your honeymoon adventure now!