Dubai Parks and Resorts is the Middle East's largest integrated theme park destination, ready and waiting to welcome you for a day—or weekend! —of fun and thrills. From exhilarating rides and mind-blowing live shows to aquatic adventures and LEGO® fun, you can look forward to a host of entertainment while staying at Rove at the Park, your Dubai Parks hotel of choice. Keep reading for the full low-down on what to expect and how to plan your day while staying at our hotel on-site!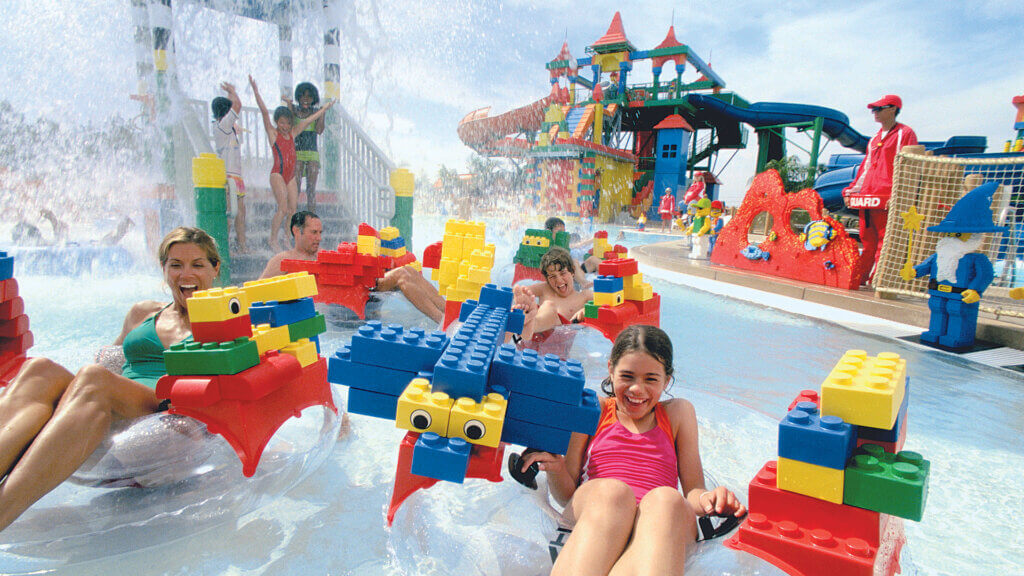 About Rove at the Park
Adventure-filled entertainment awaits during your stay at Rove at the Park hotel. Sandwiched in between the enthralling amusement parks at Dubai Parks and Resorts, Rove at the Park is your gateway to endless adventure as you hop from one theme park to the next. 
Soak up the eclectic interior design of our colorful Dubai Parks hotel, cool down while diving into the outdoor pool, hit the on-site gymnasium for a cardio workout, and grab a bite to eat at the multi-cuisine The Daily all-day dining restaurant located within our walls. Rove at the Park also helps you lessen your carbon footprint at our sustainably designed hotel, where AC drainage water is used for irrigation and solar power is utilised. We've also pledged to reduce our plastic consumption by much of the plastic items from our operations such as straws, takeaway containers and more. At Rove at the Park, we are committed to being a Green Key-certified hotel!
Getting to Know Dubai Parks and Resorts
A whirlwind of exciting entertainment awaits when you visit Dubai Parks and Resorts. With three incredible theme parks and a waterpark located on-site, a day of fun is certainly on the cards. This bustling integrated theme park destination features MOTIONGATE™ Dubai, BOLLYWOOD PARKS™ Dubai, LEGOLAND® Dubai, and LEGOLAND® Water Park. We've conveniently summed up each theme park below:
MOTIONGATE™ Dubai
This movie theme park brings you thrilling immersive experiences themed according to three of the most successful motion picture studios in Hollywood. These include DreamWorks Animation, Lionsgate, and Columbia Pictures.
DreamWorks Animation invites you to explore four unique lands themed according to some of the most notable blockbuster classics, including Shrek, Madagascar, How to Train Your Dragon, and Kung Fu Panda. Hop onto a thrilling ride, save the day as you play the hero, enjoy a multimedia theatre show or immerse yourself in the interactive play zones.
Lionsgate is where you can savour lip-smacking meals, shop trendy merchandise and soak up the phenomenal live entertainment on show. Break out in dance as Lionsgate brings Step Up, Dubai, All In! to life, based on the Step Up franchise, and gear up for action-packed thrills with The World of the Hunger Games.
Columbia Pictures welcomes you to a world of adventure as you get to join the Ghostbusters in an epic battle, take off on a high-speed chase the way the Green Hornet would have intended, and explore the rest of the 7 attractions that include a water slide, and interactive shows and coasters where it rains meatballs. 
MOTIONGATE™ Dubai also has a magical Smurf Village waiting to be explored, with Studio Central transporting you to the world of Hollywood filmmaking set against the backdrop of the Big Apple, New York City.
BOLLYWOOD PARKS™ Dubai
Get ready to discover 6 fantastical zones at BOLLYWOOD PARKS™ Dubai, all inspired by some of the biggest and best Bollywood blockbuster movies. Bollywood Boulevard draws you into its vibrant street cafes and live entertainment as the colours, music and dance of India takes you on a sensory experience. Navigate your way to Mumbai Chowk and dig into the flavour explosion of Mumbai's famous food while shopping and partying within its streets. Thrill-seekers can embark on a street chase through Dubai with the mafia boss Don for an epic adrenaline rush.
Rustic Ravine is where rural India comes to life in its scenic surroundings. Be sure to hop onto the new rides such as the Bollywood Skyflyer, the world's tallest swing ride. Royal Plaza is next on the list, where Rajmahal Theatre is brought to life as the region's very first Broadway-inspired Bollywood musical. If you want to learn all about creating a Bollywood blockbuster, then Bollywood Film Studios is a must-visit location. Get insider tips and meet your favourite Bollywood superheroes right in the heart of Dubai. Finally, a festival awaits at Mela Junction, comprising a carnival-inspired fair serving mouth-watering Indian treats at Namaste India and a host of fun-filled rides.
LEGOLAND® Dubai
Welcome a world of interactive fun-filled with all the LEGO® you can imagine at LEGOLAND® Dubai! Boasting over 40 LEGO® themed rides, building experiences, and shows, this awe-inspiring theme park destination is ideal for Rovers aged 2 to 12 years old. Start off at the Factory for a sneak peek into how LEGO® is made, and be sure to stop at The Big Shop, the Middle East's largest LEGO® store.
The Imagination Zone is where LEGO® car racing and the building of LEGO® MINDSTORMS® robotics takes place! What's more, little Rovers can climb their way up the Kid Power Towers, enjoy a dizzying ride on the LEGO® Technic Twister, and more.
Conquer the Dragon coaster in the medieval land that is the Kingdoms zone. From riding the Dragon's Apprentice to tackling Merlin's Challenge, a host of exhilarating fun awaits here! The Adventure zone is where aspiring Rovers can embark on an underwater submarine adventure, recover stolen treasure in the temple ruins, or dodge water blasts aboard the Wave Racers ski.
Last but not least, Miniland is the beating heart of every LEGOLAND® Park. Designed with 20 million LEGO® bricks, this air-conditioned Miniland is an ode to Dubai's skyline and other noteworthy landmarks throughout the Middle East. Rovers can also build their very own city skyline with the exciting Build a City feature.
LEGOLAND® Water Park
Welcome a day of fun in the sun as you splash your way through 20 water slides and attractions at this LEGO® themed water park. Designed specifically for families with little ones aged 2 to 12 years old, LEGOLAND® Water Park is where you can tackle the iconic Joker Soaker, construct your very own LEGO® river raft, enjoy a splash safari and more! Look forward to never-ending fun and adventure at this marvellous water park destination.
Now that you know everything there is to know about Dubai Parks and Resorts, come on down to the Dubai Parks hotel that is Rove at the Park for an unforgettable stay that places you on the doorstep of all these exciting destinations! Book your stay with us now.