Get ready for fun and adventure during a family staycation and a memorable visit to LEGOLAND Dubai! Open year-round and ideal for families with little Rovers aged 2-12 years old, this iconic theme park destination invites families to indulge in a full day of LEGO-themed adventures while enjoying a stay in one of the Rove hotels next to LEGOLAND Dubai. Keep reading below to learn more about what you can look forward to at LEGOLAND Dubai while staying with us.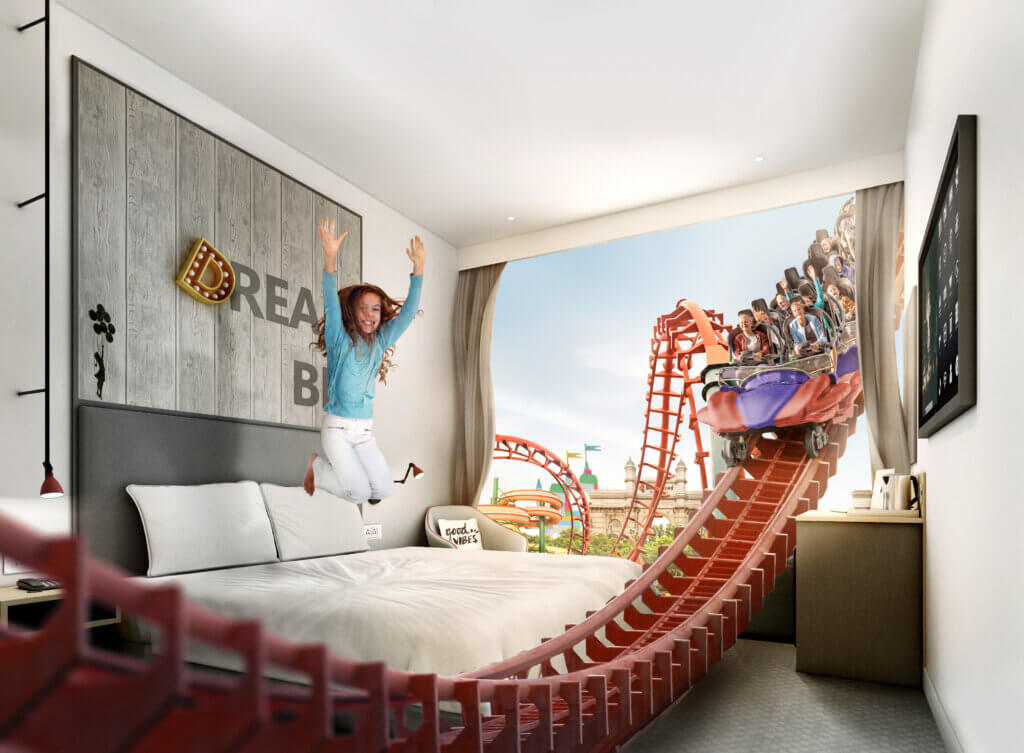 Rove at the Park
Rove at the Park is located at Dubai Parks and Resorts, right at the heart of LEGOLAND Dubai and other exciting attractions. A stay at Rove at the Park means you are getting the best possible deal on tickets to Dubai Parks and Resorts if you purchase them with your room. Check out this promotion on our offer page for more info.
Look forward to a day filled with thrilling adventures with access to LEGOLAND Dubai, LEGOLAND Dubai Water Park, MOTIONGATE Dubai and BOLLYWOOD PARKS Dubai!
Enjoy the high-speed internet with interconnecting rooms perfect for families, plus late check-out times, an outdoor pool and a host of other convenient facilities available at Rove. We're the perfect option for guests trying to track down hotels next to LEGOLAND Dubai.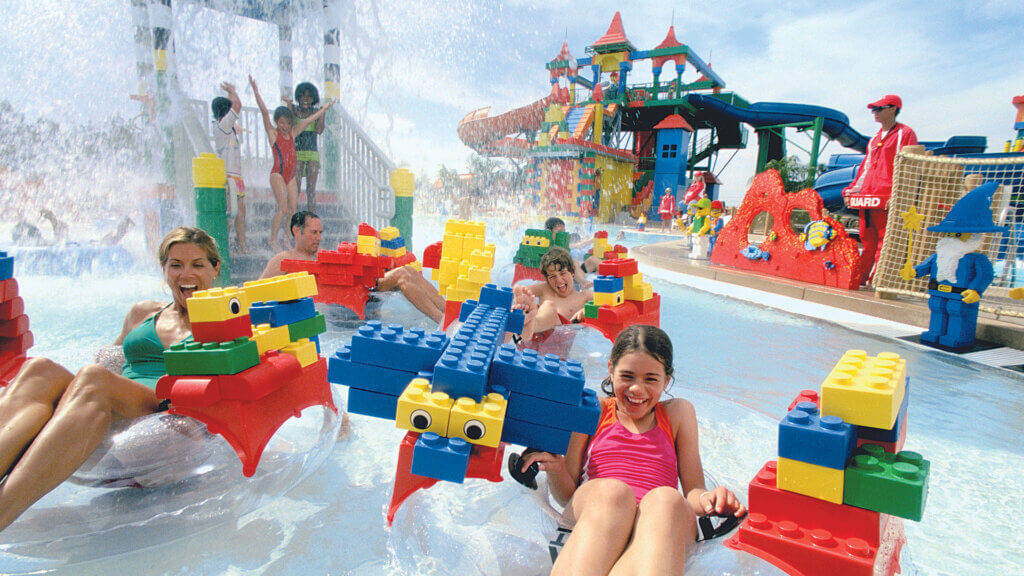 What to Look Forward to at LEGOLAND Dubai
LEGOLAND Dubai welcomes families with little Rovers to explore all of the exciting activities as you immerse yourself in the world of Lego. There are 6 different Lands to discover including MINILAND, FACTORY, LEGO CITY, KINGDOMS, IMAGINATION, and ADVENTURE. Get ready for a day of excitement as you rove your way through this must-see theme park destination.
Little Rovers can hop aboard the Dragon Roller Coaster or the Dragon's Apprentice for the Lego ride of their lives, or take up their very first "driving lesson" at the various driving schools. More adventurous little Rovers can conquer the Lost Kingdom Adventure. Battle the Lego mummies and skeletons while finding the hidden treasure with fellow Lego adventurers!
Help your little ones build their very own Lego race cars, put their strength to the test at the Kid Power Towers, put together some mini robots, become master builders and more. The opportunities are endless! What's more, catch your favourite Lego movie at LEGO Studios 4D for a cinematic experience with special effects. Be sure to enjoy the Factory Tour and discover how a Lego brick is produced while receiving your very own keepsake as a souvenir of your time here.
Splash and Dive at LEGOLAND Dubai Water Park
Once you've ticked a few exciting rides and activities off your list, gather the kids for some fun in the sun at the LEGOLAND Water Park. Eager beavers can construct their very own Lego raft before "setting sail" on the lazy river. The Red Rush invites the whole family to join forces in a family-sized raft as you splash your way down a 312-foot-long curving track.
Tackle the interactive water playground known as the Joker Soaker, zoom into the water down below on the Wave Rider, zip down 70 metres as you brave the Tidal Tube, and more.
Whatever your idea of splashing about is, LEGOLAND Water Park sure doesn't disappoint!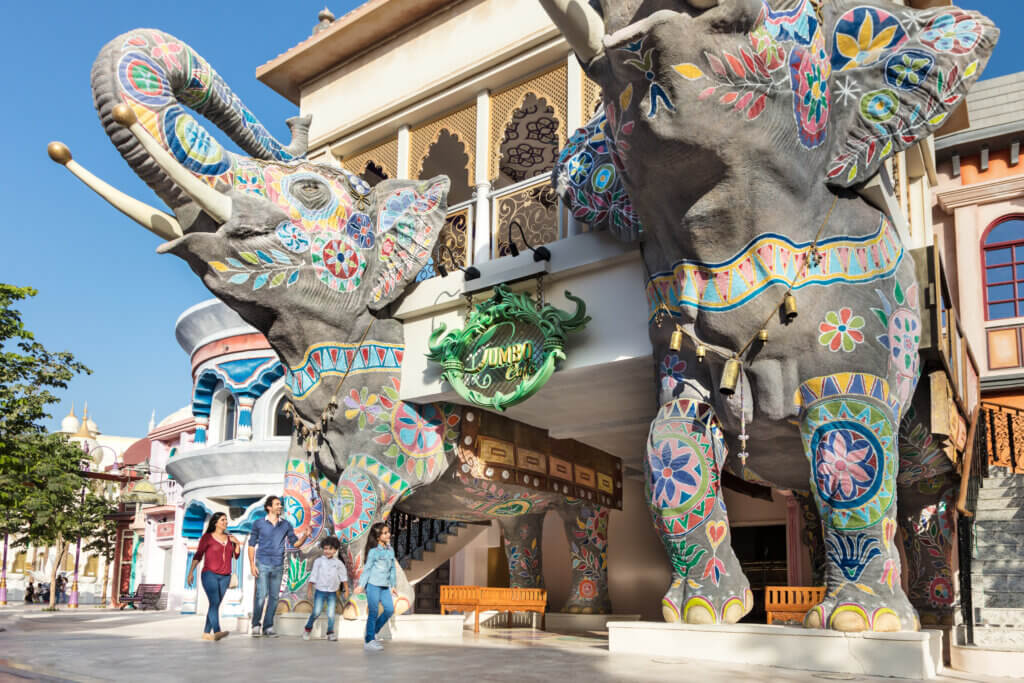 Dining at LEGOLAND Water Park
Whether you're after a quick snack or would like to enjoy a sit-down meal, LEGOLAND Water Park has a variety of tasty food and beverage options available for you to savour. Beat the queue before hopping back into the water by grabbing a tasty filler at Waterside Snacks serving a range of food that is gluten-free, vegan, vegetarian and more. Alternatively, fuel up before heading back for more splashes by sitting down at Waves Bistro as you devour mouthwatering burgers, salads and wraps that come in a variety of healthy options.
Enjoy the World of LEGO in Style
Live your best life with some VIP treatment and enjoy a private cabana experience while at LEGOLAND Dubai. Those that don't mind the extra charge can enjoy an exclusive cabana that includes a host of benefits, like sun loungers, privacy curtains, a sofa, safe storage and more.
Shop and Splurge
True LEGO fans will want a host of trinkets that pay homage to their special time at this noteworthy destination. That's why LEGOLAND Dubai Water Park boasts a plethora of excitable items for purchase at Bricks Beach Shop. Make a pitstop here before you leave and get something you can remember the day by.
With so much to see and do at LEGOLAND Dubai, book a stay at Rove At The Park for the ultimate convenience. Our hotel places you at the forefront of Dubai Parks and Resorts so you can commute less and spend more time on fun, making us one of the best hotels next to LEGOLAND Dubai. Enjoy your free tickets to this thrilling theme park destination by making your reservation at our trendy hotel now.