Rove Home Aljada Residential 1, 2, 3 Bedroom Apartments
• The new brand aims to offer hassle-free living solutions to extended stay and serviced residence investors, with options to avail housekeeping, in-room dining, laundry, co-working and other services in true Rove-style.
• Rove Home represents an important milestone for the Rove Hotels brand, further cementing its position into the extended stay segment.
• Rove Home Aljada is the brand's first residential project, featuring contemporary designs and smart home features, ranging from 1, 2, and 3 bedroom apartments.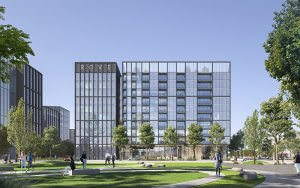 Dubai, UAE (1 May 2023): The fun-loving and quirky homegrown UAE brand, Rove Hotels, is taking its first steps into the branded residential housing market with the launch of Rove Home, an extension of the Rove brand into this increasingly popular space. As a brand that has been committed to catering to the needs of its target guests, and one that has long been associated with extended stays, Rove Home is a full-fledged step into providing the ultimate comfort-living experience.
Rove Home Aljad – Residential development
With the exciting announcement of this new brand comes its first project – Rove Home Aljada – a residential development in the heart of Aljada, the sensational community transforming Sharjah. Featuring the most contemporary design, every apartment in this exciting development will carry the same Rove style that people have grown to love. Expressive and always evolving, Rove Home is a playful and energetic take on modern living. While Aljada is the brand's first location, Rove is targeting the construction of more Rove Home properties in the future.
Paul Bridger, COO of Rove Hotels, commented, "We are excited to explore the vast potential of the branded residential sector and to contribute to the creation of welcoming homes designed for contemporary living in true Rove style.
Rove Home Aljada Apartments – 1, 2, 3 BHK
Due to go on sale in the coming weeks, each of the Rove Home Aljada apartments will be bursting with smart home features alongside warm, simple design and contemporary finishes. With options ranging from 1-, 2-, and 3-bedroom apartments, there is plenty of choice to suit everyone. When buying an apartment, residents of a Rove Home will also have the option to avail for add-on services such as housekeeping, in-room dining, laundry, and more.
Rove Aljada – Your dream home
People staying at Rove Home Aljada will also have plenty to enjoy around the area. Complementing the adjacent Rove Hotel, the neighborhood masterplan includes extensive hospitality, retail, F&B, and leisure options all within walking distance. Also, the destination is home to an extensive cycling network, 3 schools, and a business park. Opposite Rove Home is Aljada's main park and family entertainment district, which has been designed by the world-famous Zaha Hadid Architects.
With an imminent sales launch, Rove Home is an excellent choice for those looking for an ideal investment in this bustling region. For more information on Rove Home Aljada visit the Aljada Discovery Center and to organise your own viewing for Rove Home Aljada contact 800-ARADA (800-27232).