The Burj Khalifa is quite literally one of Dubai's biggest icons. What better way to start off your days in Dubai than to see this beauty from your hotel window? At Rove Downtown, you can do just that. Here's all the deets on the room, plus everything you need to know about the world's tallest building, a true rival for Jack's beanstalk!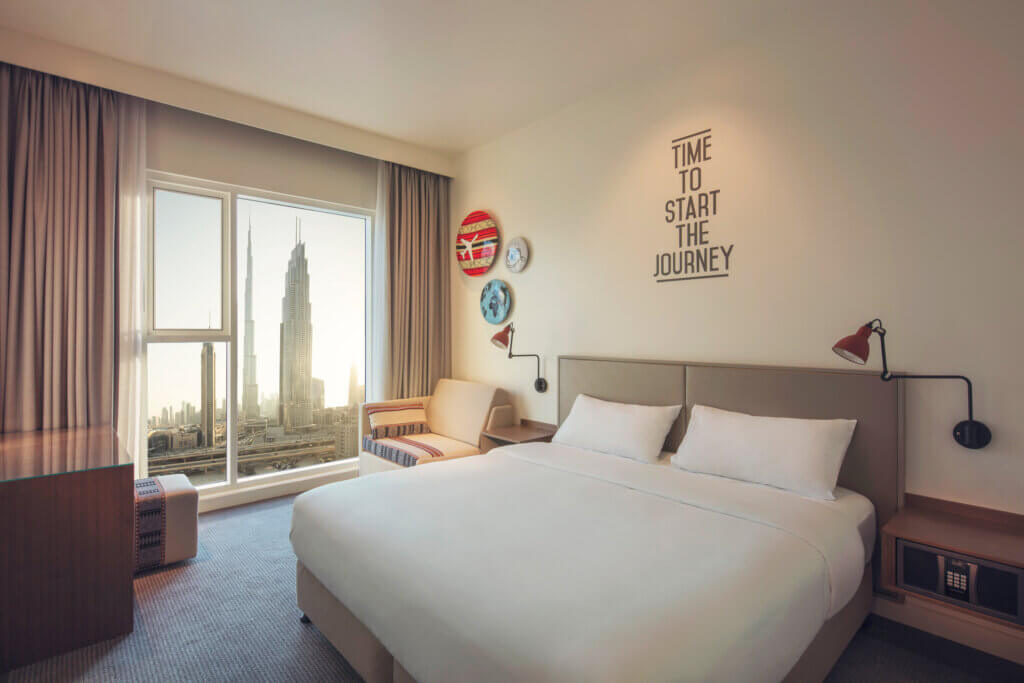 The Spectacular Burj Khalifa 
More than a city icon, the Burj Khalifa is a global icon of epic proportions. It is a reflection of the kind of innovation and possibility that Dubai has become renowned for. It also holds representations of the Hymenocallis (Spider Lily) flower found in the near-desert, with design inspiration rooted in Islamic architecture. 
Rome wasn't built in a day, and nor was the Burj Khalifa. When you're marvelling at this magnificent structure, consider the 22 million hours it took to build over a period of 6 years. It's no wonder it has become one of the world's most photographed buildings!
Once you've set your eyes on this beauty, you'll want to explore it. Reaching an astounding 828m high, this structure also holds two preservation decks where you can see the sprawling city that encapsulates the building. You can book tickets to visit the decks, book a tour, or make a reservation at The Lounge and the restaurant At.mosphere.
At night, the building sparkles with geometrically placed lighting that plays with light and shadow. While not every hotel room in Dubai has views of the Burj Khalifa from their rooms, you could spot it as a feature in the skyline from as far as 95km away. 
Crowning the Burj Khalifa is a telescopic spire. It was constructed from inside the building and is made up of 4,000 tons of steel. The 4 floors sitting just below the spire are used for communications and broadcasting.
Art lovers will be pleased to know that the Burj Khalifa features more than 1,000 artworks, many of which were specially commissioned by Emaar. It is a mix of Middle Eastern and international works as a tribute to the spirit of global harmony by linking cultures in the same way that the Burj itself is an example of global collaboration.
In case you're wondering what the name means, Burj translates to "mountain" or "tower," and it was originally going to be called Burj Dubai. The city name was dropped in order to pay tribute to the leader of Abu Dhabi and the second president of the UAE, Sheikh Khalifa bin Zayed Al Nahyan. 
See the Burj Khalifa from Your Hotel Room
Come and stay with us at Rove Downtown. You'll be as close to Dubai's must-see icons as one can get, just a short stroll away between you and The Dubai Mall, Dubai Fountains and, of course, the Burj Khalifa. 
Your Rover room will also be filled with everything you need to make your stay a memorable one. Peel back the covers and climb into a comfy bed at the end of the day, and open up the curtains when you wake, with the Burj Khalifa right there in front of your eyes. 
Fuel up on a hearty breakfast spread from Friday's our on-site restaurant. You can grab lunch and dinner here too, and even enjoy outdoor dining with Burj views during the winter months. While you're away, we'll give your room a spring cleaning, ready for your return. 
Rove Downtown has a 24-hour gym for the fitness fanatics, and a pool to jump into when you need to cool off. All of the modern amenities you need from a hotel are included, whether you need to work, play or rest.
Bring on the Burj. Book your room at Rove Downtown.