Dubai is a desert-scape that is oozing with some of the hottest locations to keep you entertained, and beach days definitely trump our must-do list! While many of the bustling city's beaches are flocked with tourists or reserved for hotel guests, there are some really good ones to trek to when staying at your Rove Hotel of choice. We give you the full lowdown on the trendiest beaches in Dubai below – we've even thrown in some of the best beaches in Dubai you've never heard of!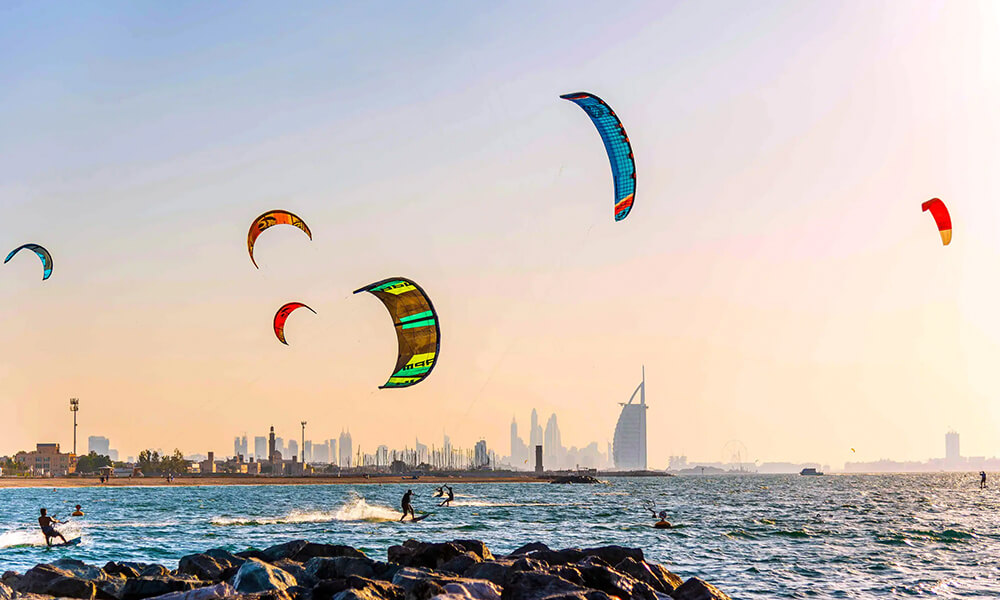 Black Palace Beach/Al Sufouh Beach
If you are new to Dubai, then you may not be privy to this hidden gem. Take the right-hand turn onto King Salman bin Abdulaziz Al Saud Street as you head towards the Marina, where Black Palace Beach can be found once you take a rocky little pathway that leads the way to this stunning stretch of coastline. Behold the acres of empty, balmy beach and crashing waves, the perfect pitstop on your itinerary as you explore what's on offer while staying at Rove Dubai Marina, hotel in dubai marina. There aren't many facilities nearby, so be sure to stock up on all your favorite beach and picnic snacks before heading to this awe-inspiring beach.
Starfish Beach
Without a real name to it, this secret hideaway is dubbed "Starfish Beach" because of how many of these creatures you can find nestled in the shallows. Located nearby La Mer, it's conveniently situated close to Rove La Mer Beach hotel, which is the perfect spot if you're looking to swim in the ocean on a day out from your stay in Dubai. With a rocky barrier present, the sea is peaceful. See? We promised we'd reveal some of the best beaches in Dubai you've never heard of!
The World Island
Staying at a Rove Hotel with your significant other and enjoying a blissful break away from the hustle and bustle? The World Island is ideal for couples looking to enjoy some quality time on a day out. This beach can be reached via a water taxi, the historical way of commuting in Dubai! Book in advance if you plan on venturing to this man-made archipelago called "The World," because water taxis only travel a few times a day. Retreat back to your Rove Hotel of choice after a long day of beach island hopping. You're welcome!
La Mer Beach
Not so much of a secret, but definitely worth visiting!  Book your stay at Rove La Mer Beach hotel and enjoy some time at this amazing beachfront known for its Californian flair, sporting sandy shores and a unique inflatable playground called the "Hawa Hawa." La Mer Beach offers fun for the entire family, with the Hawa Hawa welcoming little Rovers to hop, crawl and slide about on various obstacles – perfect for keeping your mini-me's entertained as you unwind with a relaxing day at Dubai's latest beachy addition.
Sunset Beach
This trendy beach is a hit for anyone that discovers its sandy shores! Marvel at the mesmerising view of the Burj Al Arab as you soak up some vitamin D on your fun day out with loved ones, friends, or simply by yourself! Split up into two sections—one for surfing and another for sunbathing—pick your poison as you rove down to this breathtaking location. Ideally, there are many restaurants, cafes and other places to dine if the hunger pangs kick in. Sunset Beach is situated near Rove City Walk as well as Rove Trade Centre, which is great if you're not planning on venturing too far for a fun day of sun, sea, sand and adventure.
Kite Beach
Calling all kite surfers and kite flyers alike! Kite Beach ticks all the boxes, with delicious grub being served from the food trucks that populate its shores throughout the day, offering plenty of options to tease your taste buds with! If kite surfing or kite flying is not your cup of tea, then paddle boarding is another option if a fun encounter is what you're after, whether you're seasoned or a complete newbie. Alternatively, opt for kayaking, take on the outdoor trampoline area, volleyball courts, skateboarding, or simply stretch out on the warm beach sand and soak up some rays. After a long day of fun in the sun, Rove Downtown, best hotel in downtown welcomes you home to kick back and admire your tan as you grab a bite to eat at The Daily.
JBR Open Beach
If you're looking to tick off a bunch of activities on your beach day out, then head down to the beach of choice in Dubai: JBR Open Beach. This ocean stretch offers large areas to chill and sunbathe, family-friendly spots, and water sports activities for the adrenaline junkies. Plus, it offers some fantastic views of Bluewater Island and the stunning Ain Dubai. Additionally, if you're a Rover looking to do a camel ride on the beach, then JBR Open Beach is the way to go. It also boasts many dedicated spots for dining or cooling down with a refreshing beverage. If you've got the little ones tagging along, be sure to stop by the Dubai Aqua Park, an inflatable water park that is perfect for little Rovers. Whatever tickles your fancy, you certainly aren't shy of things to do here, with Rove Dubai Marina a short distance away, beckoning you to relax and unwind in your hotel room after a long day out.
As always, Dubai never disappoints! With so many beaches to choose from—some of which are the best beaches in Dubai you've never heard of — you always have something to see and do close to your Rove Hotel of choice! Visit our website to view our hotels and decide on which one suits your itinerary best. Or, simply give us a call and we'll be able to give you our two cents on which Rove Hotel we think would suit you best – depending on your plans, of course!