With an emerging health food scene, tantalising street foods and bespoke fine dining restaurants, Dubai offers an eclectic mix of local and international cuisine for even the most discerning foodie. If you want to taste your way through the city's most salivating spots but haven't a clue where to start, check out our itinerary below for the most unforgettable Dubai foodie experience when staying at your Rove hotel of choice.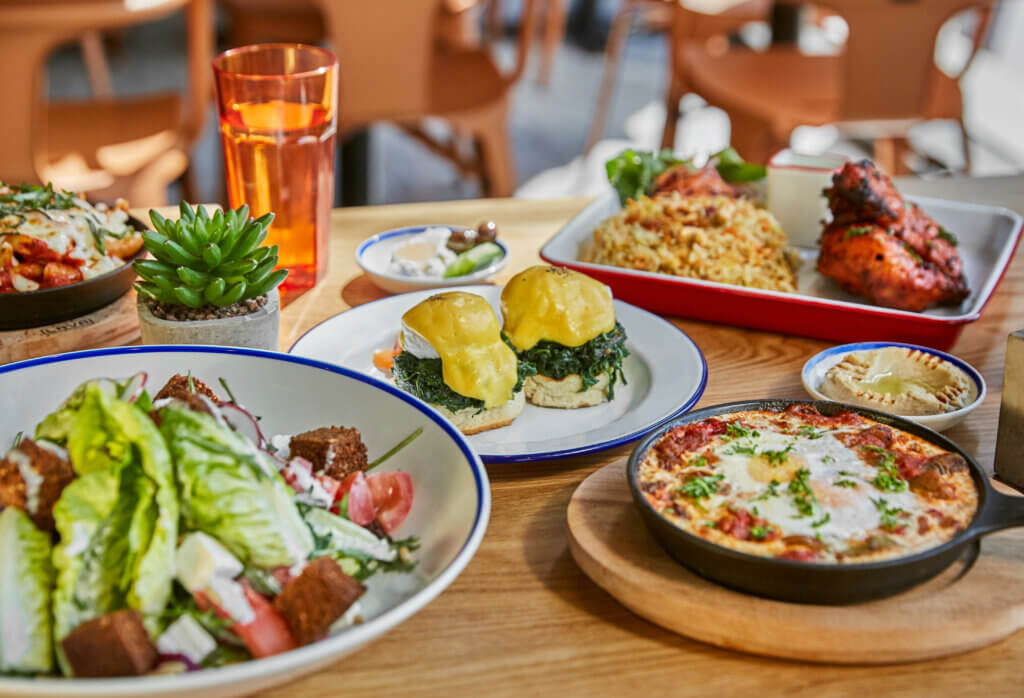 A Sensory Street Food Experience
When in Dubai, it's easy to enjoy an immersive experience as you take a stroll through the city. What makes it even better? The food trucks and street food that give you the bang for the buck. If you're staying at Rove City Centre, rove down to Mr Chaat Hut in the Deira City Centre area for mouthwatering Indian street food that will keep you coming back for more. Renowned for serving up some of the best shawarmas in Dubai, Al Mallah is another favourite if you're looking to indulge in what is arguably one of the most popular meals in the city. 
Enjoying a vacay at Rove Trade Centre? Head to the vibrant Global Village (open only October – May). Discover STREET, the dining arena at the Global Village boasting over 200 restaurants, street food spots and cafés. Whether it's chicken in a cone, delectably sweet churros or a hearty steamed dumpling that gets your stomach happy, you'll have plenty of options from which to choose!
Healthy Yet Hearty Meals to Try
Dubai has an exciting food culture, with keto-friendly and vegan restaurants becoming the craze. With a host of restaurants as diverse as the city itself, even the most fanatic foodies are privy to the wide variety of healthy restaurants peppered throughout the city. SEVA Experience is a magical garden-style restaurant tucked away in the Jumeirah neighbourhood. Ideal for Rovers staying at Rove La Mer Beach and beyond, this holistic well-being centre sports its very own plant-based cafe, and a food menu that is free from gluten, dairy, artificial ingredients and sugar. Try their sushi wrap or chocolate porridge as you unwind in the zen-like garden.
Alternatively, visit Beach Road in Jumeirah and opt for a wholesome meal or invigorating health smoothie at Comptoir 102. This hidden gem offers guests an all-day menu with dishes such as the seaweed pesto. Another favourite is the Arabian labneh that is served as an organic panini accompanied by refreshing mint and a unique lemonade made of lemon juice, maple syrup and other invigorating ingredients.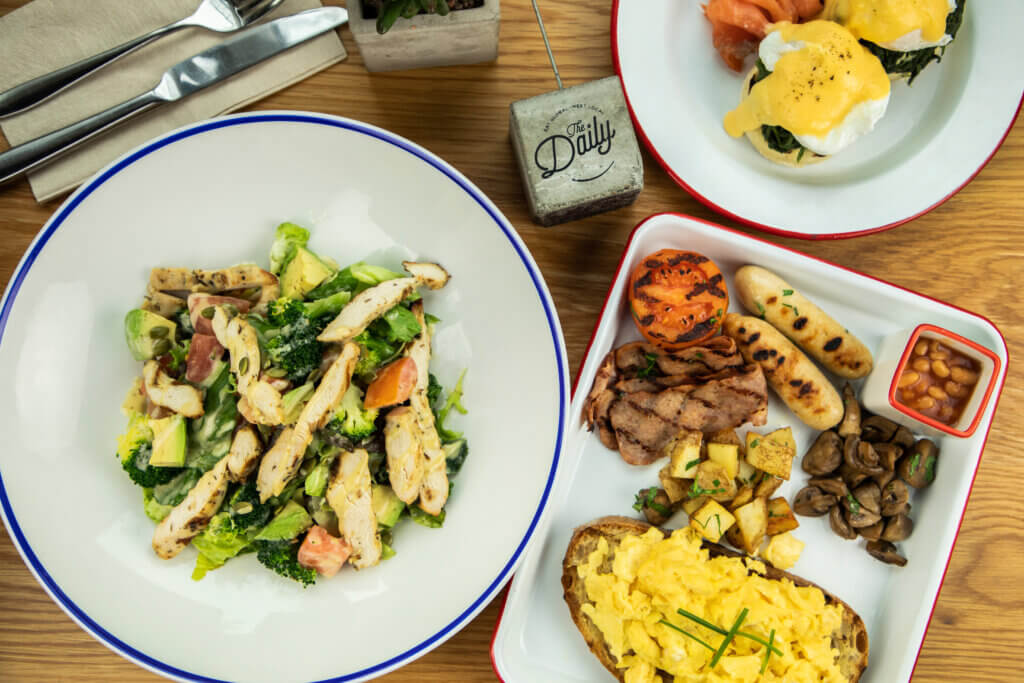 A Taste of Luxury
If visiting the world's tallest building isn't enough of an experience, try dining in it too! Armani Amal is located on the third level of the mighty Burj Khalifa and is renowned for its tantalising Indian cuisine. Taste your way through sumptuous balsamic lamb chops, Galouti kebab, and other meals suitable for vegetarians and carnivores alike! What's more, the mesmerising Dubai Fountain serves as the scenic backdrop to your memorable dining experience.
Alternatively, head to Nova, the newest kid of the block at Address Dubai Marina! As a captivating restaurant and lounge concept, Nova offers diners a unique Mediterranean fusion fine dining experience paired with thrilling live entertainment. Whether you tantalise your taste buds with the à la carte options or opt for the mouthwatering business lunch offering during a corporate visit to Dubai, the menu is one that is guaranteed to impress.
Al Iwan, which translates to "The Royal Hall," is another option for a captivating dining encounter set within the mighty Burj Al Arab. Soak up the inviting sea views by day or lose yourself in the flickering candlelight by night as you dive into an unforgettably tasteful Arabic culinary experience.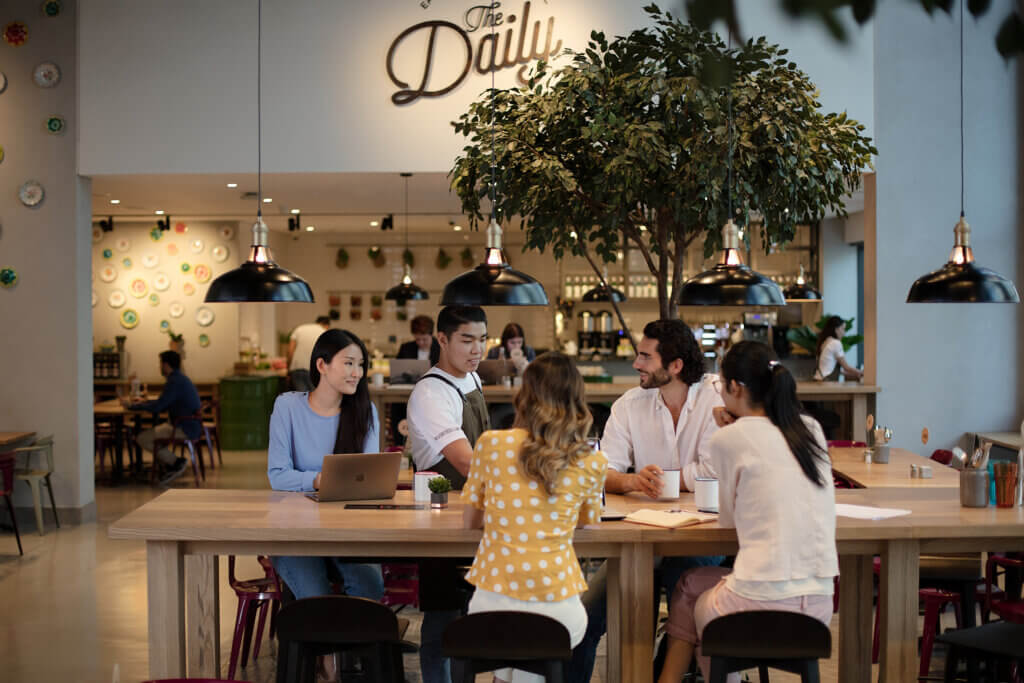 Savour the World's Finest Flavours
Enjoy the tastes from around the world as chefs from all backgrounds prepare to serve you their slice of heaven. A collection of exciting international flavours can be found at Rove's on-site The Daily all-day restaurant. Whether it's a lip-smacking pizza, a vegan meal or a signature booster drink to kickstart your day, make sure you enjoy the convenience of grabbing a delicious meal without leaving the comfort of your hotel. 
A unique food encounter awaits when you choose to enjoy breakfast with the animals during an experience with Dubai Safari. Marvel at exotic birds as you enjoy a scrumptious breakfast that will prepare you for the explorative day ahead! Dubai Safari has a host of packages that provide the opportunity to come face-to-face with some of the most fascinating creatures of the wild, including the Arabian wolf and 111 different species of bird.
If a Lebanese meal is what you're after, then Ibn AlBahr at Palm Jumeirah serves crowd-pleasing freshly caught grilled fish and mezzes that will satisfy your food cravings. A taste of Turkey awaits at Sultan Saray on Sheikh Zayed Road with a host of kebabs, desserts and more that will keep your hunger pangs at bay. Cafe Isan, on the other hand, invites you to explore Thai cuisine at its finest with their pad Thai noodles, curries, soups and more.
Food enthusiasts are always in for a treat when exploring the exciting palate-teasing and crowd-pleasing meals available at various Dubai-based restaurants, hotels, cafés and more. From tasty street foods to luxury dining experiences, discover a world of flavours when in Dubai.
Looking to enjoy a stay that allows for ample time to welcome an extended tasting experience in Dubai? Visit our website to browse through our variety of hotels scattered across the Dubai cityscape and book your next stay with us.