Downtown Dubai – The Centre of Now
It's home to some of Dubai's biggest tourist attractions, architectural icons, most prestigious residential neighbourhoods and yearly cultural events. With café culture – creativity – contemporary design and community, it's no wonder that Downtown Dubai is best dubbed 'The Centre of Now'.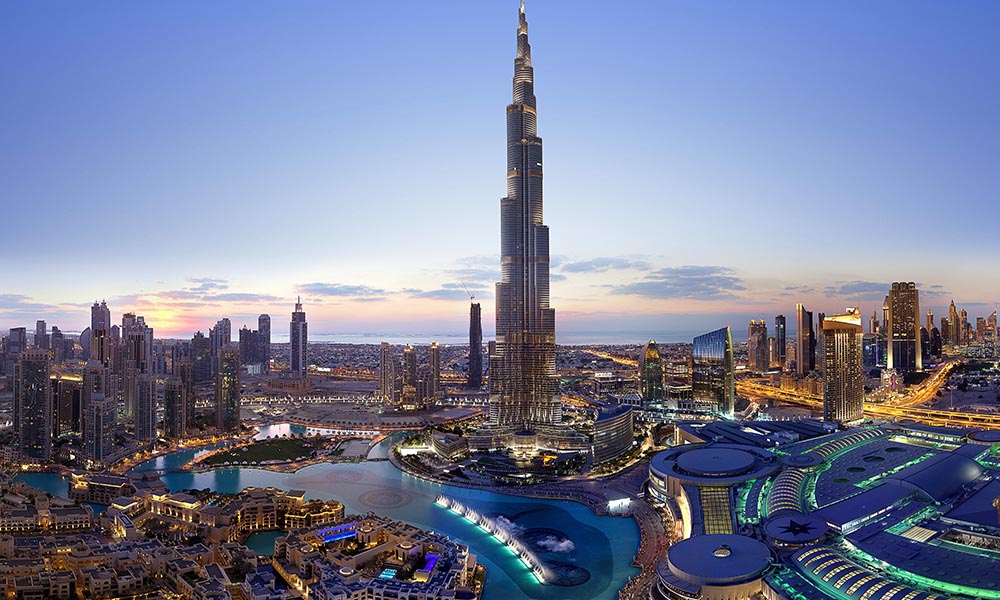 Amongst the 500 acres of illustrious buildings and leafy communities, you'll find the crown jewel of Dubai, The Burj Khalifa. Between Rove Downtown and the Burj (as it's known to its friends) is the neighbouring The Dubai Mall, a cornerstone attraction for entertainment enthusiasts, fashion fans, culinary connoisseurs and everyone in between. A stay in Downtown Dubai is just as epic for the suit-wearing businessman as it is for his six-year-old daughter thanks to its diverse offerings and proximity from the Emirate's central business hubs. If you have a packed schedule, your commute won't get in your way – staying in Rove Downtown puts you just five minutes from the Dubai Financial District, Business Bay and World Trade Centre (DWTC) with access to the Dubai International Airport in just ten minutes via public transport.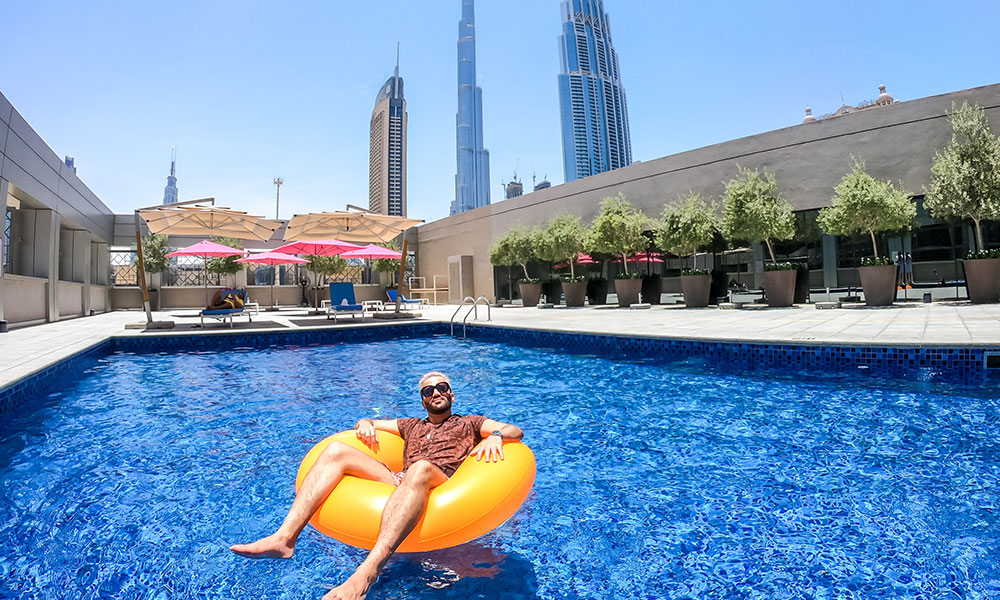 Roving Around
Being that this is the city of the future, you want to make sure you've got your feet firmly in the present to take it all in! And that's the best way to explore Downtown Dubai, by foot. That way, you get to fully immerse into the café culture of the Boulevard, whilst enjoying the art instillations and impressive architectural wonders at your own pace. From the Burj Khalifa and Dubai Mall along to Souk Al Bahar and The Dubai Fountain, everything is within easy reach from Rove Downtown.
If you want a speedier way to get in, out and around Downtown Dubai, you'll be happy to know that taxis are aplenty! You can hail them from the roadside or arrange from a 'rideshare' app on your phone. Don't miss out on the Dubai Metro, which offers a futuristic take on the traditional city rail system.
Whichever model of travel you choose, Rove has compiled a list of our must-sees of the area just for you!
Rove's Top 5 Downtown Dubai Favourites
Naveen, Rove Downtown's hotel manager has put together for you some recommendations on what to see and do around the neighbourhood. Check them out below!
Culture & Art – Dubai Opera House, Sculpture Spotting & Events
Sat proudly within the Opera District of Downtown Dubai is the stunning Dubai Opera House. Designed to resemble a traditional Dhow boat, the impressive 2000 seat auditorium gives a subtle nod to Dubai's traditions whilst melting them with the art of the world. Since opening its doors it has hosted Operatic juggernauts such as Pavarotti, Plácido Domingo, local talent Hussein Al Jassemi and the acclaimed BBC Proms. Stroll along to The Boulevard and keep an eye out for sculptures inspired by Emirati heritage that have been chiselled, forged and moulded to perfection. See if you can spot all five, including our personal favourite the 'Together' sculpture. Make sure to ask our Rovesters about seasonal events! As a part of the Downtown community and avid art & cultural lovers, we're usually involved in something whether it's Dubai Art Week, or lusting over the vintage motors in the annual Classic Car Show Festival we'll have the info on all that's going on.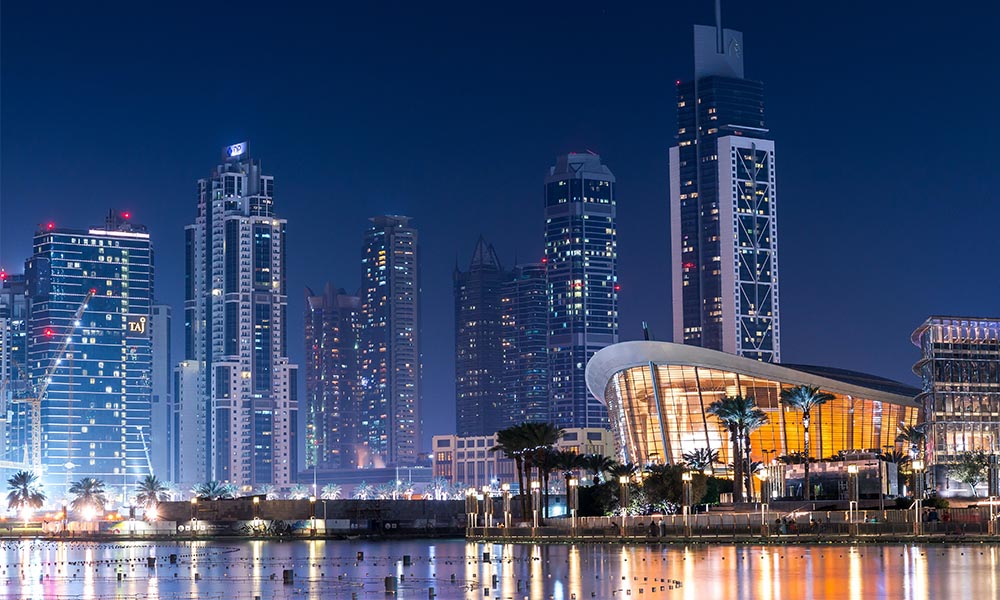 Family fun – An Underwater Zoo, Ice in the Desert, A Tropical Rainforest & Gaming IRL++
Put your adventure on ice! Why not give mum an hour of retail therapy whilst the kids are kept busy gliding the Dubai Ice Rink in the Dubai Mall. Head on over to the underwater zoo of the Dubai Aquarium; come face to face with a shark at feeding time, or walk through the aqua tunnel and marvel on stingrays and shoals of fish during their daily happenings.
Ever wondered what your kids would be when they grow up? Or perhaps they've wondered what it is you do all day at the office – Give them a taste of the real world in a bite-sized child-friendly chunk at Kidzania  in the Dubai Mall. With over 70 role-playing activities for children aged 2-16, they'll be kept busy for hours in this scaled-down city that teaches life skills they won't find in a classroom. Inside Kidzania town they will even find a mini Rove hotel where they can discover what it's like to be a Rovester!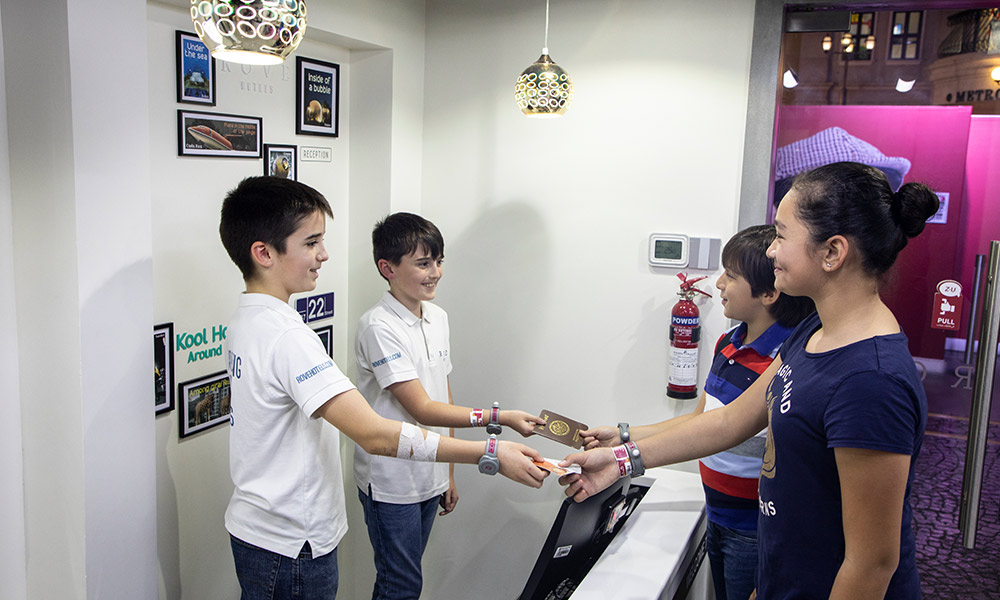 If you are looking for something more adventurous, head down to Ekart Zabeel, located at the Zabeel extension of The Dubai Mall, for some exhilarating fun with electric go-karts or immerse yourself in the world of virtual reality at the world's largest VR park , boasting over 25 action-packed experiences.
Venture a short 5 minutes out of the neighbourhood to the open leisure complex of City Walk for kid-friendly eateries, entertainment spaces and high-end retailers. Meet Dubai's most famous Sloth, feed the piranhas & visit the bat cave. Trail the tree canopy at Green Planet whilst Amazonian parrots and Toucans swoop overhead in the desert's very own Tropical Rainforest. For a truly future-ready experience, visit the indoor gaming centre at Hub Zero and warp reality in a 3D virtual experience, busting ghosts or fighting zombies.
Don't feel like leaving the hotel? Head downstairs from your room to our resident Reel Boutique Cinema. Kick back and settle into your comfy sofa-style seat at the showing movies, sport and regional cinema as well as a licensed bar for drinks to your seats. 
Sight Seeing – Dubai Fountain, Burj Khalifa, Emirates Towers, Museum of the Future
If you're flying into Dubai, make sure to get a window seat and watch out for The Burj Khalifa as it reaches out to the heavens 830 meters from the ground. Don't worry if you miss it though, as our Burj view rooms at Rove Downtown will greet you each morning and bid you a good night by the sight of this impressive sky-scraping record-breaker. If you have a head for heights, book a ticket to the top in the fastest elevator in the world and enjoy some amazing views of the city in the clouds on the 148th floor.
Another crowd-pleaser you can't leave without seeing is The Dubai Fountain. Catch a birds-eye view from the observation deck on the 124th floor of the tallest tower in the world. If just the thought of that makes your legs quiver, then join in the drama and grandeur of Dubai's Dancing Fountain with your feet firmly on the ground from Burj Park, home to the Opera House. For some more architectural eye-candy and the latest on what's next for Dubai, head over to the Museum of the Future to peek beyond 'the now' through exhibitions, immersive theatre and themed attractions.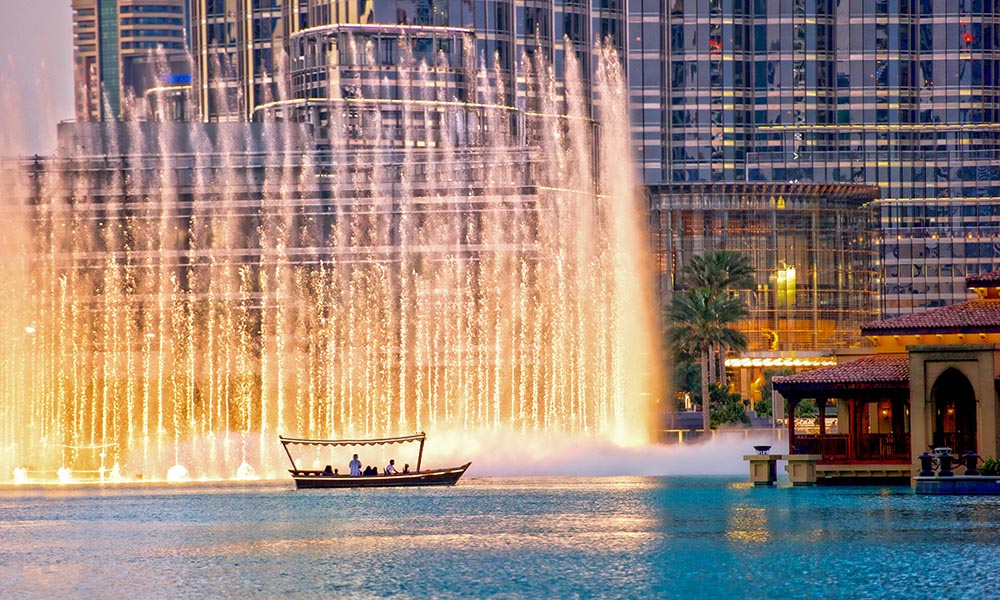 Dining – The Boulevard,  Dubai Mall & City Walk
Pack your elasticated waist pants and get ready for some possible expansion whilst exploring the cafes & restaurants of this Epicurious Emirate. Food in Dubai is an art form; it's a past time and a big part of the UAE's innovation as well as its history. When you stay at Rove Downtown, not only will you have the international cuisine of the Dubai Mall to dabble with, but you can also grab some seriously succulent Arabic fair and their famous European counterparts along Mohammed Bin Rashed Boulevard. You'll also be spoilt for choice with the unique culinary concepts that City Walk has to offer too, but if you want an all-time family favourite then look no further than 'Fridays' on the ground floor of the hotel. No matter where you are in this cultural capital of Dubai, there'll be a new foodie experience waiting to be explored.
The Rovesters' Insider Tips
At Rove, we're big on the environment – how we impact it as well as interact with it. For a super budget-friendly way for you to get up close, but no too personal with our local habitat, read on. For our Eco-tourist Rovers, Ras Al Khor Wildlife Sanctuary is a natural area of salt flats, intertidal mudflats, mangroves, and lagoons that birds use for their nests and individual habitats. Every winter, the area is flocked (see what we did there?) with the pink feathers and balancing acts of Flamingos. Pack a picnic, grab a bird hide and see these beauties in the wild. Another curiosity known to our Dubai Dwellers are our resident peacocks, spot them roaming around nearby the hotel, strutting their stuff in Zabeel Park. The bold birds often take a trip outside the Dubai ruler, H.H. Sheikh Maktoum's palace and you may also spot them around his office at the Emirates Towers.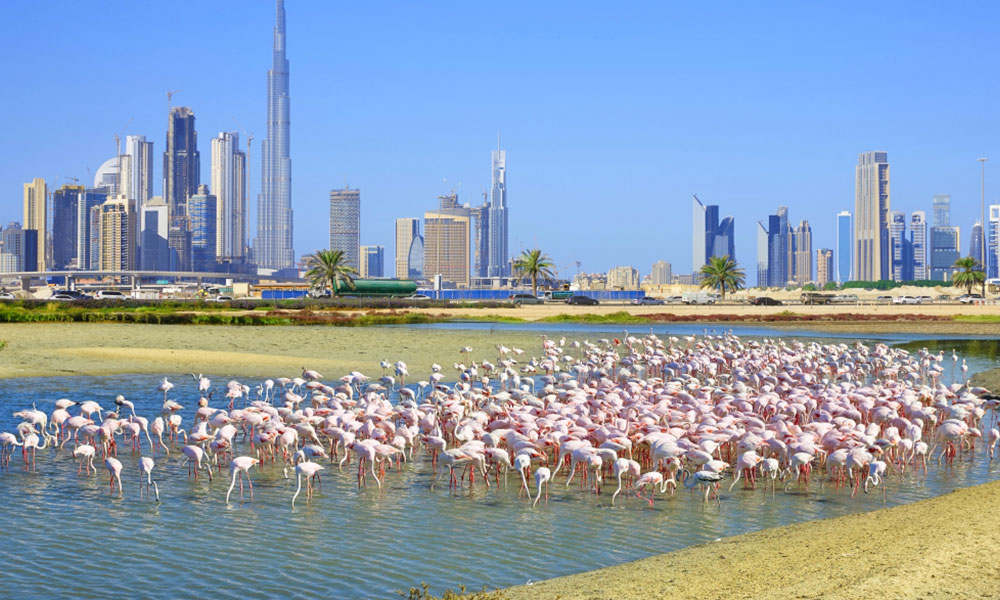 For some amazing food with a view our Rovesters recommend a visit to Thiptara in Palace Downtown, where you can enjoy the best Thai cuisine in town with the Dubai Fountain as your backdrop. Other spots include Neo's at Address Downtown where you can enjoy stunning views of Downtown Dubai or the super unique At.Mosphere located at the 122nd floor of Burj Khalifa, overseeing the entire city!
One of the most defining features of staying at this Rove is probably the fact it suits every kin of Rover – Here for the shopping? Dubai Mall is (literally) a stone's throw away. Need to squeeze in some meetings but don't want to miss out on the excellent dining experiences? Downtown links you to important business hubs packed full of breakfast, lunch and dinner potential. Bringing the whole family? Entertain the kids without missing out with fun for all.
With so much to see and experience, Rove Downtown, best hotel in downtown made sure to pack our rooms full of comfort, without the clutter. #Connect to our free WiFi to plan the most out of your days, unwind under your rain shower and savour the space our rooms give to accommodate for your Dubai finds!