From zip-lining over the city to racing supercars on the tracks, Dubai is a place where anything is possible. Here at Rove Hotels, we've taken it upon ourselves to find you the best activities and thrilling experiences to try on your next trip to the emirate.
Ultimate Dubai Bucket List
1. RACE SUPER-CHARGED SPORTS CARS AT THE DUBAI AUTODROME
Have your very own James Bond moment with a day at The Dubai Autodrome. Select a vehicle from a horde of supercars on offer, including the impressive McLaren and Audi R8, and enjoy an electrifying high-speed spin around the 5.39km circuit.
Rovers tip: Go the extra mile and book the Single Seater Experience. The ultimate racecar, the Formula One-style wheels are ultra lightweight with top-notch acceleration and sharp handling, allowing for super-high speed.

2. EXPERIENCE THE SOUK'S MANY ALADDIN'S CAVES
With some of the world's biggest shopping malls occupying much of city's square footage, Dubai is definitely the place to be for shopaholics. If you're after a more authentic experience, take a trip to one of the souks in Deira nearby Rove City Centre. The spice, gold and textile souks are popular draws and offer a glimpse into the more traditional side to the city. Whether you're looking for exotic cooking spices, Middle Eastern perfumes or fine jewellery, the souks are a must for your travel itinerary.
Rovers tip: Be sure to haggle on prices. Most (if not all) shop owners will be open to a little light-hearted negotiation.
3. ZIP-LINING IN DOWNTOWN DUBAI
One for the adrenaline junkies, this extreme activity makes for an unforgettable experience. Head to W1 Tower, just a short walk from Rove Downtown, and take the big leap from 295 feet where you'll whizz over the dancing fountains towards The Dubai Mall, capturing epic views of the Downtown skyscrapers, including the Burj Khalfia.
Rovers tip: Anyone below 18 needs to be accompanied by a guardian, while the weight range must be between 50kg and 110kg.

4. SKYDIVING OVER THE PALM
Push your limits (and put your fears aside) and give skydiving a go. In the safe hands of the pros at SkyDive Dubai, you can jump from an exhilarating 13,000 feet. While the initial plunge can be intimidating, once in free-fall you can appreciate the incredible bird's-eye view of the city – it's well worth overcoming the nerves.
Rovers tip: You'll need to be above 18 and weigh no more than 100kg to skydive.
5. CUISINE IN THE CLOUDS AT THE WORLD'S TALLEST BUDILING
Picture yourself dipping into a delicious dish with 360-degree views of Dubai atop the world's tallest building? All this is possible at At.Mosphere, situated on the 122th floor of the Burj Khalifa. Take your pick from breakfast, lunch, dinner or even high tea – the platter of pastries and homemade finger sandwiches are too tasty to resist!
Rovers tip: Come tourist season, this popular spot gets busy so book ahead and ask for a seat by the window to get the best views.
6. A HOT AIR BALLOON RIDE OVER THE DESERT
Take flight in a hot air balloon overlooking the rolling sand dunes. Your early morning ride will take you over the Dubai Desert Conservation Reservation where you can capture the incredible sunrise vista over the desert. As you waft over the dunes, the pilot will teach you all about the landscape and wildlife beneath, and if you're lucky, you might even spot a camel or gazelle. After the hour-long trip, toast to the experience with a refreshing drink.
Rovers tip: All are welcome to take a balloon ride, including children over the age of six. Want to make the occasion extra memorable? You can also hire a private balloon for up to eight passengers followed by a picnic breakfast in the desert.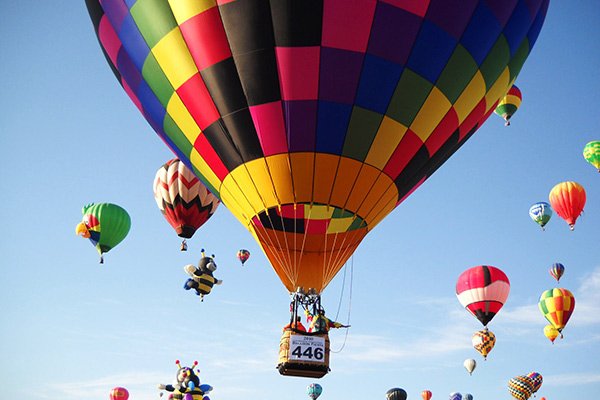 7. SHOP TILL YOU DROP
Spanning over 13 million square feet with more than 1,200 stores, shop to your heart's content at The Dubai Mall. This ginormous retail haven offers something for everyone, from both high street and high-end fashion boutiques to stores specializing in just about everything including beauty, sports, toys, and technology. If you fancy picking up a new novel for your travels, head to Kinokuniya Book World – a sprawling space for avid readers containing half a million books and more than a thousand magazines.
8. FEAST OFF-THE-BEATEN-PATH
No trip to Dubai would be complete without a visit to one of the cities' most-loved eateries, Ravi's. A foodie favorite with everyone, from taxi drivers to tourists and even Bollywood stars, this long-standing institution is a no-frills Pakistani restaurant nestled in the middle of Satwa.
What Ravi's might lack in décor (think plastic chairs and foam cups), it certainly makes up for in bang-for-your-buck. For just Dhs30 ahead, you can feast on hearty plates piled with fresh curries, chicken jalfrezi, and mutton tikka.
Rover's tip: There are several restaurants under the same name in Dubai, so be sure to visit the original Ravi's, located close by the Satwa roundabout, nearby Rove Trade Centre.
Happy Roving!