The turquoise waters brushing up on Dubai's coastline are a favourite activity among those seeking to splash away in Dubai's hot weather. Why not stay at a hotel with the Arabian waters as your backdrop, where the beach is just a stroll away? Here's a guide to the best beach hotels Dubai has to offer.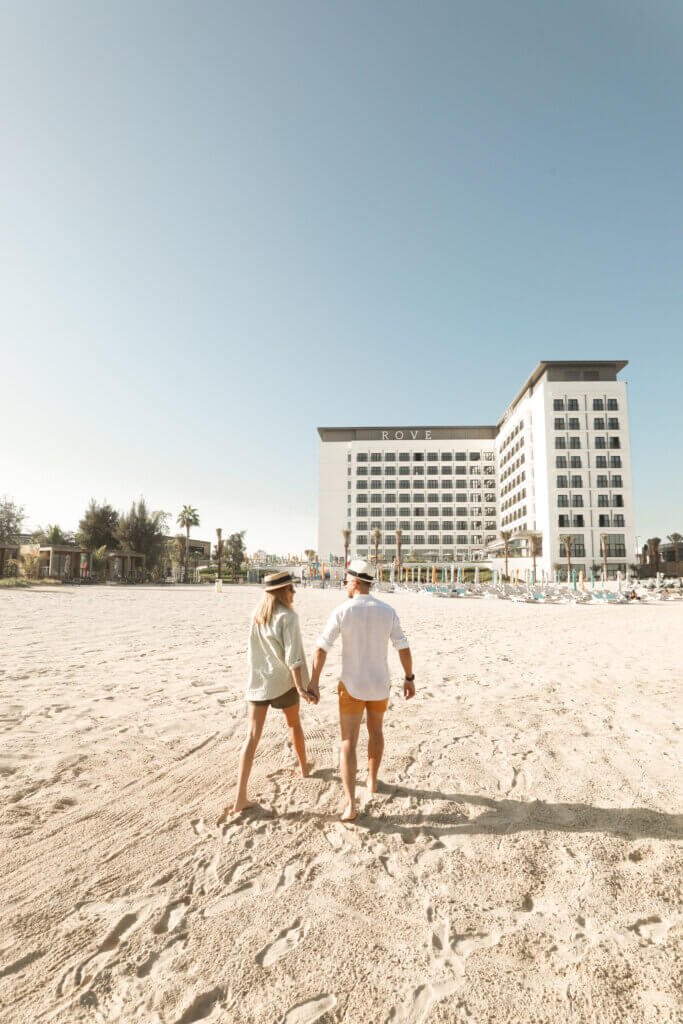 La Mer Beaches
La Mer's beaches will have you saying ooh la la. This is the beach to be at, with gentle glistening waters surrounded by sandy beaches studded with palm trees. Staying here puts you on the doorstep of ample dining, shopping, and entertainment options – waterparks included! Also close by is Jumeirah Sunset beach. It is conveniently split into two, welcoming both surfers and sun tanners alike.
Beach Hotel: Rove La Mer Beach 
You'll love staying here for the art scene and laid-back feel, plus a Rover Room with a curated hygge feel to match.
Dubai Marina Beaches
Also set near Jumeirah Beach Residence is the Dubai Marina. You'll find it towards the end of The Walk. The expansive beach is easy to spot and one of the city's most beautiful beaches surrounded by soft white sand. The warm waters are welcoming, with lifeguards on duty for peace of mind. You'll also find Jumeirah's Palm West Beach close by, which is pet-friendly and open until midnight. 
For a quiet beach experience, visit Mercato Beach along Jumeirah's beach road for the ultimate relaxed vibe. You can also head to Black Palace Beach, a well-kept secret in the city, complete with views of the Burj Al Arab and the Palm Jumeirah.
Recommended Hotel: Rove Dubai Marina 
You'll love it for the adrenaline-meets-shopping feel and fun in the sun, with a sleek and modern Rover room ready for you.
If you'd like to be close to the sea but still in the bustle of the city, then opt for a city-central hotel. There are plenty of transport options close by that'll have you at sea in no time. 
Dubai's Beaches from the City
There are beaches just 15 minutes away from the city, giving you the best of both worlds. You can visit the popular Kite Beach, where many water sports activities take place. You can visit to run along the shore, try out kite-surfing, or play some volleyball. La Mer beach (as mentioned above) is also close by, so the choice is all yours – or simply visit them both.
Recommended Hotel: Rove Downtown, Rove Trade Centre, or Rove City Walk
Be in the midst of all of the action, with a room at Rove to call your comfy home base in between all of your adventuring. 
Rove Brings You to the Beach
There you have it, an overview of the best beach hotels in Dubai. You can stay close to the waters and the city, making sure you enjoy them both! Dubai's beaches are perfect for the vacation vibe and will give you 'ocean eyes' for the Arabian waters.