Your first trip to Dubai is sure to be a thrilling one. With so much to experience, it's understandable to feel a little overwhelmed by it all. That's why we've put this Dubai guide together to help you navigate the city and plan your perfect visit. Ready? Let's go!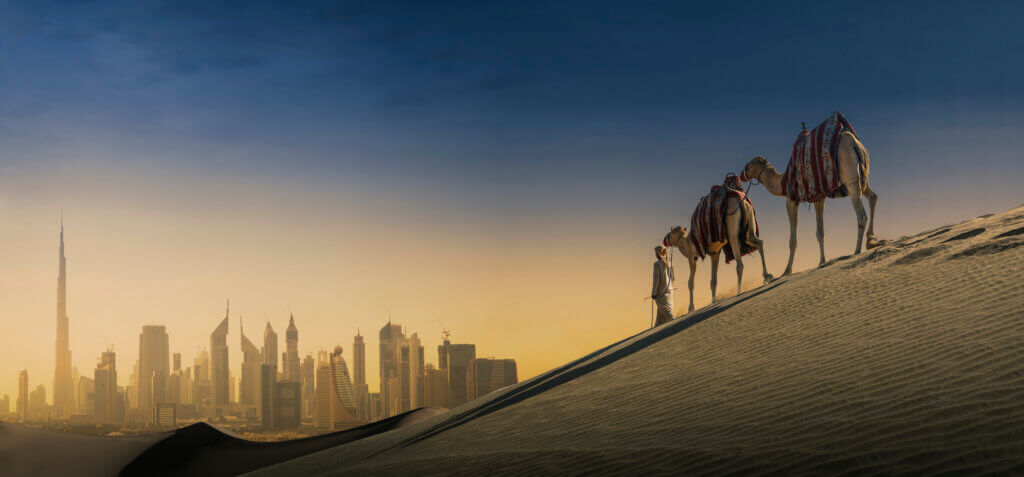 Visiting Dubai: Let's start with the basics
Most of Dubai's residents are expats, so English is widely spoken in this Arab-speaking nation. Dubai is also a 'smart city,' meaning it is hyper-efficient and connected, technologically speaking. This, along with its global approach, makes it super easy for tourists to feel settled and at ease during a visit. 
The focus on international ways of life is reflected in the types of food you'll find in Dubai. Restaurants serve up cuisines from all over the world in a cosmopolitan mix of menus. There are a couple of differences to note though, like the days of the week. Sunday marks the start of a new week in Dubai, with Friday being a holy day off in this Islamic city.
Dubai is pretty hot all year round. The best time to travel is said to be between November and March for the cooler season, though this is also peak tourist season. That said, the city helps its residents to feel acclimatised with ACs ever-present – even in some of the souks! You'll also be pleased to know that the chance of a fun day being 'rained out' is little to none.
One of the best ways to get around is with the Dubai Metro. It is easy on the wallet and an easy means to get to places. You'll get a fare card or day pass, or pay per ride from AED 2. It's the cheapest option to use when you arrive at the airport, getting you to the city in about 40 minutes. Taxis and buses are other inexpensive options if you prefer. You can also check out the hotels near dubai airport here to relax.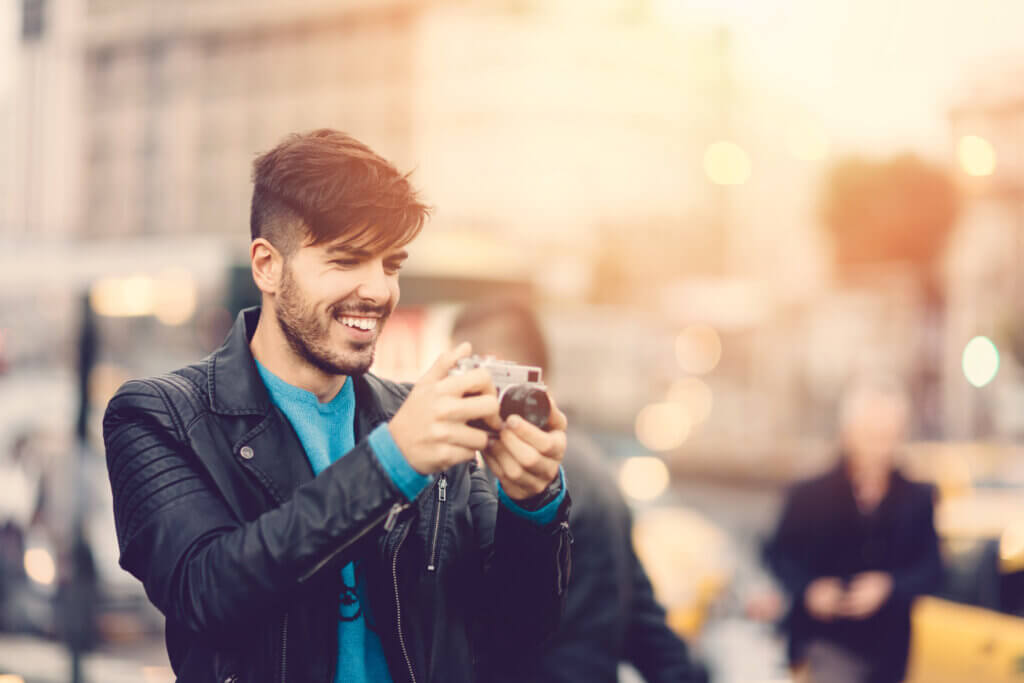 Now that we've got the admin out of the way, let's discuss the things to consider when booking accommodation. 
There are many neighbourhoods to choose from when picking your home base in the city. There are 9 Rove hotels dotted around the city, offering you the ultimate in comfort, convenience and choice. Our hotels offer all of the modern necessities a traveller needs. Rove offers some of the best value-for-money rooms, saving you more cash to spend on experiencing the thrills of the city. 
Whether you want to start your day at Rove Downtown with views of the Burj Khalifa from your window or at Rove La Mer Beach with the Arabian waters beckoning, you'll be off to a great start. The Daily, our on-site restaurant, offers affordable all-day meal options to keep you fueled. By the time you're done exploring for the day, you'll come back to a clean room with a power rain shower, a smart TV, and a soft pillow to rest your head. 
If you need to fit in a workout, visit our hotel gym. Our team of Rovesters will also happily guide you on what to see and do in the city. If you need to work while staying with us, we've got co-working spaces at each of our hotels ready for you.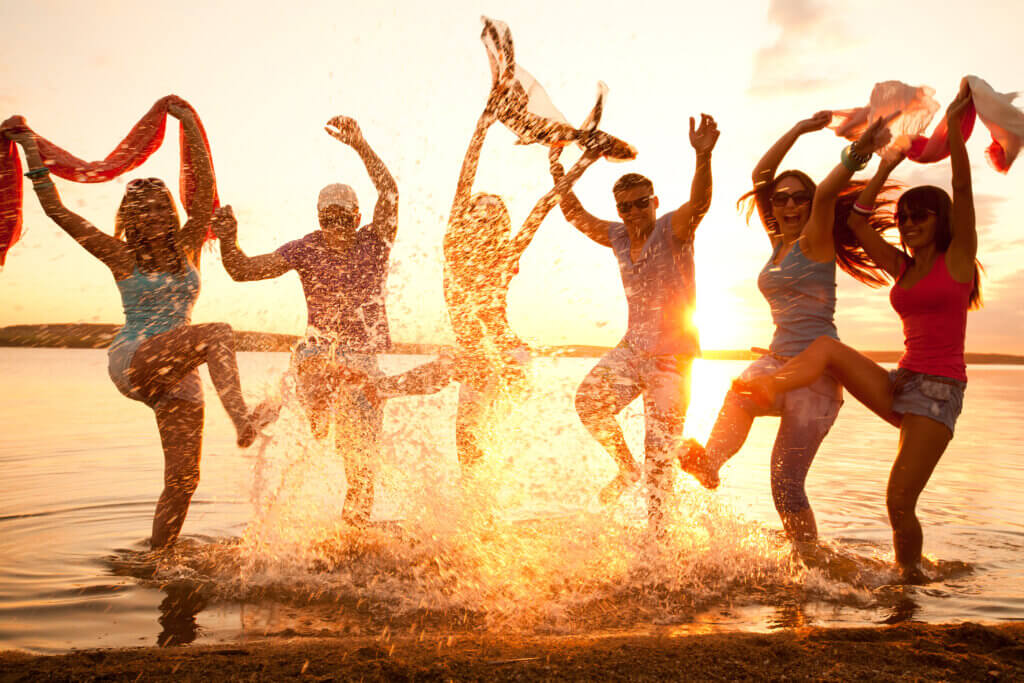 First-Timer's Bucket List Guide to Dubai
Here's a comprehensive bucket list for first-time visitors to Dubai:
The Dubai Mall
To experience a taste of the mall culture Dubai is known to have, visit the epic Dubai Mall. It's massive, but you can download a map that'll direct you to exactly where you need to go! 
The Dubai Fountain 
When all of the shopping is said and done, head to the nearby Dubai Fountain to catch the display of dancing water. 
Abra Ride
Hop on a traditional boat (abra) across the Dubai Creek. These trips cost just AED 1! You can explore Old Dubai from here and get an idea of what life was like for Emiratis back in the day. 
Visit the Souks
Try your hand at negotiating costs for the spices, perfumes and gold on offer at the souks, perfect for finding trinkets to take home with you!
Burj Khalifa 
For the best views in the city, head up to the viewing deck of the world's tallest building. 
The Arabian desert
Be sure to include a trip to the desert if you have a day to spare. There are plenty of activities to suit all travellers, whether you want to hop in a hot air balloon or on a camel, go dune diving, or simply enjoy a desert safari.
Go to the beach
For a relaxing break away from city life, head to the calm waters at the beaches! There are also great waterfront centres to check out, whether you're at the Marina or La Mer.
Visit Jumeirah
See the iconic palm tree-shaped Palm Jumeirah. You can take a boat trip around or see it from above aboard a helicopter. Be sure to visit the Palm Fountains which recently claimed the title of the world's biggest fountain show!
Dubai Frame
Massive is an understatement when you're talking about the Dubai Frame. It's the biggest one you'll ever see at present, and you can even get a lift up to the top to see the historical and futuristic sides of the city.
Ain Dubai
For epic views of Dubai, book a trip in one of the cabins on the world's biggest observation wheel. Ain Dubai promises an epic 38-minute ride that takes you to new heights.
Adventure Sports
Take your pick at the Middle East's largest integrated theme park, Dubai Parks and Resorts. There are epic waterparks and theme parks alike. 
Al Fahidi
Visit Al Fahidi to experience what Old Dubai was like. It is situated along the Dubai Creek with winding alleyways that showcase the culture, heritage and traditions of the historical emirates. 
Ready for your adventure to begin?