Dubai is notorious for its scorching climate, but it's a lot easier to beat the heat than you think, with a plethora of water parks inviting you to cool down in a fun way. When staying at a Rove Hotel in Dubai, you're placing yourself in close proximity to some of the most exciting water parks – and we've narrowed it down to the best of the bunch! Get ready to splash your way through the list we've curated for you to fill your itinerary with on your next stay at a Rove Hotel near you!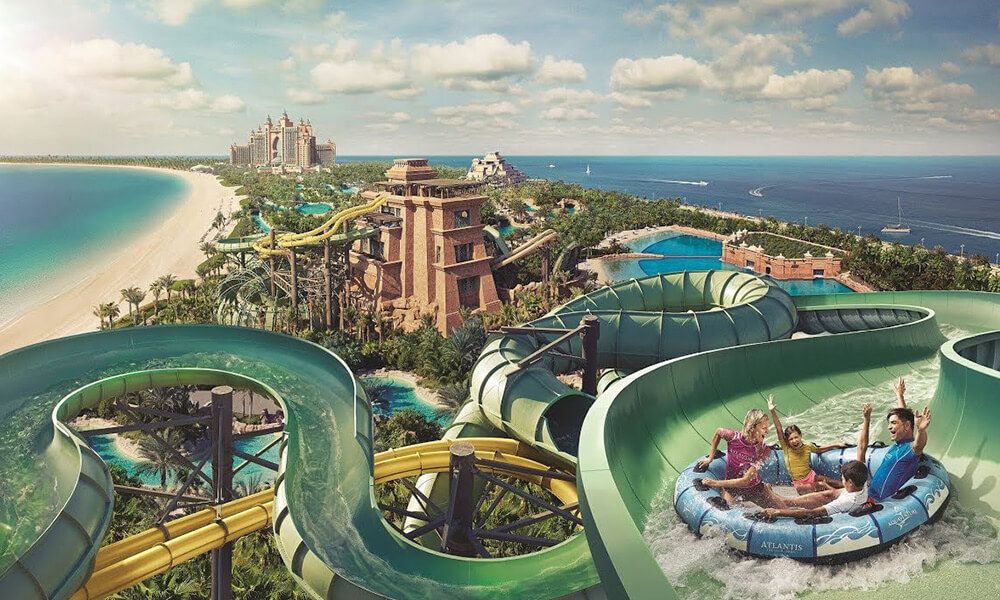 Aquaventure Waterpark
This popular water park can be found at Atlantis, The Palm and wears the title for one of the most popular water parks in the bustling city! Aquaventure comprises two water towers—Neptune and Poseidon—with park guests travelling from one to the other via the lazy river that swishes riders along. Rovers looking for a heart-palpitating adrenaline rush can dare to take on the Leap of Faith, an almost vertical drop that plunges thrill-seekers down. Alternatively, Poseidon's Revenge will see Rovers into a see-through tube as they plummet toward the ground once the trap door opens. A day of crazy aquatic adventure is sure to work up an appetite, so be sure to grab some grub at The Daily as you return to your Rove Hotel before you kick back and proceed to share the snaps of the day on Instagram using the free high-speed Internet available throughout the hotel.
Learn more here.
Wild Wadi Waterpark
Rove your way down to vibrant Dubai's original splash park zone for a day of water park adventure! Wild Wadi Waterpark has a history that dates all the way back to 1999, with this 90s baby sporting over 30 exhilarating rides and attractions. From the Lazy River to the Tantrum Alley, there's a ride for every kind of Rover looking to track down Dubai's water parks. Thrill-seekers often frequent the Wipeout, where you can try your hand at body-boarding and more as over 7 tonnes of water target this foam structure. Head down to this Juha-themed water park, a character from Arabian folklore and get ready for a day of water adventure!
Learn more here.
AquaFun
Grab your beach towels and proceed to The Beach at JBR to behold the largest inflatable water park in the world! AquaFun is a year-round sea-floating obstacle course filled with 74 exciting games to tackle head-on. This water park, located within walking distance from Rove Dubai Marina, features ramps, jumps, and some of the highest and longest water slides in the world – it's impossible not to have an exhilarating experience as you swish and splash your way through. An obvious attraction for tourists, AquaFun's obstacle course also spells out "Dubai" when observed from a bird's eye view!
Learn more here.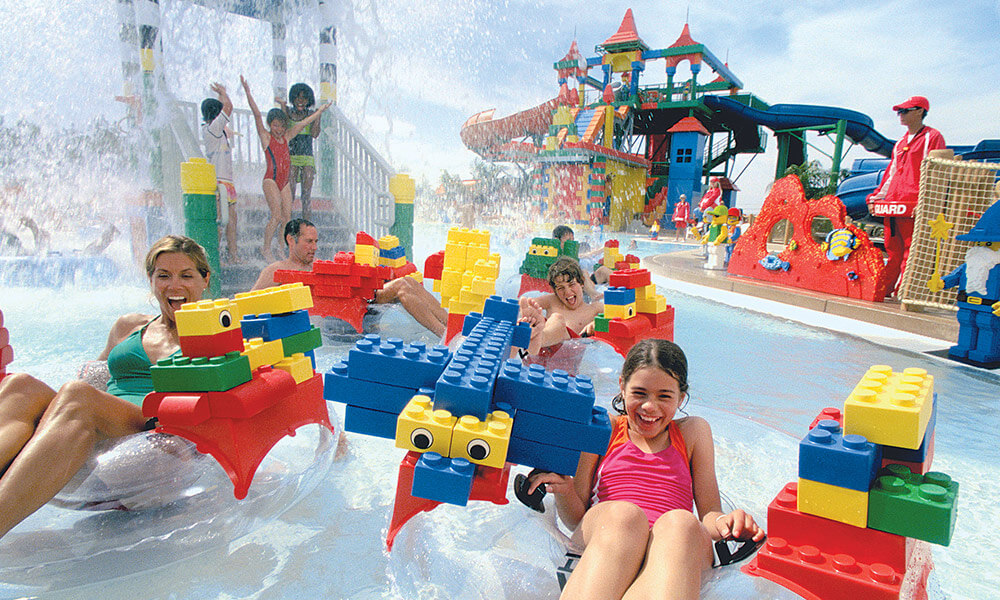 Legoland Water Park
If you've got kids tagging along on your staycation at Rove At The Park, then this water park is the way to go! Legoland Water Park was specifically designed for little ones aged 2 to 12 years old. Little Rovers can gear up to build their own Lego rafts before tackling rides like the Joker Soaker, embark on a splash safari, and more! Legoland Water Park is one of Dubai's water parks offering VIP treatment – rent your own cabana to enjoy with your family when visiting this unique theme park before retreating to your Rove Hotel after a long day of splashing about.
Learn more here.
Click here to book your stay + tickets: BOOK NOW 
Laguna Waterpark
Rovers enjoying a staycation at Rove La Mer Beach can enjoy the hotel's close proximity to this beachside water park. Located in La Mer, Laguna Waterpark boasts 10 different rides that cater to all levels of thrill and adventure as it invites the entire family to soak up all the fun it has to offer! Whether you're a newbie or a water park conqueror, water babies from all walks can tackle what is arguably one of the coolest beachside attractions as it makes its way on the list of Dubai water parks. Adrenaline junkies can brace the Free Fall, a plunging ride down a life-size slide that will test the contents of your stomach! Alternatively, Rovers that are looking for a more relaxing water park adventure can lounge about the cabanas available as they soak up the views of the Arabian Gulf, or hop onto the Lazy River – ideal for little Rovers too! The Manta is another family ride option to consider, which is a raft ride on which you'll encounter drenching surprises as you brace each turn! Whatever your level of thrill is, Laguna Waterpark does not disappoint.
Learn more here.
Dubai is swimming in a sea full of water park attractions, so prepare to get drenched as you take on all the aquatic activities the city has to offer. From jaw-dropping vertical falls to a fully kitted obstacle course in the ocean, expect nothing less than fun and surprises as you venture to Dubai's water parks. Grab your swimsuit and step out of your Rove Hotel for a day of sun and water park adventure! Check out our website to locate the Rove Hotel that's closest to the water park you're gearing towards.