Enjoying a beachfront vacation in Dubai doesn't have to cost a fortune. There are cheap hotels in Dubai Marina that offer you all of the wonders of this exclusive neighbourhood without the hefty price tag. Read on to find out why Rove Dubai Marina is the perfect hotel for your next trip. 
Set your sights on Dubai Marina 
The Dubai Marina is one of Dubai's top-rated beachfronts. People come here to enjoy the promenade at leisure, pulling up a chair to engage in people-watching and yacht spotting. With the Persian Gulf to the one side and Dubai's famous skyline to the other, it's no wonder it is a wishlist destination. 
One of the Dubai Marina's best beach options is The Beach at Jumeirah Beach Residence. Here, you can kick back in a private cabana as you spend your day along Dubai's coastline. Or, if you prefer, hop on a camel to take you from one side of the beach to the other. The beach isn't the only reason you'll want to visit Dubai Marina, though. 
There is, of course, Palm Jumeirah, the famous manmade island. Make your way around the palm tree design on foot, by boat, or from the sky with Skydive Dubai. Once you're up to scratch with the sightseeing, you can fill your day with adrenaline at Aquaventure Water Park, the cuisine at Club Vista Mare, and marine life at the Lost Chambers Aquarium. 
You can explore the Dubai Marina without spending a fortune. Hop on the Dubai Tram, which connects you to the neighbourhood's top landmarks and activities. There are 11 stops that begin and end at the Dubai Marina, making transport super easy for visitors! It's also easy to access the Dubai metro system, putting you within reach of the rest of Dubai's wonders. Plus, Rovers can borrow a bike to explore the neighbourhood – score!
This neighbourhood is home to the Dubai Marina Mall and Promenade, which are lavishly designed with marble to house the high-end retail stores. It's a shopper's paradise, will multiple dining options that feature stunning sea views. For more of a vantage point, head over to Ain Dubai (the Dubai Eye) – you can't miss it!
Now speaking of heights, if you'd like to set your sights on the Dubai Marina from up above, visit XLINE Dubai Marina, where you can hover 170 metres for an aerial view! It happens to be the world's longest zip line, covering land and sea from Amwaj Towers, through the Marina and ending at the mall. 
Cheap hotels in Dubai Marina 
A trip to Dubai can be expensive. With so much to see, it's no wonder visitors are looking to save a buck on their accommodation. That is where Rove comes in. We offer some of the city's best rates for hotel stays. We have hotels dotted throughout Dubai, but if you're looking to experience one of the city's most exclusive beach areas, then Rove Dubai Marina is a perfect choice.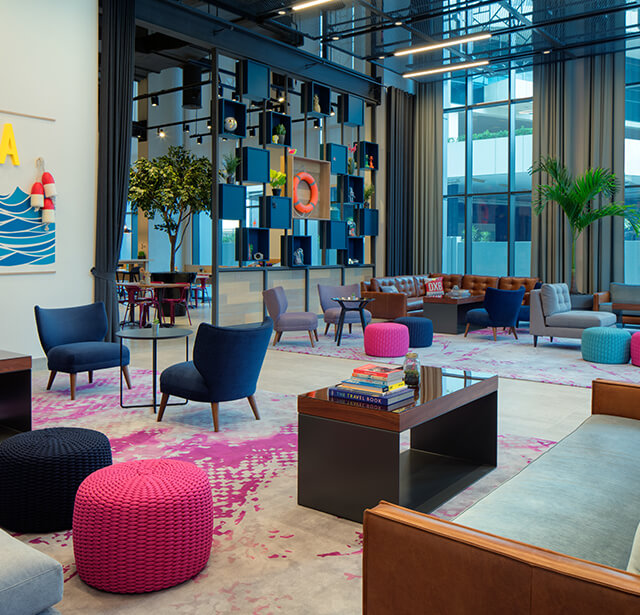 Enjoy the best of Dubai Marina as you wake up to views of the palm trees and a landscaped walkway leading to the ocean without paying a fortune. You'll be located in between the yachts perched on the waters, with the city's skyline forming the perfect background. You'll feel at peace when you step into Rove Dubai Marina, with interior decor reflecting the creativity you can find outside in the neighbourhood itself. 
Rovers save their Dirhams without compromising on the quality of their stay. You'll rest your head on a comfy designer mattress each night, with the likes of high-speed internet and a smart TV in every room. We have all the amenities you may need, available to our guests to ensure a top-notch stay. These range from a 24-hour gym and a laundromat to a swimming pool and co-working spaces. Our common spaces are all about creating fun memories, with table tennis, Foosball, and arcade games to try.
When it comes to eating your way through Dubai, and in particular, Dubai Marina, the options are endless. That said, it can get pricey to eat out at the top restaurants every day. At Rove's on-site restaurant, The Daily, you can tuck into affordable and delicious meals for breakfast, lunch and dinner, and stock up on some snacks to keep you going. 
You've found one of the best cheap hotels in Dubai Marina – Rove Dubai Marina.
Book your budget-friendly stay with us and get ready to razzle-dazzle, Rover!