Let's take it back to the beach. La Mer Beach, that is.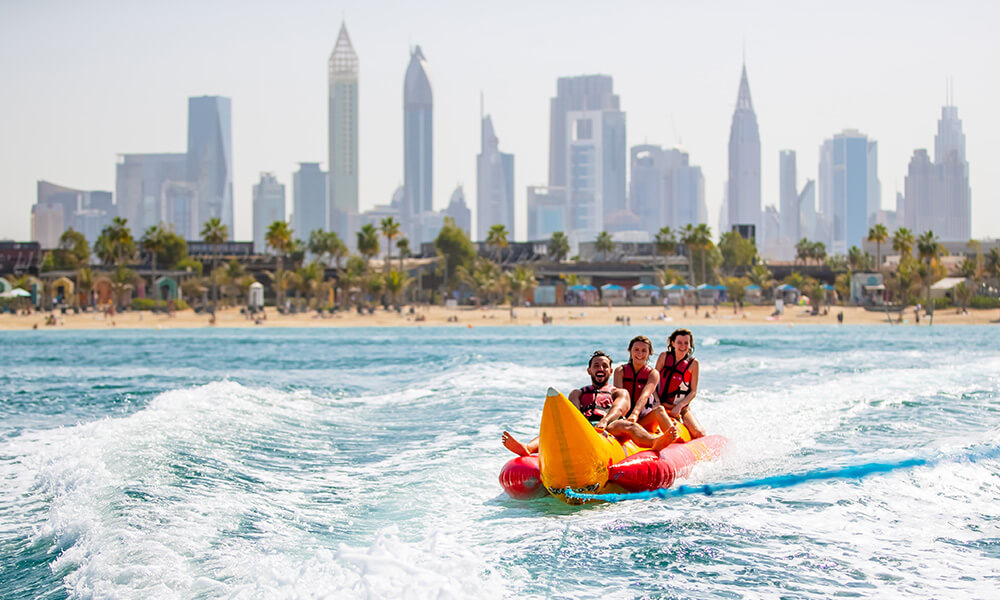 La Mer is a glistening waterfront destination with cityscape views painting the backdrop. In true Dubai fashion, there are ample dining, shopping, and entertainment options for visitors to explore in between their trips to the shoreline.
Cast your eyes on the ocean from La Mer's iconic waterfront. Enjoy walks (or rides) along the promenade. Bask in the sunshine, wander the sandy beach, and take a dip in the waters. You can surf the waves by day and explore the waterfront by night.  
Expect the perfect beach vacation – from sunshine-filled days that lead to nights under hanging lights.
Let me introduce you to your Rover Room at La Mer Beach, our beachfront property. Rovers are in prime position, with access to a beach close by, and, of course, all of the action and attraction around the corner too.
At Rove La Mer Beach, we bring the essence of the outside in with a laid back and artsy feel. Visitors can look to the walls of our hotel for the story of the Jumeirah neighbourhood, as expressed by local artists. 
Choose between your view of the city or the sea from the Juliette balcony. Rover rooms are all about convenience, comfort and tech-savvy amenities. Fun awaits at the beach bar, outdoor terrace and infinity pool for the ultimate winning trio of a summer vacation. 
Begin your days as a Rover with a freshly cooked breakfast to get you ready to enjoy and explore the city. When you return to our Dubai beach hotel, you can freshen up and join us for sunset sundowners.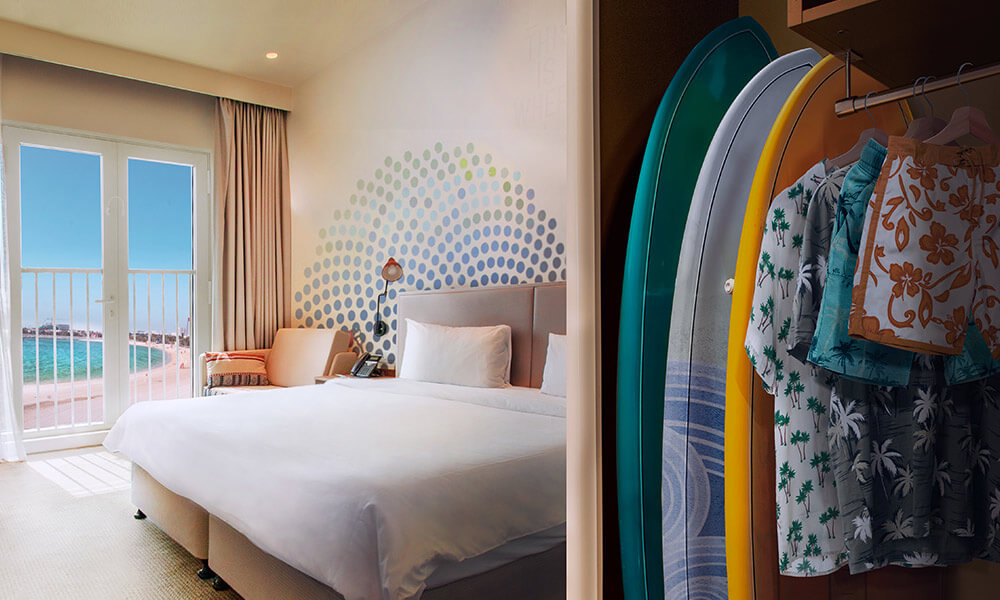 What's In Store for Dubai Beach Hotel Travellers
You can see why a trip to Rove La Mer Beach hotel offers Rovers the best of everything. Here's a look at what you can expect, no matter what type of traveler you are. This is a haven for creatives and Instagrammers, with graffiti murals and palm trees providing the perfect setting.
The Shopper: Shop 'til you drop in an open-air setting at City Walk. In between visits to the high-end cafes and stores, you can spend time at its wellness centers and a botanical museum. Then there's Mercato Mall, an ode to Italian-style shopping, fit with piazzas and cobblestones for an authentic feel. 
The Fun Seeker: Laguna Waterpark awaits you with water slides galore. Cool down in the Arab climate with a splash as you work up your adrenaline splashing, surfing, and sliding. Of course, you can always retreat to the relaxation zone. 
The Beach Bum: The inviting waters of the Arabian Gulf await you. Enjoy your time truly experiencing the beachy vibe of Dubai, with salt air and sand between your toes.
The Explorer: Visit Etihad Museum to discover Emirati heritage. Expect to see interactive and contemporary showcases of culture. Then there's Satwa neighbourhood, made up of alleyways that paint a picture of Dubai's past. You'll get to see the rich makeup of the city, from authentic meals to the vibey street life.
The Foodie: La Mer is packed with foodie options. Rove La Mer Beach's room keys also open the door to Dubai's culinary offering, with a 20% discount at restaurants in and around La Mer so you can sample all sorts of cuisines and delicacies during your stay. 
Rove La Mer Beach is a beachfront hotel that puts you exactly where you need to be: close to the Arabian Gulf, and all that the city has to offer in a fun-filled destination suited to all sorts of travelers. Look no further than Rove for the ultimate Dubai beach hotel stay.