Everyone is getting ready for the long-awaited Expo 2020 Dubai, and there are a few questions we know on everyone's lips! We thought we'd jump in by answering a list of Expo 2020 FAQs as we gear up for the wow-factor pavilions, world-class showcases, incredible performances, and mouth-watering international cuisine that awaits at Expo 2020. Keep reading below as we answer everything you need to know regarding the world's greatest show!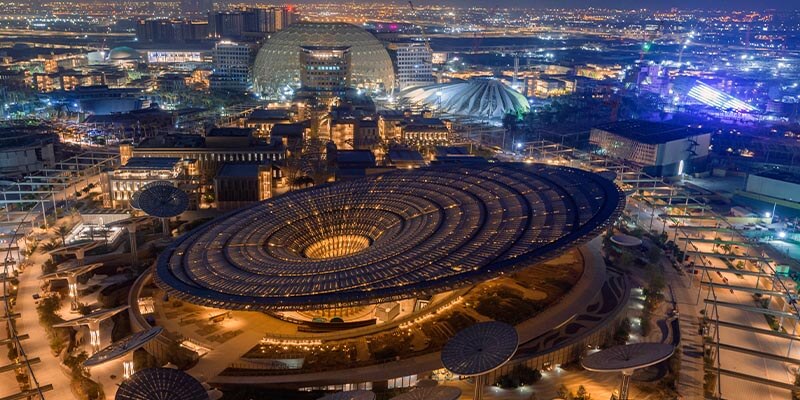 What exactly is a World Expo?
We thought we'd take it back to basics and start at the beginning! While many of you may have an idea about the Expo 2020, some of you may need us to shed some light on what a World Expo actually is. Basically, a World Expo is a large-scale international event that aims to showcase various ideas and innovations while exploring concepts and encouraging people to work together. The very first World Expo was named The Great Exhibition and took place in London in 1851!
When do World Expos take place?
These phenomenal events take place every five years. But don't worry Rovers, Expo 2020 lasts for six months, so you'll definitely have a chance to plan your visit!
When and where is the next World Expo taking place?
With all the hype, we probably don't need to include this one in our list of Expo 2020 FAQs, but we will anyway! The highly anticipated Expo 2020 Dubai is taking place in – you guessed it – Dubai and will be the first World Expo ever hosted in the Middle East, Africa and South Asia (MEASA) region. Taking place from 1 October 2021 to 31 March 2022, the venue will be located in the Dubai South district, within easy reach of Dubai International Airport and Al Maktoum International Airport.
Who is participating at Expo 2020?
More than 200 participants, including 191 countries, are taking part at the latest World Expo. Get ready for country-specific pavilions, a diversity of people, cultures, traditions, and more! Alongside the countries present, other participants will range from educational institutions to businesses and multilateral organisations.
Why is Expo 2020 Dubai not called Expo 2021 Dubai?
The Expo 2020 Dubai was initially planned to be held in 2020, but the global pandemic made it necessary for the event to be postponed by one year.
Are there any hotels located at the Expo 2020 site?
You're in luck, Rovers! The Rove Expo 2020 hotel is the only hotel on-site, giving you front-row access to Expo 2020, the biggest cultural gathering in the world.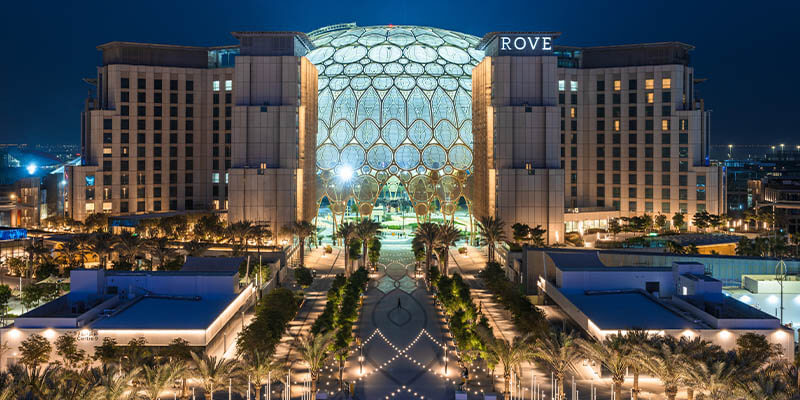 What is Expo 2020's theme?
The event's theme is 'Creating Minds, Connecting the Future'. Three subthemes tie into this – Opportunity, Mobility and Sustainability – all of which will inspire the face of the future, with the subthemes having their own dedicated districts at the Expo site.
What will the UAE Pavilion showcase?
The UAE Pavilion, located near Al Wasl Plaza, is shaped like a falcon in light and its incredible four storeys span 15,000 sqm. As the nation celebrates its Golden Jubilee in 2021, the pavilion will present the UAE's culture and achievements throughout its history of immense growth, while exhibiting its ambitious plans for the future. It will also have a dedicated hospitality space on the top floor of the building, so be sure to navigate your way to this awe-inspiring sight!
Where can I buy tickets to Expo 2020?
Tickets, including a number of different packages, can be booked via the Expo 2020 website. Alternatively, you can score a ticket that is included in your reservation at the Rove Expo 2020 hotel, valid for the entire duration of your stay with us!
What COVID-19 measures will be implemented at Expo 2020?
Expo 2020 is taking extra precaution to ensure visitors' safety and peace of mind. You can view the full list of COVID-19 health and safety protocols that will be incorporated here.
What can I expect from Terra – The Sustainability Pavilion?
Terra – The Sustainability Pavilion will empower visitors to help preserve our planet for future generations, showcasing how everyone can play their part in creating a more sustainable world. Explore humankind's relationship with nature, our obsession with excessive consumerism, and how we can change our everyday choices to reduce our carbon footprint and environmental impact, in a pavilion that generates its own energy and water.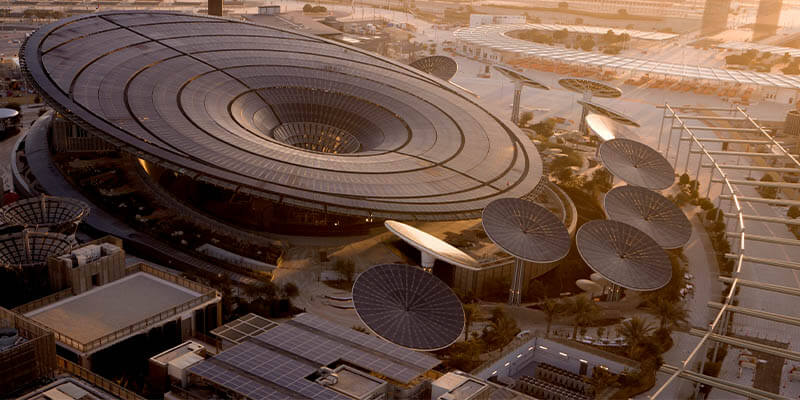 What transport infrastructure is available for travelling to Expo 2020?
The Expo 2020 site will feature its own Metro station with the capacity to transport up to 22,000 people per hour in each direction. Additionally, the Expo site is well connected via car, taxi and Expo Rider buses. There are also plenty of parking spots, so no need to worry about where to leave your vehicle.
How can I move around inside the Expo 2020 site?
The Expo 2020 site is pedestrian-friendly, while there are also dedicated transport vehicles provided by Expo 2020, such as the Expo People Mover (a bus that will circulate around the site), with accessibility for wheelchairs.
What happens to the Expo 2020 site after the event concludes?
Tying in with Expo 2020's aim to be one of the most sustainable World Expos ever, the site will see 80% of its built environment converted into the future mixed-used community District 2020, which will host residential buildings, offices and iconic landmarks such as Al Wasl Plaza, which will continue to host entertainment events after Expo 2020.
What should I wear when visiting Dubai and Expo 2020?
Due to the climate in Dubai, breathable and lightweight clothing is ideal when visiting the city. Be sure to take a jacket with you during the cooler months, or for wearing in areas where air conditioning might become a bit chilly (depending on your preferences). The public dress code is pretty relaxed, but be sure to maintain respectful attire that will not offend local cultural practices.
What inventions have come from the previous World Expos?
Some of mankind's best inventions were first seen at previous World Expos, or have resulted from them! These include computers, the television, the Eiffel Tower, the Ferris Wheel and the X-ray machine.
Will the Expo 2020 site have baby/toddler facilities available?
Baby-changing facilities will be available for parents/guardians to use. These can be found at the arrivals plaza, as well as in the bathrooms located at the various pavilions.
Which measures have been implemented for people of determination?
Dubai has gone above and beyond to ensure that everyone has access to the event. Learn more about these here.
Will the Expo 2020 feature prayer rooms?
The Expo 2020 site will have prayer rooms with signage available to guide visitors to the designated prayer locations.
We hope we've answered all of your questions with our list of Expo 2020 FAQs! If there is still anything you are unsure of, you can get in touch directly with Expo 2020. We hope you're as excited as we are to experience this long-awaited event after its initial postponement, because – trust us – it's going to be an epic one! Make sure you never miss a beat by booking at Rove Expo 2020 to enjoy a stay right on-site. See you there, Rovers!