Expo 2020 Dubai is almost on our doorstep Rovers, and a host of exciting pavilions are set to impress its spectators. Each pavilion has its very own subtheme centred around the main theme for this year, namely 'Connecting Minds, Creating the Future.' But what's Terra, Expo 2020 Sustainability pavilion? We zoom in the lens on this particular pavilion that will offer signature experiences at the highly anticipated World's Greatest Show, as the upcoming expo has been famously labelled. Keep reading below and gear up for a world of entertainment as you navigate your way through Terra – the Sustainability pavilion!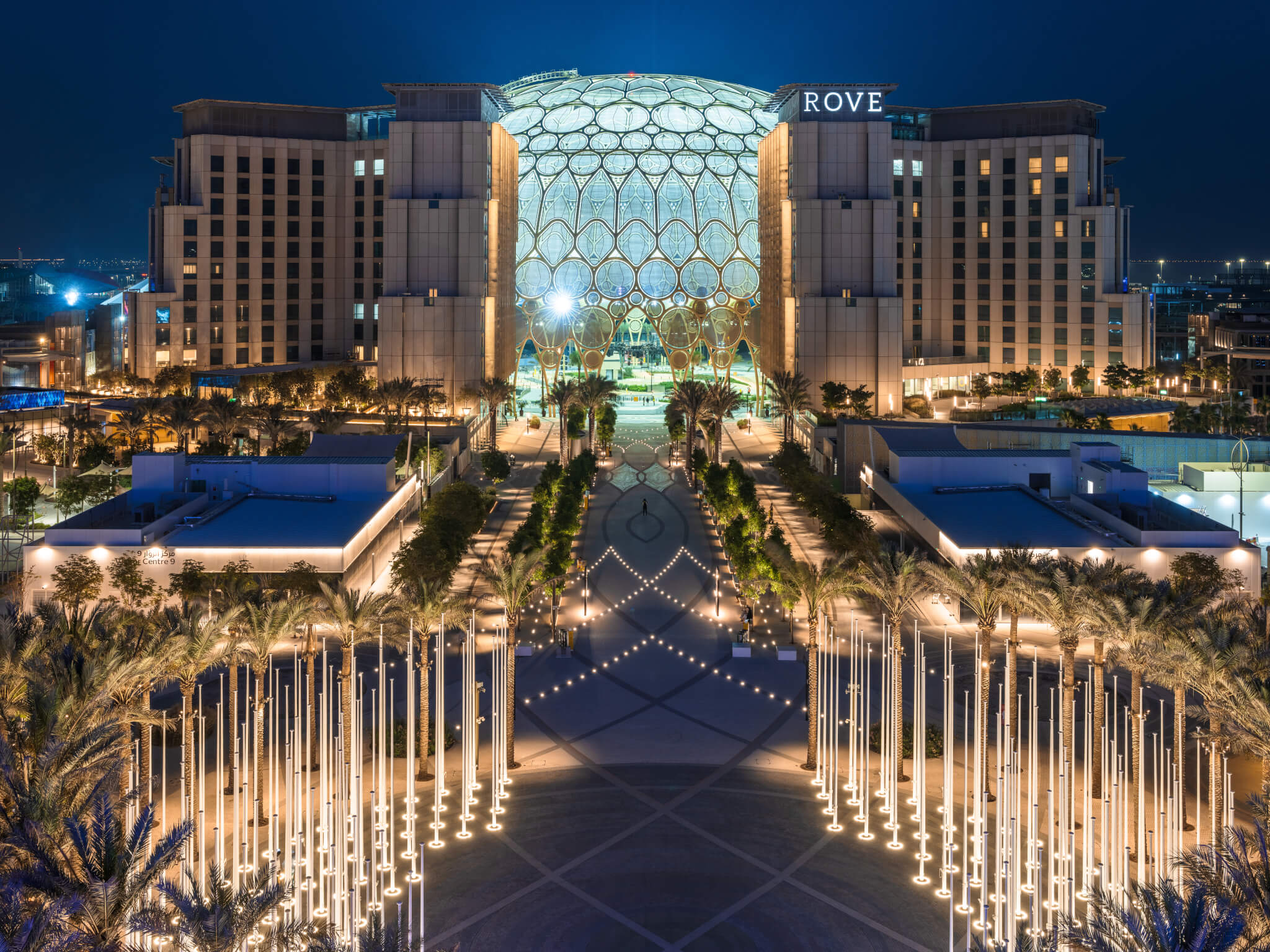 First and foremost: the only on-site hotel at the Expo 2020 Dubai
You read that right! Rove Expo 2020 is the only hotel that will place you in the midst of the thrilling playground of experiences that encompass Expo 2020 Dubai. Located in Al Wasl Plaza, right at the heart of the upcoming World Expo, Rove Expo 2020 gives you front row access to all the hottest and most exciting attractions. All you have to do is step out of the hotel, with Expo 2020 Dubai in the palm of your hands. That means no worrying about parking, commuting or getting there early enough. You'll already be in the midst of it all. However, if other travel adventures are part of your Dubai bucket list, you'll be excited to know that the new Rove Expo 2020 has its own dedicated metro station that connects you to some of Dubai's most exciting tourist attractions, including JBR Beach, The Dubai Mall, Dubai Marina, and so the list continues!
What's more, our latest hotel launching soon ties in directly with the theme of sustainability, with Rove's commitment to making a positive impact seeing the latest addition to the Rove family using increased solar energy, Artificial Intelligence food waste solutions, and more. Find out all about our sustainable hotel operations here.
What's Terra, Expo 2020 Sustainability pavilion?
As the Expo 2020 Dubai event prepares to welcome millions of international visitors from its launch date on the 20th of October 2021, the Terra Sustainability pavilion takes centre stage, reimagining the future as it promotes ecology, immersive experiences, and sustainable technologies. Embark on a journey through the natural world as Terra's exhibitions embrace and educate on how to create an improved and more sustainable future for all.
About its physical structure
While we explore the question: what's Terra, Expo 2020 Sustainability Pavilion, get ready to venture through the approximate 25,000 square metres, with 6,300 square metres of that dedicated to the pavilion itself – all we can say is, make sure you grab your most comfortable pair of walking shoes before leaving your Rove hotel room! The Sustainability Pavilion has been designed as a net-zero water and energy building, which—in layman's terms—means that the structure generates its own electricity and water. How, you ask? Well, condensation in the air is utilised to recycle brackish water, with special technology that extracts the humidity from the air and puts it back into the structure itself to meet water requirements, Solar energy is then used to sterilise the water and decontaminate it. Additionally, this awe-inspiring pavilion also boasts over 1,050 solar panels that produce 5-gigawatt hours per year of electricity – that's enough electricity to charge 890,000 mobile phones! The Terra is also constructed partially below ground level and features a 70-metre canopy, both of which contribute to its cool temperature levels.
What to expect when Roving through Terra – the Sustainability pavilion
Upon entering this innovative space, you'll cross a dry river bed before ending up in a cool courtyard. Desert plants can be seen peppered throughout, due to their low water usage. After crossing the courtyard, a whirlwind of exhibitions awaits, with immersive experiences ready to educate visitors on the challenges we face today, including climate change, lack of biodiversity, and more. Little Rovers can also explore the kids' galleries that engage and teach children about plastic use, deforestation, and other key issues. Other experiences include:
An encounter with the "Gnasher," which is a massive U-shaped consumption machine that demonstrates how natural resources are destroyed to produce consumer products (its aesthetic was inspired by Wallace & Gromit!);

An experience in the "Wood Wide Web," which entails a walk through the roots of a forest while observing how trees "speak" to each other while sharing resources, protecting each other, and more;

An "under the ocean" experience to explore the mysteries of the sea;

A deep-sea fish encounter, whose system is encumbered with chunks of discarded plastic waste; and

One of the final galleries, aptly named The Laboratory of Future Values, which is a space of hope that depicts solutions to the issues we face in our ecology.
Using humour to send a message
Something that the designers of Terra – the Sustainability pavilion wanted to avoid was coming across as dull or preachy. To avoid this, humour is used throughout the pavilion to ensure that its visitors stay entertained while learning something from the galleries being showcased. An example of this is at the location of the Gnasher, where dark humour is used to showcase the consumption process. Stacks of packaging boxes are "ready to be shipped" around the world, with the "Gnasher" situated above them with its grinding teeth. The underlying message is one that talks about how natural resources are immediately converted into waste materials, causing a sense of unsettlement, hence it being darkly humorous.
Well Rovers, Expo 2020 Dubai is sure to wow, and you're invited to explore it from the convenience of Rove Expo 2020's central location – right in the midst of the action! Located at Al Wasl Plaza where the upcoming World Expo will be taking place, you're in for a treat. We're even making sure that tickets to the event are accessible to you from the hotel itself! Visit our website for more information or to enquire on booking your hotel room.