An adventurous trip to Dubai naturally equates to racking up a host of exciting tales worth telling anyone willing to listen. One of the best ways to share these memories is through storytelling told via a podcast, where the listeners get to hear the excitement in your voice. Enter the Rove Podcast Studio, boasting all of the shiny equipment that any content creator might need to get started. We give you the lowdown on everything you need to know below when tracking down podcast studios in Dubai.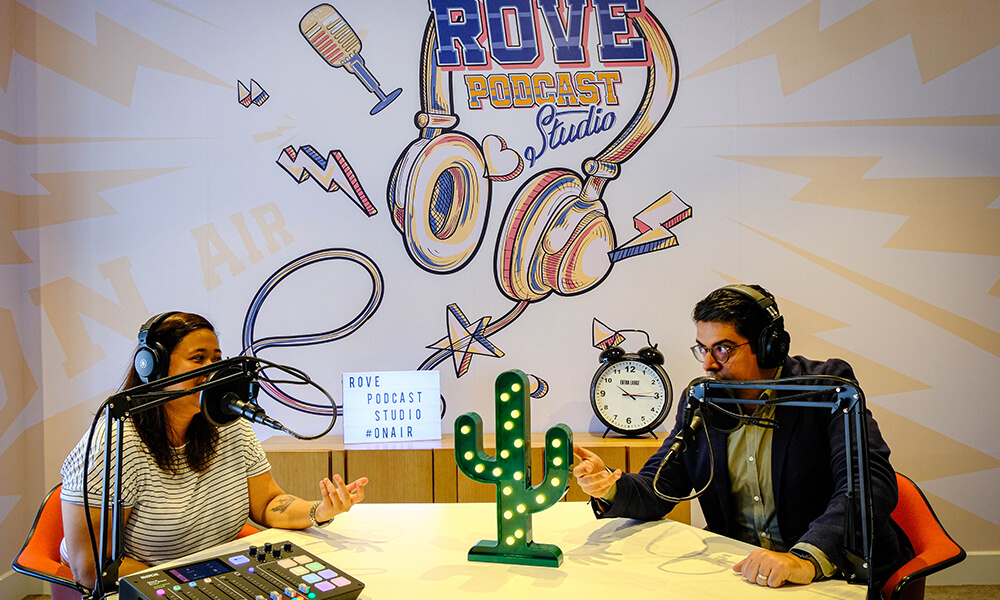 Situated within the Rove Downtown Hotel, sip on the warm brews of Rove coffee and fresh tea that welcome you before commencing with your podcast within the Rove Podcast Studio. Expect a creative set-up that's designed to inspire your recording session and get those creative juices flowing. 
We hook you up with the user-friendly and quality hardware you require. We're talking Fender mics, a RODE soundboard, a camera tripod and a green screen—all at your disposal! All you need to bring is yourself and the topics to get your listeners thinking. But we won't deny you of your camera, SD card, computer and editing software too – if that's how you prefer to rock 'n Rove!
Expert podcast studios in Dubai have all the health and safety boxes checked. Rest assured that we maintain the highest levels of cleanliness with temperate checks, disposable headphone and mic covers, and sanitisation procedures in place. All you need to worry about is making sure your podcast recording is the next hot topic.
We're all trying to keep up with the times, with podcasting being an innovative and creative way to communicate in meaningful ways. It's a crucial—and fun!—form of content creation, not just for businesses, but also for anyone with something to say (don't we all?). Pop by and express yourself in our self-service studio that makes your recording process a breeze, with even the greenest podcasters jumping straight into the game!
The Rove Podcast Studio welcomes people from all walks of life, whether you've got a ton of experience under your belt, or are simply an avid newbie looking to dive into the scene and leave your mark. Plus, it provides a space for businesses and entrepreneurial promotion. Sure, pretty much anyone can hit record and share a podcast, but make sure that you've got access to the right equipment to enhance your recording, ensuring it is top-notch and a pleasure to listen to.
Up to 4 Rovers can make use of the studio space per session, so bring your fellow podcasters along too, if you like! The doors are open from 8am through to 8pm, ensuring you can squeeze that podcast you've been dying to record into your busy schedule. To book your recording slot, email events@rovehotels.com or call +971 4561 9099.
Rove Podcast Studio Rates
1 hour: AED 150

Half-day (6 hours): AED 400

Full day (6-12 hours): AED 700

Working Spaces at Rove
Content creation can fall into work or play—or both! At Rove, we're serious about catering to our digital nomad community in the best way possible. If recording podcasts isn't your cup of tea, with your work being done on your mobile device or laptop, just stop by any of our Rove hotels to locate a dedicated working space.
Network with fellow creatives, host a work-based get-together or showcase your ideas in one of our meeting rooms. Alternatively, kick back and work away in a conducive and comfy environment.

Our co-working spaces are carefully equipped and fully kitted out with high-speed Internet, lip-smacking on-site food and beverage options, and the flexibility of being able to move between whichever Rove hotel suits your fancy. So, head to your closest Rove hotel and gear up for a productive working session, or opt for Rove Downtown to get started on that podcast you've been putting off.
We'll see you there!