Hotels in Deira Dubai are the gateway to old-world Dubai. Prepare to be mesmerised as you experience the roots of this Emirati nation. There is a lot of history and heritage for you to explore, with authentic Arabian culture in abundance. Here's everything you need to know about your next trip to Deira Dubai. 
Dubai is often hailed as a glitzy, glamorous modern marvel. As a leading smart city, this is undoubtedly a well-earned reputation. However, the city sprung to greatness in a matter of years, with a rich history that is still present in parts of the city. A prime example of this is Deira. If you're looking for a holiday where you can enjoy the dichotomy of the new and traditional with an old-world aesthetic to show for it,  read on…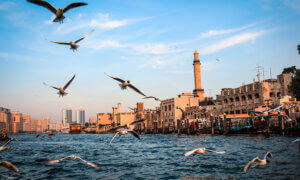 Things To Do in Deira 
Guests at Rove City Centre will be ideally situated to explore both sides of Dubai. Here's what you can look forward to in this neighbourhood during your stay. Character and charm exist all about, with the bustling Downtown Dubai and the mega Dubai International Airport within easy reach. You can also stay at one of the best hotel in downtown.
With Deira as your base, you can explore all that Dubai has to offer from a unique point of view. Travel from the souks one day to the glitzy malls the next. Here's a quick look at how to spend your time in Deira.
The Dubai Creek is at the centre of it all. This historic saltwater creek was once the lifeblood of Dubai. Today, you can walk alongside it for moments of serenity and take a ride across the waters on a traditional dhow boat (an abra) to set sail to the historical districts of the city. 
Al Seef is one example of an old-world district in Dubai. Another is the Al Fahidi historical neighbourhood, a heritage site where you'll find many old buildings, public squares, forts and museums. These vibrant spaces fully cater to modern-day travellers while showcasing a glimpse of what life was like for the historical Emirati's. These spots are also ideal for a taste of traditional cuisine and shopping for goodies. 
Speaking of shopping, the souks are a must-visit! There are dedicated souks for different things, from textile to gold, spices, and perfumes. For a more modern-take on Dubai's mall culture, you can head to Deira City Centre Mall to shop and enjoy the entertainment on offer. 
As mentioned, there are a number of museums to visit in the area. The Dubai Museum is a great place to learn about the history of the city, while the Museum of Illusions is home to fun and interactive optical illusions. There are many other museums to see and points of interest to see including:
Heritage House

Deira Clock Tower

Al Ahmadiya School (which has been turned into a museum)

The Pearl Museum

Naif Museum

Coin Museum

The Dubai Frame
Your Emirati experience awaits, where you can explore the traditional and cultural side of Dubai. From historical sights to authentic flavours, you're going to love your stay at our hotels in Deira!
Rove City Centre is an ideal choice among the hotels in Deira Dubai. It offers travellers everything they need in a contemporary setting, with a focus on offering comfortable and convenient stays. Everything in the hotel's common areas and en suite rooms have been carefully selected to offer essential amenities and facilities.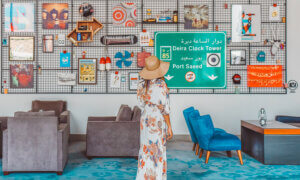 Inside your room, you'll find a designer mattress, city views from the window, and a tea and coffee making station. Unwind under the rain shower or with the Smart TV on and grab a snack from your mini fridge. On your first and last day, we can accommodate flexible check-in and check-out times (upon request and according to availability). 
Be sure to make the most of everything we offer at Rove. In terms of our facilities, you can visit the on-site gym at any time of the day or night, get to business in our fully kitted co-working spaces, or grab a bite for breakfast, lunch, or dinner at our on-site restaurant. Be sure to ask about laundry services and other tips during your stay if required!
That wraps up our guide on exploring the old-world with a stay at one of the most popular hotels in Deira, Dubai! With so much to look forward to, all you need to do is book your stay at Rove City Centre and pack your bags. We look forward to showing you the culture and heritage of our city. 
Dubai is calling, Rover!