At Rove, we know that creating, inspiring and sharing through storytelling is what podcasts are all about. That's why we're giving you the lowdown with 10 hacks to help you make waves among the sea of podcasts flooding the scene. It's easier than you think! With Rove, we bring you everything you need to reach your listeners and make your mark in the world of podcasting. Keep reading below for inside tips – you're welcome.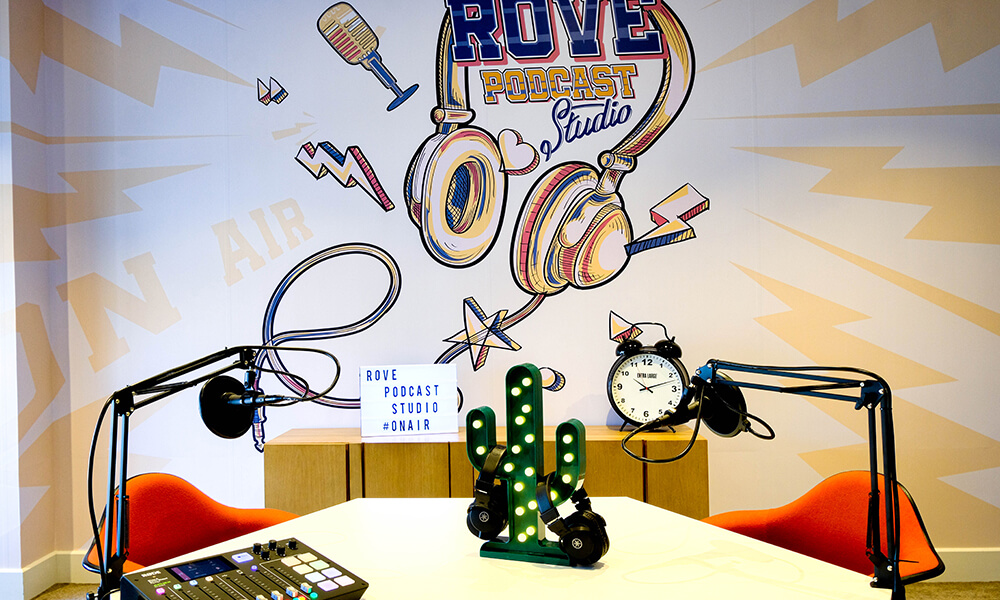 1. Define Your Strategy 
Like many things in life, a great podcast has direction and focus. Get to work at the drawing board and pick a topic – don't forget to decide on a niche and format so that each episode is similar in length and style. Also, knowing what your goals are and what success looks like to you is key. Decide on the platform(s) you'd like to share your podcast from the get-go and have an idea of what is working for similar podcasters – after all, knowing your competitors is key to setting your podcast apart from the rest!
2. Build Your Brand
People are visual beings! Therefore, it's important to realise that It's not all about sound – visuals matter too, so make sure you've got a well-crafted graphic for your logo that people won't soon forget. Build a distinctive brand by having a tagline, intro and outro sound, plus titles that pack a punch! Not sure where to get your hands dirty? You can design all of this from the Mac benches in Rove's co-working spaces. Remember, great podcasters are recognised as go-to people for insights, advice, and entertainment, so make sure you are all of that rolled into one.
3. Maintain the Highest Quality
Kick-off with a quality message to broadcast. It's easy to do this when you prepare a script or outline for each episode to keep you on track, so don't sweat the small stuff. It goes without saying that quality audio is key, that's why having access to great recording equipment and awesome audio go hand in hand. Ready to get cracking? Book some time at a podcast studio like ours at Rove Downtown. It'll set you apart and establish your podcast as credible and easy on the ears.
4. Get to Know Your Audience
Rove podcasters know who they're speaking to and why they're listening. It's all about providing value. Sharing is caring, so pop by Rove's co-working spaces to create extra content for them, like a newsletter, eBook or giveaway contests that matter to your listeners and benefit them too. Besides, everybody appreciates free quality content every now and then.
5. Work With the Algorithms 
Google's bots are always working overtime, that's why you'll need to optimise your content so the spiders on the Internet know how awesome your podcast really is! Start with a title, description, and tags with keywords. Work on getting into various directories for more traffic, focus on ramping up the number of subscribers you have and be sure to be listed in the correct category. Bonus tip: asking listeners to leave reviews will let others in on the great content you're sharing with the world!
6. Market Your Podcast
Marketing your podcast lets people know about it and gets them excited to tune in. You can share live-stream clips or sound bytes via social media to spread the word. Plus, getting featured as a new podcast on your publishing platform can give you an organic boost in exposure too.
7. Be Sure to Collaborate
Collaboration: a word that is brimming on the lips of almost every content creator out there! Invite relevant guests as speakers on your podcast to bring new voices and opinions to your show. It's also important for you to network and guest-feature on other podcasts too. This way, you can leverage their audiences and learn new tricks of the trade. Other ways to "collab" include partnerships with brands which open up the doors to sponsorships and are a sign of a great podcast. You can also team up with other podcasters, and finding them isn't all that difficult – head to Rove's Podcast Studio space to track a few down.
8. Keep it Consistent
One of the best tips we could ever give you is to tell you this: you've got to publish regularly. Your listeners will expect you to, and you'll want to become a part of their routine. It'll also help you with your search engine ranking, so don't underestimate the importance of this. When you start, publish at least three episodes and then follow a consecutive schedule. The best way to do this is to record consistently or in advance (you've got this!). Have a look at our rates to decide on a recording schedule that works for you – you can even book one day and record an entire series if you're feeling truly inspired!
9. It's All in the Community
Create a community for your podcast and join in on other existing ones. This is a great way to build connections and relationships – after all, networking is key! Communities are all about sharing, trust, raising awareness, and the human need to belong – a no-brainer for creating a successful podcasting endeavour. 
10. Get Going!
There is no need to hit the pause button on your podcast. Get recording, editing, and sharing your podcast today. This type of content sharing is not novel, so make sure yours stands out with these top tips, and keep things professional by recording in a world-class studio space (a.k.a Rove Hotels Downtown!). Get your message out there in the world so it can reach and resonate with your listeners. Nothing is holding you back; so think, create, and enjoy, Rovers!
Record at the Rove Podcast Studio
Our inspiring podcast studio is situated at the Rove Downtown Hotel. Record high-quality audio with our top-notch recording equipment – we're talking a RODE soundboard, Fender mics, a camera tripod, and a green screen! Don't worry, it's uber-friendly to use, whether you're new to the game or a hot contender in the podcast world. Oh, and there are complimentary drinks on tap to keep your thirst quenched as you get creative! Rove on down – we'll see you there!
We're open from 8 am – 8 pm. Book your recording slot by sending an email at events@rovehotels.com, or call +971 4561 9099.
Rove Podcast Studio Rates
1 hour: AED 150
Half-day (6 hours): AED 400
Full day (6-12 hours): AED 700