The Coca-Cola Arena is Dubai's first and largest fully-air conditioned indoor performance venue. Since its official launch in 2019, the arena has welcomed thrilling performances from entertainers and musicians including the likes of Maroon 5 and Russell Peters. As a multi-purpose arena, it offers Rovers the most sought-after audience experience, with some of Dubai's hottest events taking place within its walls. Here's all you need to know about this epic hub while staying at one of the Rove Hotels near Coca-Cola Arena Dubai. 
About the Coca-Cola Arena
Owned by Meraas Holding and managed by ASM Global, this modern facility has placed Dubai on the global map for exciting performances ranging from celebrity comedians, touring musicians, world-class theatre productions and even sporting events. Boasting the most advanced technology and capacity to accommodate 17,000 spectators, the Coca-Cola Arena is a highly rated entertainment hub in the region.
Getting to know City Walk Dubai
With the Coca-Cola Arena being ideally located within the lifestyle community of City Walk Dubai, staying at one of the Rove Hotels near Coca-Cola Arena Dubai means visitors are privy to a world of entertainment that extends beyond its doors. 
City Walk Dubai is a creative lifestyle space where you can live, work and play. It's built around the concept of movement, community, sharing and creativity. Conceptualised by some of the world's leading designers, City Walk Dubai is a lifestyle hub that invites visitors to explore a host of gourmet dining, retail, entertainment, and residential spaces.
Rove Hotels near Coca-Cola Arena Dubai
Rove Hotels near Coca-Cola Arena Dubai include Rove City Walk and Rove Downtown Dubai, offering the most convenient access for guests. Rove City Walk is located near Sheikh Zayed Road, giving you access to the most direct highway and all its neighbouring surroundings. Our hotel is your gateway to a contemporary and pedestrianised community, where visitors can stroll the tree-shaded streets, explore the trendy Food & Beverage outlets, behold the entertaining street performances and admire the awe-inspiring modern architecture.
Rove City Walk acts as a welcome reprieve, with its artistic and quirky interiors being inspired by music. Look forward to sights of a DJ booth in the hotel lobby, musical instruments around every corner, and other captivating references to global and regional performers who showcase their performances at the Coca-Cola Arena nearby.
In a nutshell, Rove City Walk pays homage to musicians around the world. Despite its innovative design, Rovers still get to enjoy affordable stay rates without having to compromise on quality and style. Staying at Rove City Walk gives you close access to the most highly anticipated events and performances taking place at the world-renowned Coca-Cola Arena and other surrounding attractions, like the Burj Khalifa, The Dubai Mall, the trendy La Mer Beach, Dubai Airport, and the tropical rainforest of The Green Planet.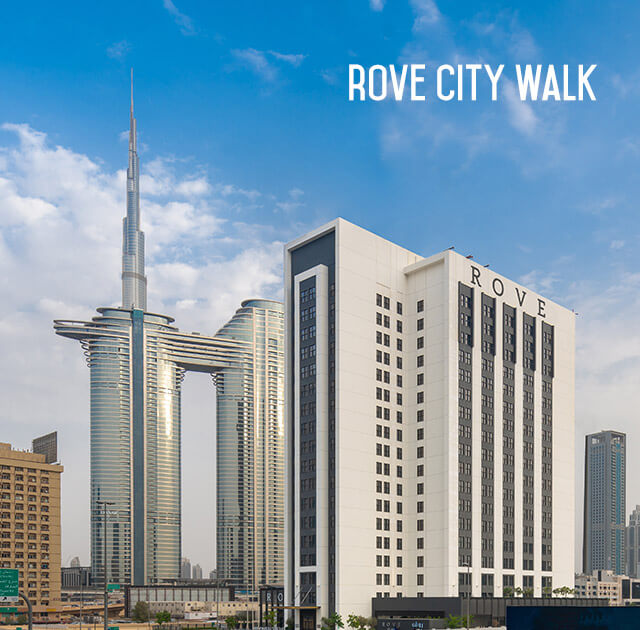 What to expect while staying at Rove City Walk
As one of the hotels near Coca-Cola Arena Dubai, Rovers can look forward to a 24-hour on-site gym and laundromat, and an outdoor pool with enchanting views of the vibrant city. Enjoy access to supercharged WiFi, a power rain shower, a 48" interactive Smart TV, and a mini fridge for storing those yummy midnight snacks in your hotel room.
Digital nomads can also populate our co-working hub thanks to our partnership with letswork. All Rove Hotels in Dubai feature co-working spaces that welcome remote workers and entrepreneurs to break the mundane rhythm of work and switch things up in our creative co-working spots. With daily, weekly and monthly packages starting from just AED 39 a day, gain access to various perks including bottomless coffee, tea and water, 20% off F&B at The Daily and TGI Fridays, and access to workshops, events and more.
Rovers can also visit our on-site The Daily restaurant for the ultimate tasty refuel, without paying an arm and a leg for a satisfying meal or treat! Taste your way through our signature booster drinks to get you turbocharged for your adventures, chill out with a steaming hot mug of our speciality coffee, or delight your taste buds with a breakfast buffet to kickstart your day. We also offer healthy vegan options and fresh international flavours across breakfasts, lunches and suppers (not forgetting snacks in between)! From salivating salmon meals to lip-smacking burgers and pasta dishes, we've got it all.
Ready to book your stay at Rove Hotels near Coca-Cola Arena Dubai and start exploring the plethora of events and performances taking place in Dubai's leading entertainment hub? We can't wait to be your basecamp from which to explore and be entertained – see you soon! Also explore the top hotels near dubai airport.