Got 48 hours to spare in Dubai? Don't waste it sitting in an airport when you've got so many mind-blowing activities to keep busy during your Dubai layover. From exciting sightseeing opportunities such as the Dubai Fountain to immersive experiences such as the jaw-dropping Dubai Frame, there is much to see and do during your two-day layover in this vibrant city of Dubai.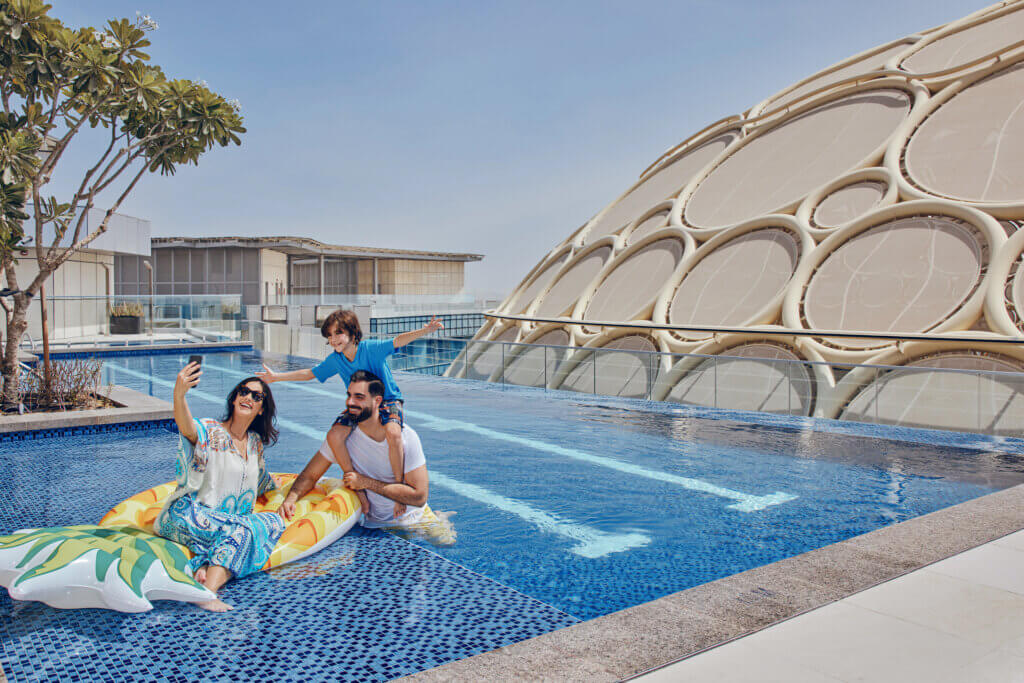 Which hotel is closest to Dubai's airport and attractions?
Rove Hotels are ideally situated near Dubai's highways, allowing for easy trips to the Dubai International Airport. This means that you get to make the most of your time in Dubai without the hassle of long trips back to the airport – after all, we don't want you to miss your flight! Our funky hotels give you direct access to all the city's most exciting attractions for thrills and cultural trip moments. Check out the hotels near dubai airport here.
Our hotels offer Rovers affordable yet modern and stylish hotel stays. Your air-conditioned Rover Room comes fully equipped with a smart TV for catching up on your favourite shows, and an en-suite bathroom sporting a power rain shower. What's more, you get to stock up on your favourite snacks and refreshments, with an in-room mini-fridge available, while you update your Insta feed using free high-speed WiFi. What more could you ask for?
Start your day by grabbing a lip-smacking stack of banana pancakes or savour the local flavours with the Arabic Mezza option at The Daily all-day dining restaurant on-site. You can look forward to a whirlwind of international cuisine and a caffeine kick of note with Rove's signature coffee brews. After all, you'll need all the energy you can muster to make the most of your layover in Dubai!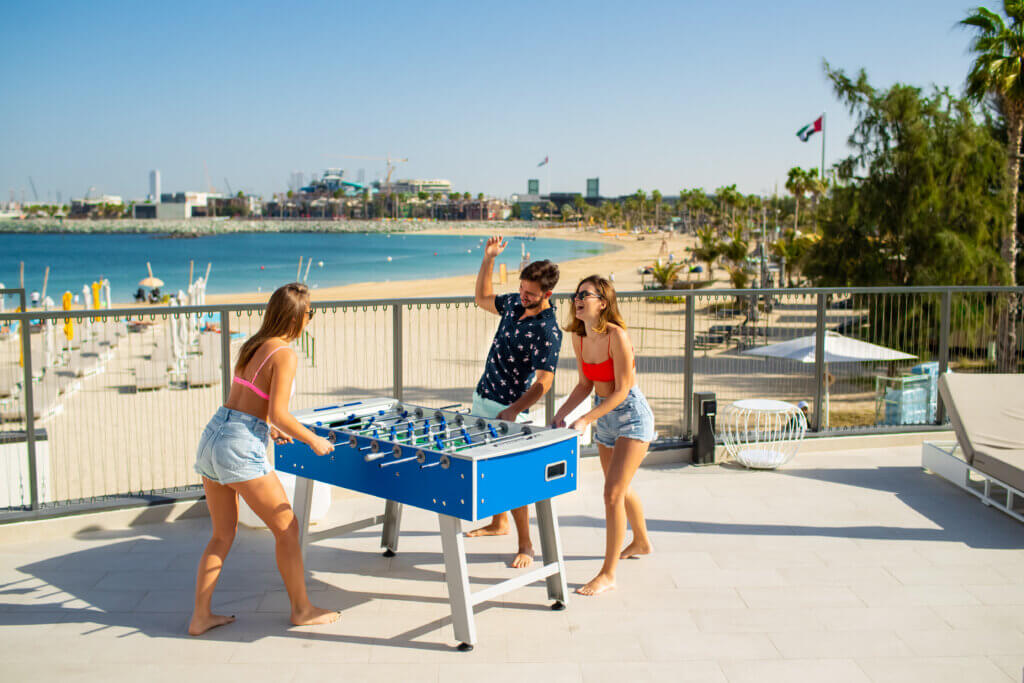 Things to do during a 2-day layover in Dubai 
Ready to reimagine your Dubai experience? Grab a notepad for our list of things to see and do during the 48-hour layover in Dubai that will ensure you make the most of your time in the city of the future:
1. Visit the Dubai Frame
Explore this iconic cultural landmark of Dubai that allows you to envision what Dubai once was and the ambitious plans it has for the future. The Dubai Frame marries the culture of traditional Old Dubai with the glitz and glamour of its present and future. What's more, you'll get to soak up the panoramic views of the city and snap some pictures of your adventure.
2. Discover the Dubai Mall
As the world's largest mall, the Dubai Mall ensures that not only do you get to enjoy a luxury shopping experience like never before, you'll also be privy to the endless list of enthralling entertainment attractions in and around its location! Watch a movie at the acclaimed Reel Cinemas, skate at the Olympic-sized Dubai Ice Rink, explore the iconic Dubai Aquarium and Underwater Zoo, head to the top of the world's tallest tower, the Burj Khalifa, or embrace your inner foodie with the plethora of exciting international dining options available.
3. Catch the Dubai Fountain show
This world-renowned spectacle receives well-deserved recognition for its captivating choreographed displays. Marvel at the world's tallest performing fountain as it jets up to 22,000 gallons of water into the air while dancing to the beats of Andrea Bocelli, Michael Jackson, and other popular tunes. It's a must-watch.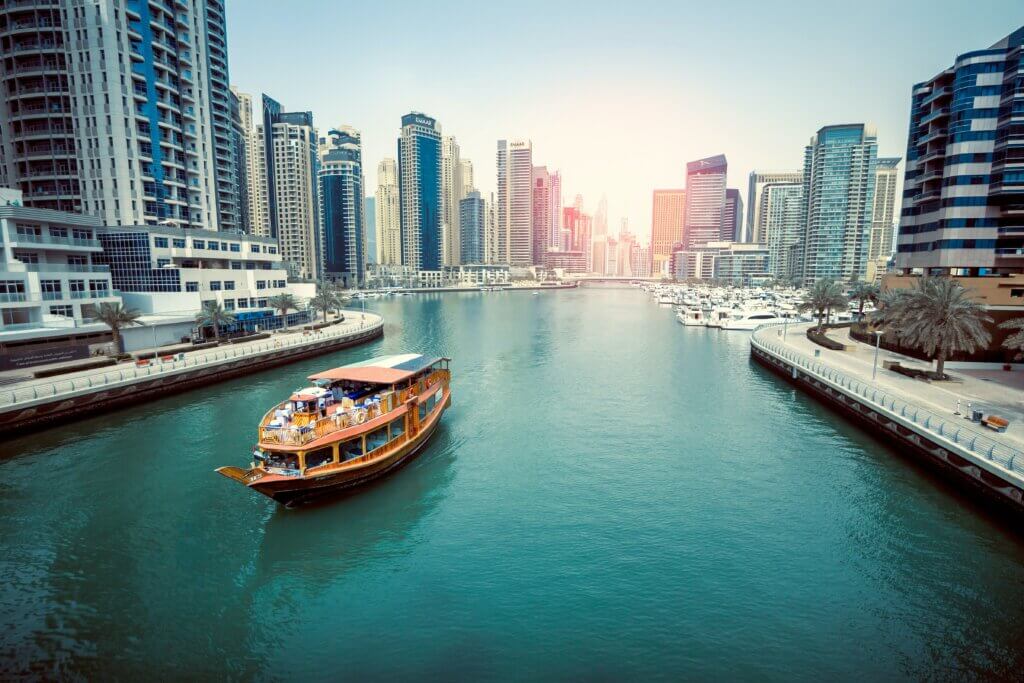 4. Enjoy a dinner cruise on the Dubai Marina
Many companies offer dinner cruises along the Dubai Marina, and it's one of the best ways to take in the surrounding views if you don't have time to explore on foot. Welcome a traditional Tanoura dance show during the experience and a variety of dishes on offer. 
5. Venture to the Al Fahidi Historical Neighbourhood
Explore the true Emirati way of life at this heritage site. Al Fahidi is the gateway to the historic Dubai Creek where you'll also get to soak up the rich preserved architecture, wander through the captivating alleyways, purchase bric-a-brac along the way… whatever you do here, this neighbourhood is nothing short of enchanting.
Nothing is better than making the most of a 2-day layover in Dubai. Book a stay at a Rove Hotel if you're passing through Dubai and make sure you visit some of the above-mentioned attractions instead of spending your time in a stuffy airport. We can't wait to see you soon!