If you're planning your next international trip to Dubai, then we hope you're as excited as we are! This vibrant metropolis is buzzing with thrilling activities, world-record-breaking attractions, awe-inspiring natural attractions, and everything in between.
Plan Your Trip to Dubai
Planning your trip "to the T" is important to ensure that you get to make the most of your time in Dubai, which is why we've rounded up a few noteworthy points to consider. Here they are.
Consider the time of year
The best time to visit Dubai is (arguably) from October through to April. Why? Well, you'll be exploring a world-renowned smart city situated right in the heart of the desert, which can become blistering hot! Rovers can opt for a much more comfortable vacation during these cooler months when enjoying outdoor activities is a lot more bearable.
Language, culture and currency
Dubai is an Arab country situated in the UAE, with Arabic as the primary language. However, English is also widely spoken and most of Dubai's population is made up of expatriates (you are not alone)! Rovers can rest assured that communication in this glamorous city will be a breeze.
The culture in Dubai is a lot more westernised than in other Arab countries, but it's still important to remain respectful of the rules. As a cosmopolitan city, Dubai makes it easy for foreign visitors to adapt to their surroundings. Make sure you dress more conservatively when visiting the city's places of worship and historic neighbourhoods, and don't wear swimwear outside of areas like beaches, pools, spas and water parks.
Dubai's currency is called the Dirham and is shortened to AED (United Arab Emirates Dirham) which is also the official currency of the UAE.
Getting to Dubai
Most passport holders should be able to acquire a visa on arrival, but this is entirely dependent on your country of citizenship. Make sure to check out your individual requirements before travelling to the city.
Dubai has two major world-class airports, namely the Dubai International Airport (DXB) and the Dubai World Central (DWC). Both airports are easily accessible from a Rove Hotel nearby when you hop on the metro, with the Dubai Metro being the world's largest driverless train system. Discover the top hotels near dubai airport.
Getting around the city
If you enjoy ridesharing apps like Uber, then be sure to download Careem, the Dubai version! Another way to travel and get around the city is via the various metro stations where you can tap into Dubai's reliable and speedy transport infrastructure system. Hotels like Rove are closely located nearby various metro stations, making travel a seamless experience. You can simply purchase a Nol card and keep it topped up to make travelling via the metro more convenient, or opt to purchase a single-use ticket when you arrive at your starting station.
Common etiquette in Dubai
This is a city where Rovers can expect to enjoy friendly hospitality everywhere you go. Handshakes are a customary way to greet the locals, although women are generally expected to initiate this. If you are travelling to Dubai with your significant other, do note that public displays of affection are kept to a minimum. Avoid kissing and hugging in public areas, but hand-holding is considered acceptable.
Alcohol in Dubai is served at licensed establishments like bars, hotels and specific stores. Rovers will need to be 21 years old or older to consume alcohol in the city. It's worth mentioning that disorderly conduct is not accepted, so avoid getting drunk and rowdy.
Food and drinks in Dubai
No matter where you are travelling from, Dubai is a very diverse city with something to satisfy even the most discerning palate. Rovers can look forward to food ranging from Asian and American to Italian and Spanish cuisine. There's something for everyone!
Rove Hotels also have on-site restaurants—The Daily restaurant or TGI Fridays, depending on which Rove hotel you're at—for easy access to international cuisine. Tuck into hearty breakfasts, lunches, dinners and snacks while sipping on our famous 100% Arabica coffee. We've got you covered when you want to stay in or don't have the time or energy to find an appropriate restaurant in the city that tickles your fancy.
Ready to book your stay in Dubai? Rove Hotels has 9 hotels scattered across the city, giving you a variety of options that places you near the beach, Downtown Dubai, the cultural district of Bur Dubai, and more. One of the finest hotel in downtown is Rove Downtown.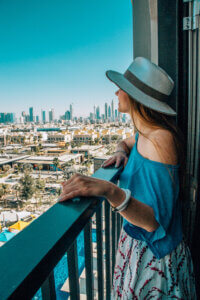 Visit our website to start exploring our hotels and get ready for an adventure with us!