Snap photos from the world's biggest photo frame! Not only can you get a perfect view of the city's towering skyscrapers, but you can even reach the top of it where you'll see an ode to the city itself, all the way from its historical side to the possibilities of the future. Here's everything you need to know about the Dubai Frame and why Rove Healthcare City, funky hotel in bur dubai is the best spot for you!
Visiting the Dubai Frame
The Dubai Frame has been rated over 33,500 times on Google, with an average score of 4,6. It is a cultural landmark in the UAE with a structure that frames Dubai. Visitors will be able to explore three galleries, one for the old Dubai, one for the present, and one for the future. You'll learn about the transformation of the city's humble pearl diving days to the smart city that it is now, and the ambitious example it continues to set for the rest of the world. There are augmented reality displays and a vortex tunnel that will showcase what the city could look like in 2050. 
It is commonly referred to as the Golden Frame Dubai, as over 15,000 square metres of gold-coloured stainless steel covers the frame. The Dubai Frame is a gobsmacking 150 metres high and 95 metres wide, making it the world's biggest frame by Guinness World Records standards. 
You'll have 360-degree views of the city, seeing everything from the Burj Khalifa on one side to the Deira district on the other. The top of the structure features an awe-inspiring glass bridge and skywalk deck, which can be reached via an elevator that transports you 48 floors upward in just 75 seconds.
With such amazing views, guests can now book a breakfast session that includes freshly brewed coffee and a selection of pastries. There are many restaurants nearby as well to keep you going throughout the day. One of the most popular times to visit is during the golden hour at sunset!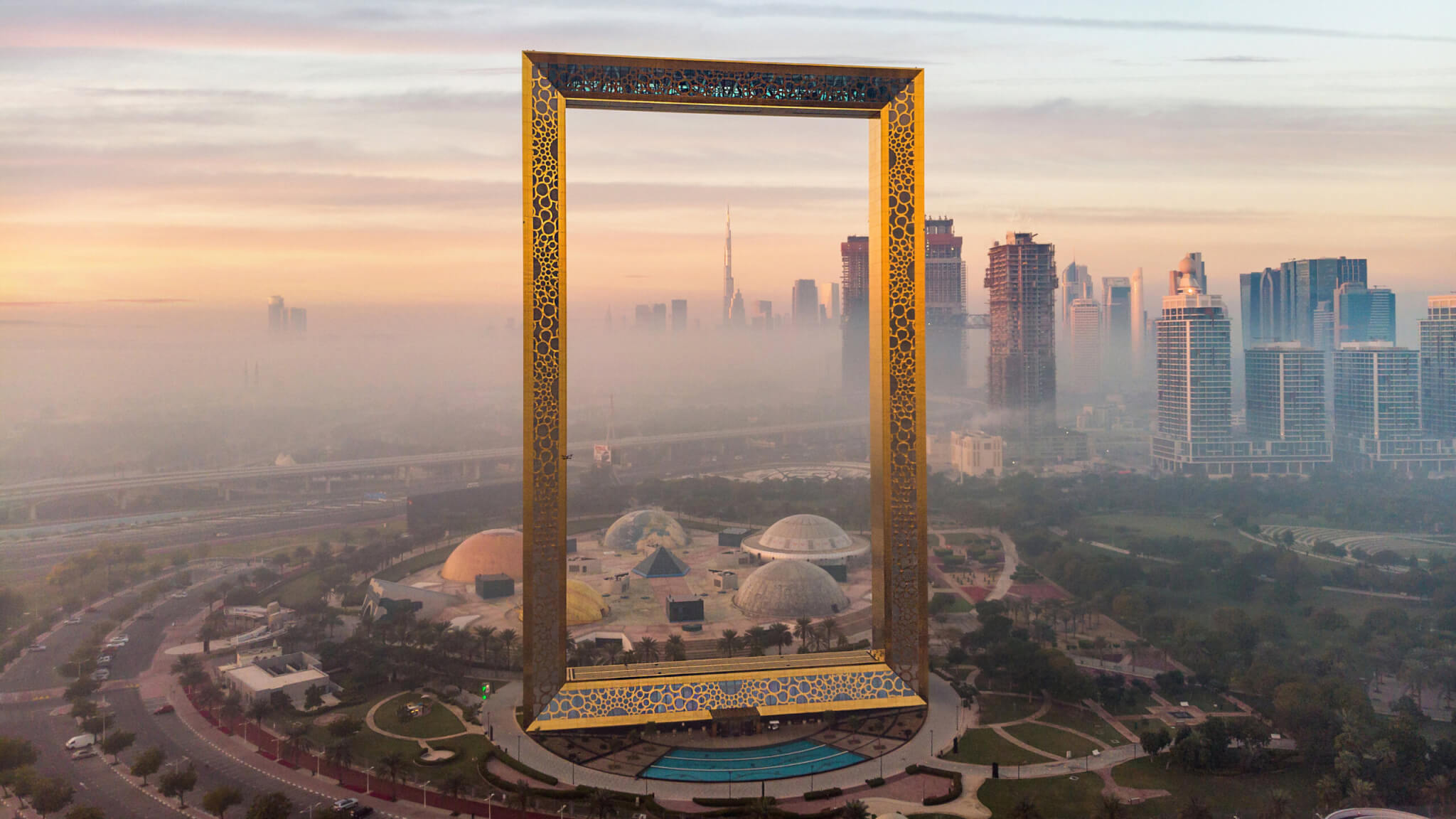 Stay with us at Rove Healthcare City
Rove Healthcare City is situated in Bur Dubai. It is the greenest quarter of Dubai, with many green parks in the vicinity. It's a prime position for medical tourists, but this location has a lot to offer all sorts of travellers, whether you're here for business or pleasure. 
You'll have the renowned Sheikh Zayed Road on your doorstep, plus two metro stations ready to transport you to wherever you'd like to be in Dubai. It's located 10 minutes away from the icons in Downtown Dubai and even closer to the Dubai International Airport, making this a great base to explore the city seamlessly. Discover the top-rated hotels near dubai airport.
Rove Healthcare City is close to Dubai's oldest neighbourhood, Al Fahidi, so visitors can be sure to explore the heritage of the Emirates at the souks. Guests will also be minutes away from Deira and the Dubai Creek, which are must-see spots for culture lovers. 
Rover rooms offer city views from large windows. There are interconnecting rooms available if required, and a range of sustainable amenities, including a power rain shower and comfy bed to ensure you're well-rested during your trip. Enjoy coffee and tea from your room, with space for extra guests on the in-room sofa bed.
We understand timing is everything and that is why we have a 24-hour gym and laundromat for your convenience. For those who are looking to kick back and relax, be sure to visit our outdoor pool. Rovers can tuck into a freshly cooked breakfast with an a la carte breakfast or buffet at The Daily restaurant situated on-site.
Ready to kickstart your adventure in the city? Book your room with us at Rove Healthcare City.