Are you looking for affordable hotels where you can enjoy Dubai without breaking the bank? Don't sweat it, we have you covered. As a neighbourhood that connects the new and old worlds of Dubai, hotels in Bur Dubai inherently offer great value in a neighbourhood where you can explore all that the city.
Cheap hotels in Bur Dubai means you can save your buck for extra shopping and activities. And what's more, it doesn't mean you need to compromise on the quality of your stay or the service you receive. Rove hotels offers fuss-free accommodation for a comfortable stay and a range of facilities that seek to elevate the status of our high-value hotels.
There are Rove hotels situated throughout Dubai across 9 neighbourhoods. One of the best in terms of value is Bur Dubai. Finding a cheap hotel in Bur Dubai is something you can do with ease. The key is in finding the best among them, and that is where Rove Healthcare City comes in.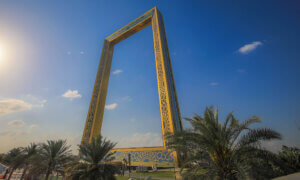 Bur Dubai is teeming with exciting things to do, and we've got you covered with a Rove hotel there that puts you in the centre of all the exciting sights! The busy souks, Sheikh Zayed Road, the Dubai Frame, and other attractions are all within easy reach of Rove Healthcare City, which is situated in Bur Dubai, a historical neighbourhood. Read on to learn more about what you can expect from our unique hotel and beyond.
Exploring Bur Dubai
Bur Dubai has a ton to offer Rovers, captivating historical buffs and culture vultures with its abundance of dining and sightseeing opportunities. This historical neighbourhood has remnants of Emirati life around the Dubai Creek before Dubai became the thriving cosmopolitan city that it is today. 
There are numerous ways to experience this area's authenticity. Begin at the Al Fahidi Historical neighbourhood with its classic barjeel wind towers, the Dubai Museum at the Al Fahidi Fort, the Coin Museum's collection of antiquated coins, and the winding cobblestone lanes that lead the way. Don't forget to stop at the Arabian Tea House, a popular destination for both residents and visitors looking for genuine Arabic coffee and treats.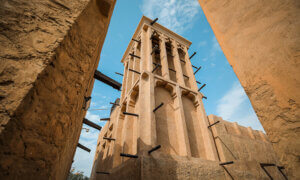 The Shindagha Museum offers a multimedia experience that transports you on a sensory journey into the past and is the best place to learn about what life was like for Emiratis in the past. Visit the Perfume House to embark on a trip through fragrant perfume creation done the Emirati way – and don't forget to test your bartering skills! Souks are where you can bag some bargains. 
Souk shopping and a trip to Al Seef are the next steps. Al Seef is a newly refurbished modern shopping, eating, and entertainment complex that was created to give traditional Emirati architecture a fresh new look. Next, make sure to stop by the Textile Souk to find great deals on lovely kaftans, pashminas, raw silks, embroidered cushions, and more.
Rovers who want to visit a famous spot in Dubai will be happy to learn that the Dubai Frame is situated close to the Rove hotel in Bur Dubai! It is the largest frame in the world and home to a museum on top where you can learn about Dubai's past, present and future. 
One of the most iconic things to do in Bur Dubai is to enjoy a tranquil ride in a traditional abra across the Dubai Creek – an activity that will cost you just 1 AED! 
Hotel in Bur Dubai 
Staying at our Rove hotel in Bur Dubai puts you minutes from the lovely sights of Old Dubai. There are a number of facilities to enjoy including a 24-hour fitness centre, self-service laundromat, and fast internet to keep you connected!
From delicious meals to fill you up ahead of your explorations in Bur Dubai, to comfy sheets to ensure you get a good night's rest at the end of the day, what are you waiting for, Rover?

That wraps up our guide to finding the best room at a cheap hotel in Bur Dubai which offers a highly valuable experience without the price tag to match. Book your budget-friendly stay with us at Rove Healthcare City today.