Dubai Parks and Resorts is a one-stop-shop of wondrous adventure-filled entertainment that caters to the whole family. Whether you're a thrill-seeking teen, a big-screen enthusiast or travelling with boisterous toddlers in tow, staying with Rove At The Park puts you within easy reach of some of the best water & amusement parks Dubai has to offer with shopping, beach and dining options aplenty.
Sat at the southern end of Dubai, you're a swift 15-minute drive from the long-awaited Expo 2020 site! We're 15 minutes away from Al Maktoum International Airport as well as the UAE's integrated business hub of Jebel Ali Free Zone, for our Rovers here on business with a splash of pleasure. Whilst all this excitement might be hard to shy away from, you'll always have Rove At The Park's pool to #relax in, The Daily restaurant to #refuel for tasty breakfast lunch and dinner options and we'll even throw in a late check-out / early check-in to maximising your trip.
Roving Around – How to Get to Dubai Theme Parks
Staying with Rove At The Park places you (conveniently) a 15 minute walk from the resort, but you might want to save your energy for screaming and jump on our free shuttle bus to the main entrance. Whilst inside, you will find internal taxi-carts to get you from each park entrance to the next and even stroller rental for the kids that desperately want to keep up with the bigger ones of you! We'll also have a shuttle bus to whisk you away from the rides and off to Ibn Battuta Mall and JBR beach for exploring the rest of what Dubai has to offer.
The Dubai Metro will take you from end-to-end of the Emirate with views of Dubai's architectural wonders and biggest tourist attractions – catch the sunset behind the majestic Burj Al Arab and look out for The Burj Khalifa on your way to the Dubai Mall. Interchange for the Dubai Tram at Dubai Marina and take a short, but scenic, route over the waterway to JBR Beach.
You will also find local RTA taxis dotted around for a more privatised journey – they charge by the meter, making prices fair and transparent. Don't be surprised if they suddenly jump up in price, that's likely to be an electronic toll bridge that you've just passed under. And there's a couple of rideshare apps available for pre-booked mapped out journeys.
The Main Attractions
Movie Mania at Motiongate
If you're a fan of the big screen and sentimentality then Motiongate is for you! Re-live some of your favourite movie moments in ways you never dreamed possible. Meet lovable animated characters through live shows at the Smurf's Village Playhouse and the Kung-Fu Academy of Kungfu panda, become your own action hero zapping away ghouls on the Ghostbusters Battle For New York ride, before training your dragon and zipping through enthralling caves and the spooky Forbidden Island.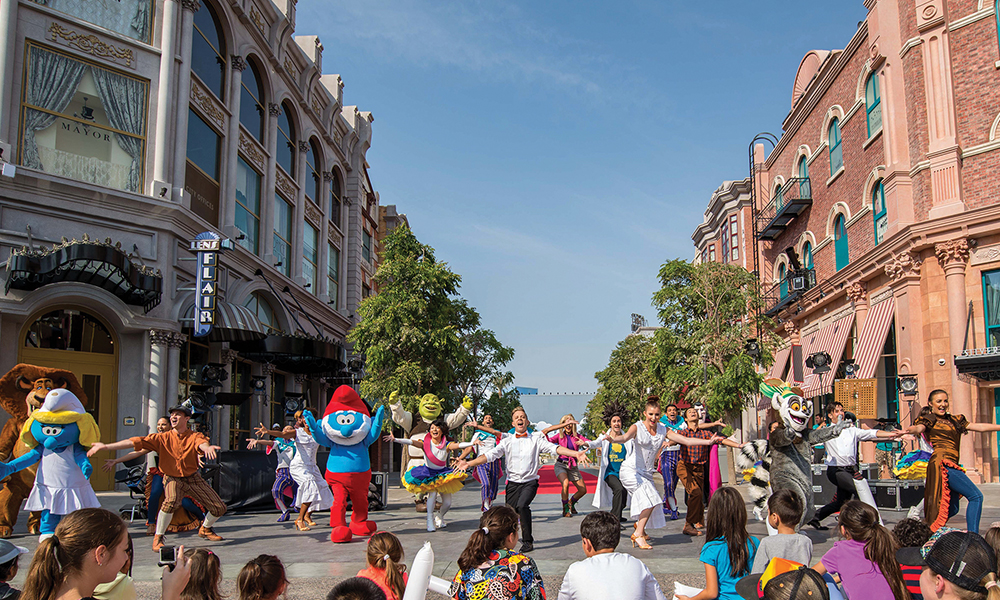 Build a Memory or Two at Legoland & Legoland Waterpark
A great place for LEGO® lovers and splash enthusiasts! Legoland is a sensory sweet-spot for those with younger kids accompanying them. There is lots of family fun to be had, whether it's working as a team to firefight and save the day at the building block Rescue Academy, engineering your own toy car for the race of the century, riding your first roller-coaster or taking home your very own LEGO® brick fresh from the casting line. Ride the waves, splash & swirl, build and sail your own river raft and run riot in the Joker Soaker for water-filled LEGO-themed attractions – end the day at Rove whilst the kids reminisce about living in LEGO®.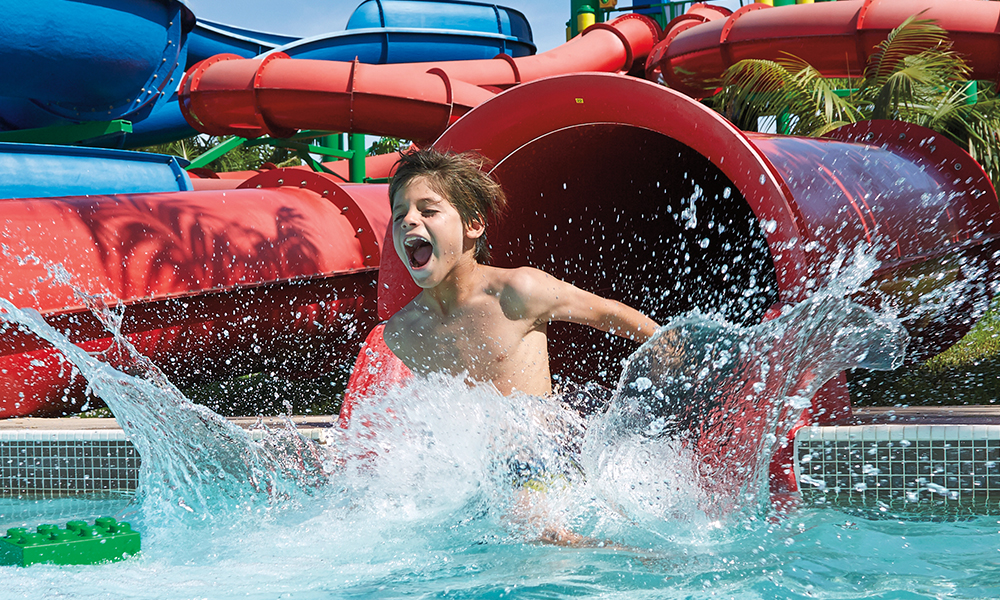 A Kaleidoscope of Colour at Bollywood Parks
Have a blast with Bombay's cinematic marvel whilst experiencing all the action, romance, suspense and comedy of India's legendary film industry and vibrant culture at Bollywood Park. Soar through the skies and over India's stunning scenery and landmarks in a 4D flying theatre ride, star in your high-speed chase, get a glimpse at a behind-the-scenes Bollywood movie and dance along with to the epic musical theatre, whether it be classic Kathak dance, heart-thumping Hindi hits or the peppy new tunes of the B-Town jukebox!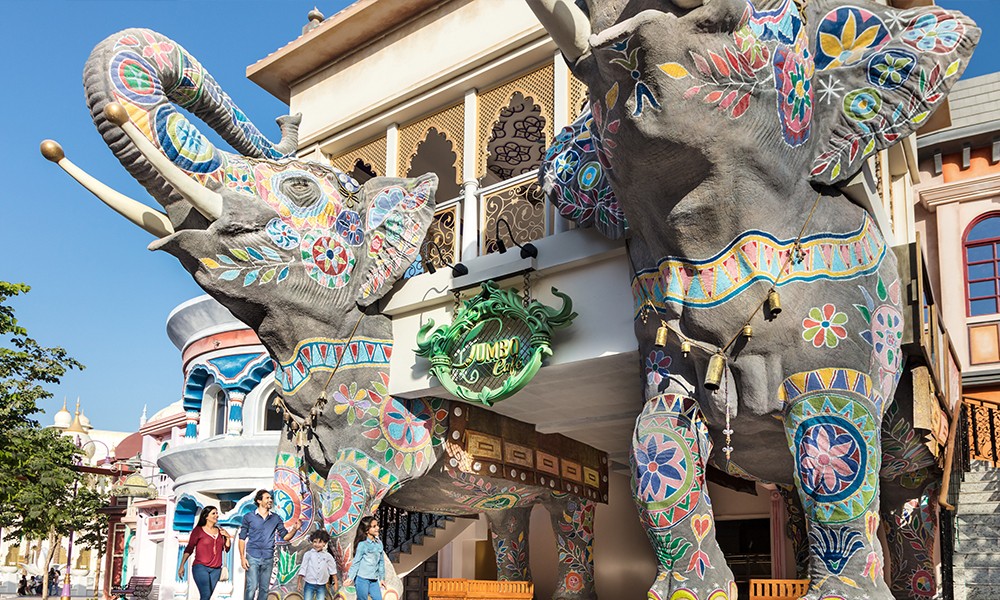 Eat – Shop – Beach
Eat
Explore international cuisine in a new exciting way! Slurp your spaghetti and tear through a slice of pizza or two in the Cloudy With A Chance Of Meatballs-esque, Brent's Luncheonette. Enjoy some medieval fare at Shrek's Candy Apple Café in a meal fit for an Ogre, a hearty chilli at the fiery Dragon Flame Grill with Toothless and friends, before finishing up for some dessert at the Very Smurfy Café in Dubai Parks & Resort. You'll also find some familiar favourite fast food joints, Indian street food in Bollywood Parks and kid-friendly snacks throughout. But for food-on-the-go when you venture out of the resort, schedule in a stop at The Last Exit for Americana inspired food truck nostalgia just a ten-minute-stretch away from the hotel.
Shop
Get your hands on some high-quality threads and a nifty designer bargain at the neighbouring Outlet Village Mall a five-minute walk across the road! Get discounted pieces from brands such as Adidas, Calvin Klein, Armani, DKNY, Roberto Cavalli and Tommy Hilfiger in this European inspired, fully air-conditioned mall with more than 100 stores. Another close-by mall worth mentioning is Ibn Batuta, named after the medieval explorer and designed to highlight his valiant frontiers you can shop some of your favourite stores in ancient Egyptian inspired hallways, or grab a bite in the Chinese Quarter whilst learning a thing or two about his rich history and scholarship. You'll also have plenty of opportunities to pick up a reminder of your adventures from any one of the many gift stores in the parks.
Beach
For a sandy shoreline littered with entertainment and salty air, head to The Beach, JBR 20 minutes away from Rove At The Park. Here you'll find a fully serviced beachfront with splash pad, outdoor cinema, rentable sun loungers, restaurants, café's changing facilities, shops and well, the sea! But for an untouched and low-key beach experience, the elusive Jebel Ali public beach is fifteen minutes away. Here you'll find resident watersports enthusiasts kite surfing, family pet dogs running free and family BBQ's on the sandy dunes. Hotel also provides shuttle bus service to the beach.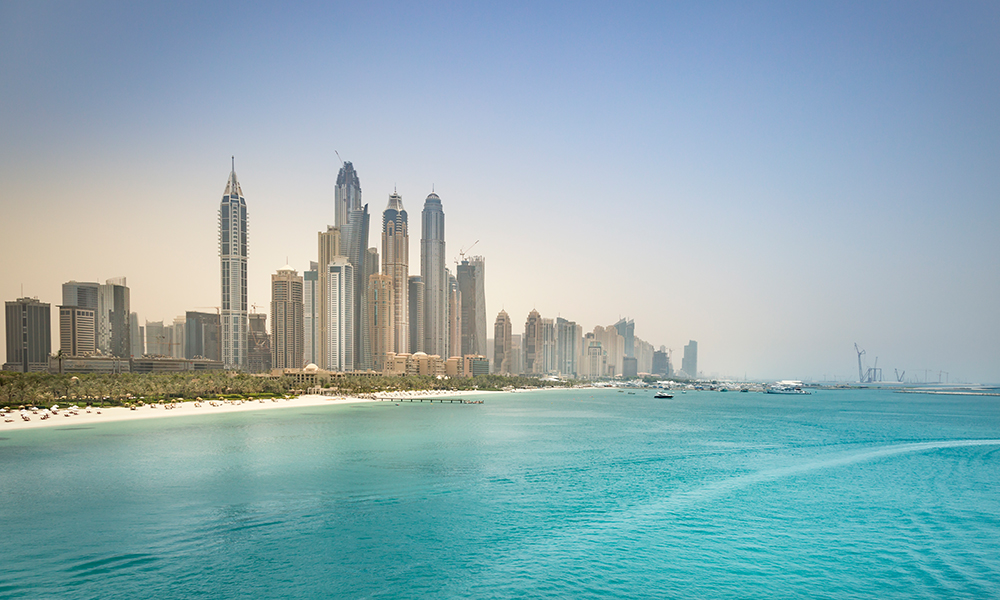 Check out our latest offers HERE.