Explore Rove Healthcare City –Souk Shopping, Budget Dining and A Camel's Load of Culture
For thrifty finds, remarkable food, budget-friendly family fun and an Emirati cultural awakening, stay at our hotel in Bur Dubai, Rove Healthcare City. Don't be fooled by the name – this location is far from cold and clinical; It is spice souks and luscious green parks, jaw-dropping sunset cityscapes and the best setting for a holiday of arabesque proportions – the perfect 'page-turner' for your Dubai adventure.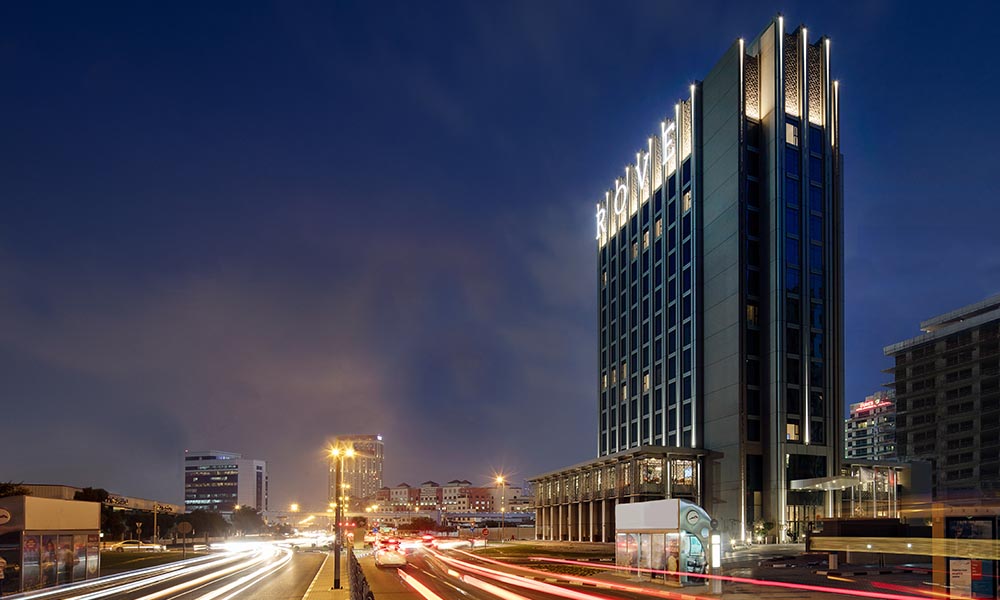 Established in 2002 as the epicentre of innovative concepts in healthcare and wellness, Dubai Healthcare City boasts top names in healthcare and medical education from around the world. As such, visitors from across the globe travel to Healthcare City for its high-tech hospitals; such as the UK's Moorfields Eye Hospital, American Hospital of Dubai, located across the hotel, as well as South Africa's leading private hospital group Mediclinic. It's bordered by the Dubai Creek with neighbours of royal decree at the Zabeel Palace, home to the ruler of Dubai H.H Sheikh Mohammad Bin Rashid Al Maktoum. An advantageous location for visitors to the Emirate, getting you to both the airport and the Dubai Mall in ten minutes, whilst a mere 15 minutes away from the shoreline entertainment centre of La Mer Beach.
Roving Around
The Dubai Metro is the world's largest driverless train system, offering affordable prices and full air conditioning for residents and visitors to get to some of Dubai's most popular sights and attractions like The Dubai Mall and The Mall of The Emirates. It consists of two lines (red and green) that can both be accessed just five minutes away from the hotel. Guests of Rove Healthcare City can either alight at Jafiliya station for the red line, running along the spine of the Emirate linking you to the airport and all the way down to the Expo 2020  site. Alternatively, hop on the green line at Burjuman station for more localised travelling.
For a slower but (possibly) more scenic mode of transport, take advantage of the neighbourhoods history in marine trade roots and board a water ferry to get you to some of the Emirate's best destinations; from the old Souk's and the Creek; to Dubai Design District, all the way out to the Arabian Gulf. There's also the traditional 1AED ($0.3) Abra boats the Bur Dubai Station directly next to the Bur Dubai Souk that will take you across the Creek to the Dubai Spice and Gold Souks.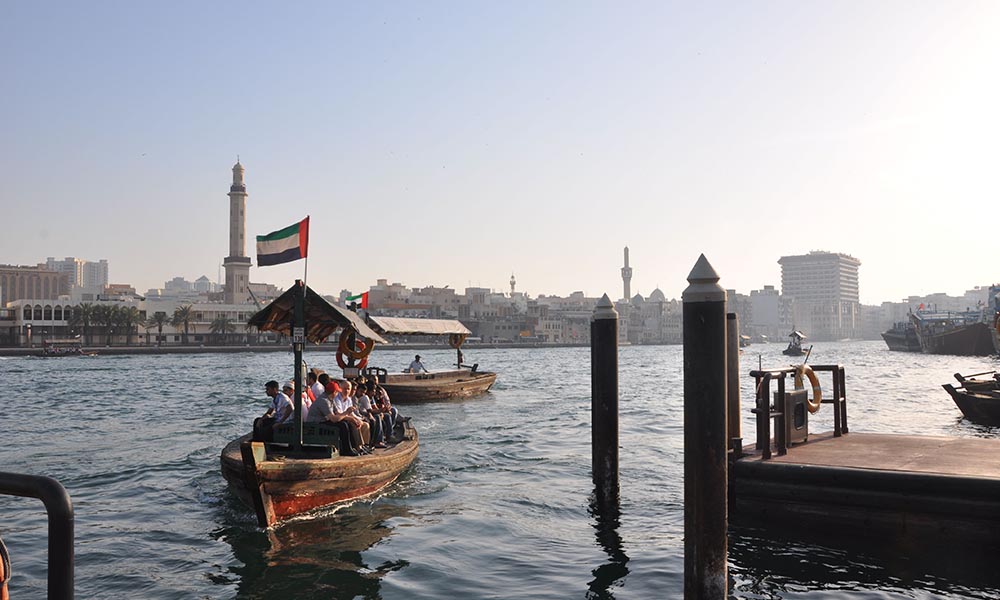 If you're after a more streamlined and private way to get around the city, Dubai RTA taxies are a-plenty and you can hail them from almost anywhere. Additionally, rideshare apps such as Uber & the regions local provider Careem can also be utilised for fast and comfortable connections.
Top 5 To-See & Do When Staying At Rove Healthcare City
Family fun – Dinosaurs, Disappearing Flooring and Wide Open Spaces
The perfect end of town for families with entertainment that'll bring out the big kid in you!
Starting in Zabeel Park will do you well – Just five minutes away from Rove Healthcare City Hotel are yards of palm-lined fields, canopied climbing frames on sandy bases and a few funky extras. One of it's latest attractions, The Dubai Frame , gives you (more than) a glimpse of Dubai's past, present & future with 360 views from panoramic lifts that will take you all the way to the top of this golden framed structure & it's magically opaque-transparent walkway made from liquid crystal activated by each footstep to reveal what lies 150 meters beneath… No angle is missed to acquaint you with Dubai, including interactive screens that take you on a holographic journey through the Emirate's history of a humble fishing village to the modern metropolis we know it as today.
After catching the sunset at The Dubai Frame, make your way to the other side of the park for Dubai Garden Glow   – a kaleidoscopic open-air wonderland made from more than 10 million LED lights and #recycled materials. If you've got a dino-devotee in the family, don't miss the Dinosaur Park for your very own Jurassic experience and catch the coolest ice sculptures in the city at the resident Ice Park.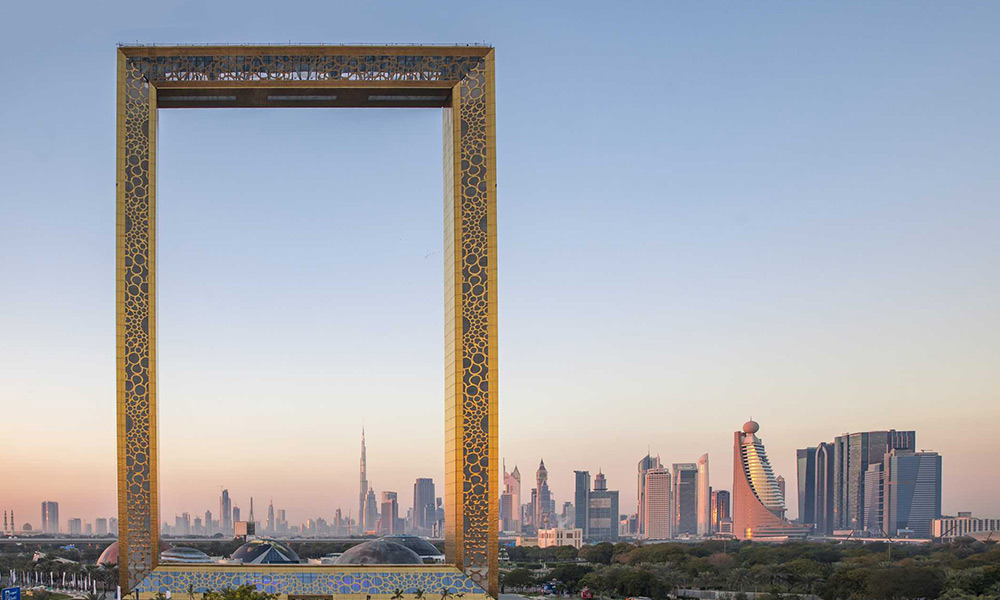 Another leafy neighbourhood gem is Children's City  in another of the oldest and largest parks in Dubai, Creek Park. Great for the warmer months, this indoor 'infotainment' centre is a children's science museum with a distinctly Emirati edge. Kids can interact and explore a technology and earth-science gallery, a global exhibition, a planetarium and a nature centre that all teach through fun.
If you're coming in the warmer months, there's still plenty to keep the kids entertained and the bigger ones of you too. The Museum of Illusion will test the power of perception with a spectacle throughout. Step into this magical realm and resist the laws of gravity by defying the world as you know it through disfiguring mirror rooms, fantastical holograms and Trompe-l'œi. With each fun and awesome trick, you will be taken on a journey of discovery teaching you about vision, perception, the human brain and science.
 Dine – The Hidden Corners of the World
By far, some of the most authentic dining experiences of Dubai can be found on your doorstep when you stay at this hotel! Head over to Karama for a plethora of pint-sized eateries whose value for money and quality of flavours make-up for their dinky dimensions. Whether it's award-winning SE Asian dishes, budget-friendly Indian vegan fare (We're talking less than AED20 (5$) Thalis), or exotic Ethiopian injeera pancakes you're after – Karama caters to it all. Be sure to ask our Rovesters for their recommendations, or wander the alleyways and let your nose and an empty stomach guide you.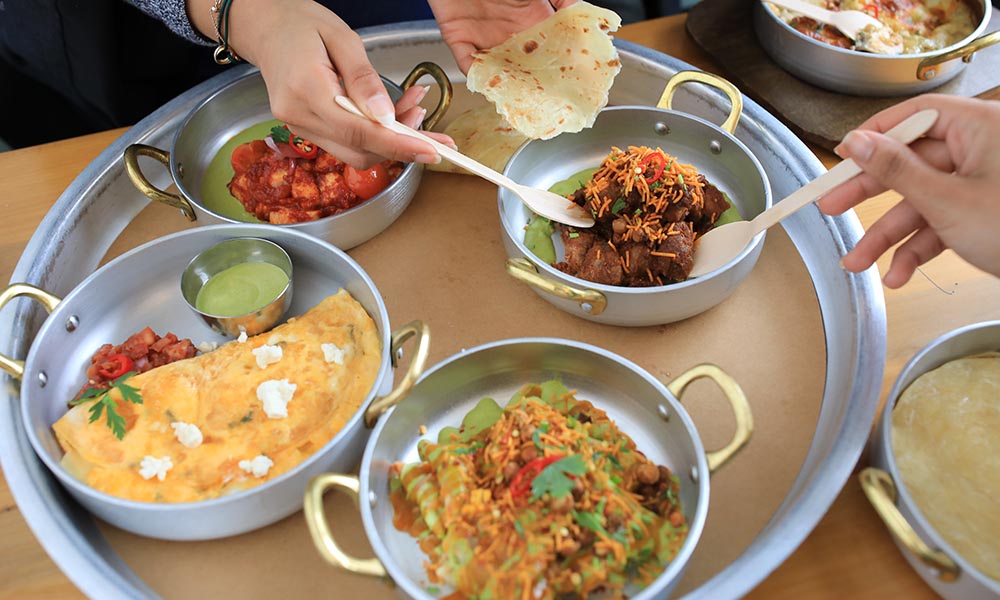 Expand your palette further at Al Seef, right on Dubai Creek, for some traditional Emirati dishes that equally compete with the area's array of upmarket international cuisine, set to stylishly designed restaurants in waterfront venues.
Sight See – Heritage, Art and Authenticity
Before the high-rise glass buildings, colossal malls and influx of expats, Dubai looked like this – Al Fahidi  is one of the last remaining areas preserved to retain the traditional style of life presenting settlements of how local Emirati's lived. The winding cobblestoned alley-ways and Barjeel tower living quarters have been repurposed to house cultural and art initiatives with open galleries, atelier workshops and seasonal events. Check out the Coffee Museum for a sensory tour of the region's relationship with the power bean and don't miss a traditional Emirati breakfast at The Arabian Teahouse .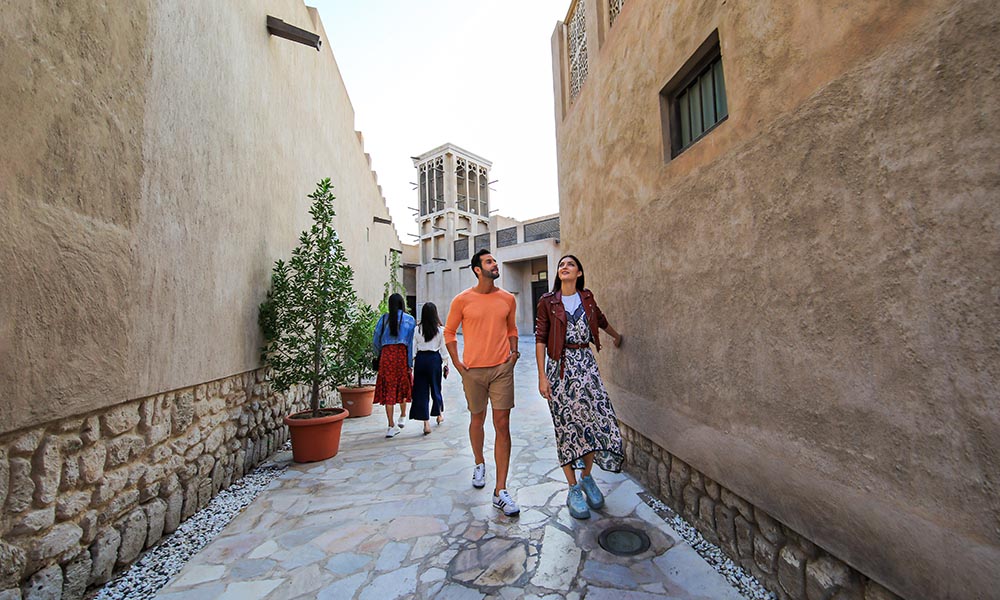 Mooch about amongst the winding alleyways of this old town along to the Creek. Between here and the Shindagha Museum  you may just stumble upon 'Hindi lane' where flower garlands drip from the ceilings and effigies of Krishna, Shiva and others are on sale to support the nearby Hindu temples. Head in the other direction along the Creek and you will come to Al Seef the renovated shopping, dining and entertainment outdoor mall created to revive the architecture of Emirati tradition.
Culture – SMCCU – Sheikh Mohammed Centre for Cultural Understanding, Al Shindagha Museum
Established in 1998 to reach out and educate the growing expat community in the traditions and customs of the UAE, The SMCCU arranges traditional breakfasts, lunches and dinners in a local majlis style seating for an informal chat and exchange of culture with your hosts. Try on the local Abaya (Women) and Kandora (Men) clothing and join a guided walking tour around the Al Fahidi neighbourhood. If you're here during the holy month of Ramadan, you can have the special opportunity to breakfast and attend the local mosque. There are no limits and all questions are welcomed.
Discover what life was like for the inhabitants of the Creek and the traditional Emirati society at the Shindagha museum. The state-of-the-art multimedia experience 'Dubai Creek: Birth of a City' guides visitors through the area's dramatic development over centuries, specifically those who raised families by the waterways, giving a rare glimpse into how maritime trade affected their livelihoods. Head on over to the Perfume House within the museum for a story told by scent.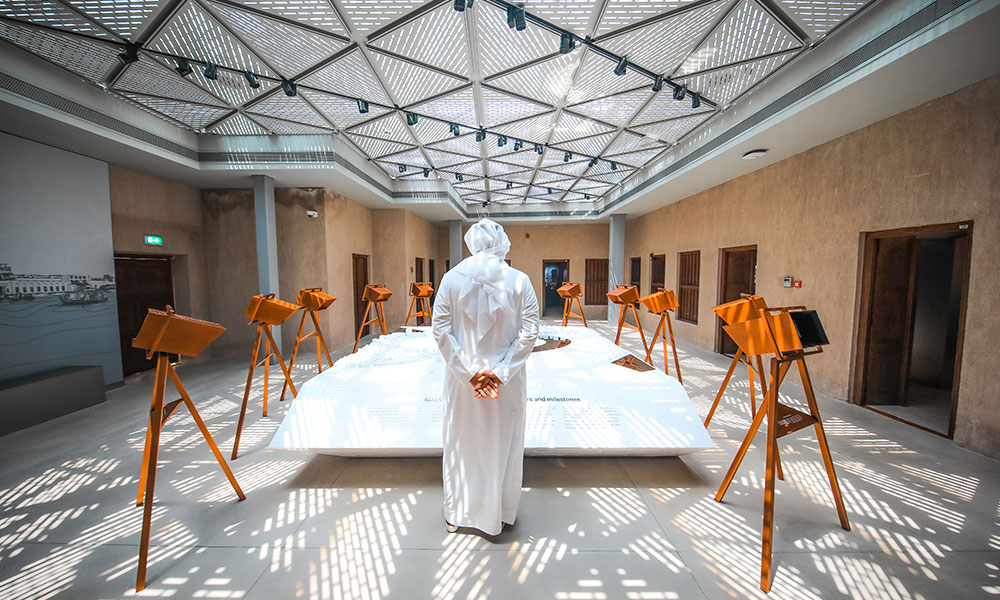 Shopping – A bargain at Karama!
The Karama souq gained popularity over the years as Dubai's go-to spot for bagging 'familiar', luxury goods without the price tag. From handbags and wristwatches to sunnies looking strikingly similar to those of Paris and Milan, but likely hailing from somewhere closer to the Far East, you can get your own at quite the bargain from Karama. Less of a stall and tent type souq and more a barrage of shops with touts outside promising the best of what's on offer. At the same time, if you're bored of owning the same high-street alternative as everyone else around you, then this would definitely be worth a look-in. There are also pashmina's a-plenty, textiles and accessories galore at the Bur Dubai Souk Market. Pick up a poufe or some hand embroidered cushion covers. The Grand Souk Deira / Spice Souk will set your senses ablaze. Get there via an Abra boat ride across the Creek for just 1AED! Bargain central.
So there you have it, Rove Healthcare City brings you a colourful and sensory-rich way to take part in the Dubai experience from an authentic perspective. Whether it's Souk-hopping or entertaining the kids, you can take your pick of ways to spend your days with little chance of ever getting bored. Cruise along the Creek or jump on the metro and sightsee big hitters like The Dubai Mall and the Burj Khalifa, just ten minutes from your room.
Have it all, knowing that you can return to rooms as full with comfort, as your days will be of stories. #Connect to our free WiFi to plan the most out of your days, unwind under your rain shower and savour the space our rooms give to accommodate for your Dubai finds! The Daily will provide you with a breakfast fit for the explorations ahead and lunch to #refuel at.