Dubai Mall attracts millions of visitors each year; about 80 million if you can believe it! This sprawling shopping arcade is filled with stores, entertainment attractions, foodie spots and everything in between. If you're looking for a hotel that puts you on the doorstep of The Dubai Mall, look no further than Rove Downtown. You'll be there in a short 5 minutes stroll from the hotel. Best hotel near Dubai Mall.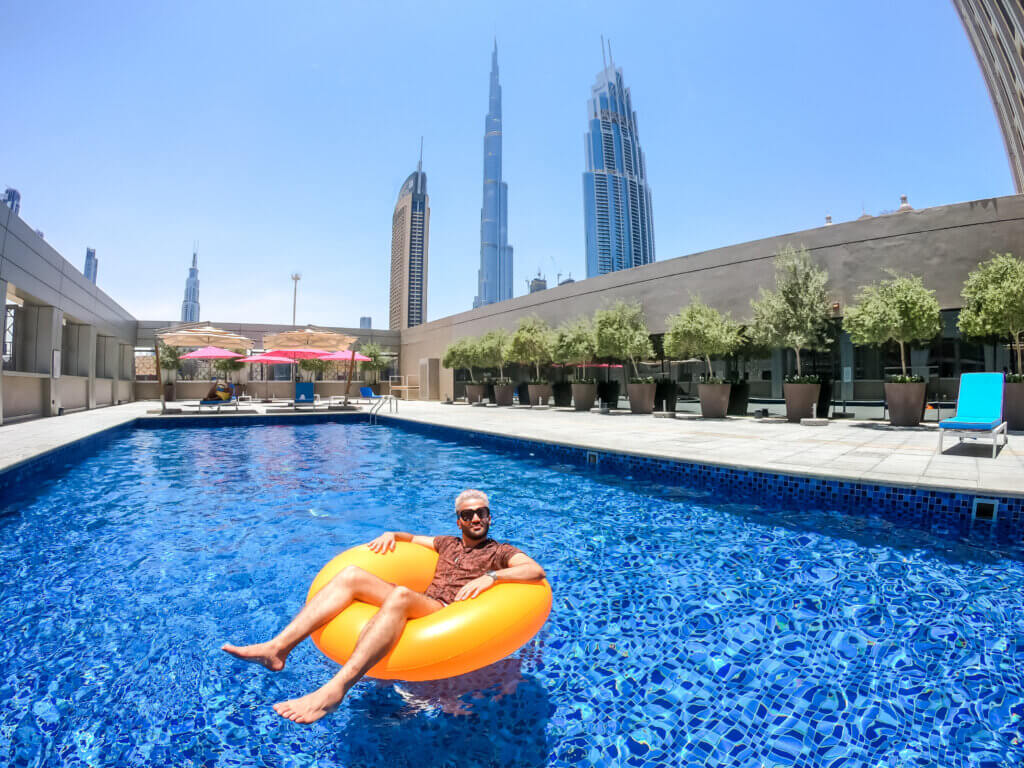 Shopping Sprees and So Much More at The Dubai Mall
Dubai Mall is the world's largest shopping destination. It's packed with stores, restaurants, and entertainment destinations for avid shoppers and leisure seekers alike. With well over 1,200 stores across 1 million square meters, there's no way you'd be able to see it all in a day, so staying close by is more than ideal. 
You can visit world-famous outlet emporiums like Bloomingdale's and Gallerias Lafayette, and head to the Fashion Avenue section where the crème de la crème of couture fashion labels reside. Put it this way: with so many options, you'll be able to window shop and spend within your budget, whether you're after designer brands or good deals.
The Dubai Mall is also the place to go to find some of the city's best in entertainment, like the Dubai Aquarium and Underwater Zoo, and the Dubai Ice Rink. There is also the Dubai Mall Waterfall, a 24-meter-tall art installation inside the mall. It features fibreglass figures diving headfirst which represent an ode to the pearl diving industry of Emiratis in the past. 
Between activities, shopping and eating to your heart's delight, you won't be running out of things to do, see and experience. When it comes to food, the options take you from fast food bites to fine dining experiences, featuring flavours from around the world.
The Dubai Mall is also a gateway to the city's other attractions. Step outside and you'll see the Dubai Fountain waiting to put on a dancing performance for you. Watch the largest choreographed fountain in action from land or from the waters on a boat. You may well want to see it all happen at nighttime too. Visitors can also waltz on over to the Burj Khalifa, the world's tallest building with incredible views of the city from atop. 
Rove Downtown, best hotel in downtown is situated in the heart of Dubai. For those wanting to experience the bucket list icons of the city, this is the place to be, with iconic locations just moments away (Dubai Mall included)!
Before and after your day out and about, feel at home in your room at Rove. Apart from the convenience of the location, we've also got the necessities and comforts to help you unwind, from an outdoor pool with stunning views of Downtown Dubai to a PS5 console for Rovers or a 24-hour gym.
If you don't get a chance to visit the cinema complex inside Dubai Mall, you can visit Rove's cinema to catch a flick, with snacks available at the hotel to keep you energised.
A room at Rove Downtown has your name all over it.  Book your stay at our hotel today.
Happy Roving!