Expo 2020 Dubai, one of the world's most anticipated events, is in full swing in the city of Dubai until the end of March 2022. The first World Expo ever held in the region brings together more than 200 participants, including 191 countries, plus millions of visitors to celebrate innovation, collaboration and provide inspiration for the future. You have plenty of time to plan your visit, and with the Rove Expo 2020 being the only hotel on-site, you get to be at the forefront of this exciting event when you stay with us. Here is your ultimate guide on what to expect at Expo 2020 Dubai.
What to expect at Expo 2020 Dubai
Expo 2020 Dubai will welcome millions of visitors from all over the world, inviting them to experience a diverse array of culture, food, technology and more. As a global gathering set in the vibrant host city of Dubai, the World Expo will allow visitors to experience a taste of Middle Eastern culture, as countries from around the globe showcase their innovations, culture, cuisine and much more.
The first World Expo was The Great Exhibition in London in 1851, giving rise to a whirlwind of thrilling showcases that have followed. Expo 2020 is the latest instalment of the World Expo series, and primed to be the best rendition yet, with visitors being able to explore a site packed with spectacular sights and immersive activities.
Rovers can gear up for thrilling displays! Inspiring the youth has been the driving force of the activities that exhibit new solutions and visions for a better future. Rovers looking to purchase tickets will be able to buy directly via the Expo 2020 website or by booking a stay at the Rove Expo 2020 Hotel (free tickets included!)situated in the heart of Expo 2020.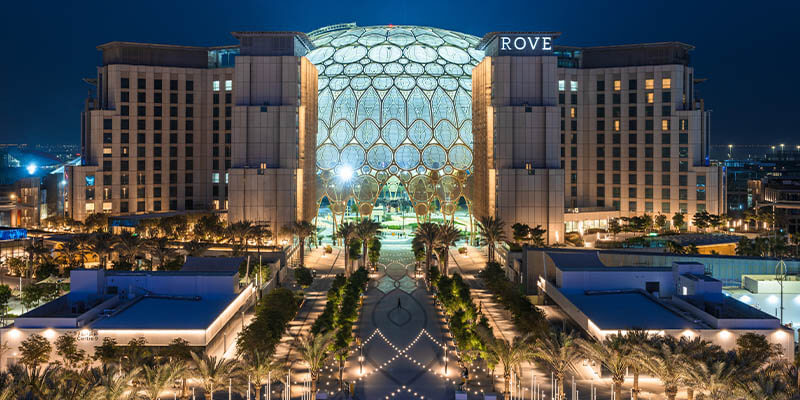 Get ready to immerse yourself in a sensory journey at the Expo 2020: question perceptions, be faced with real-life challenges (and solutions) and be inspired by personal contributions, all of which are aimed at the betterment of our world. All these immersive experiences fall under the umbrella of Expo 2020's theme, 'Connecting Minds, Creating the Future'.
Navigate your way through a world of Country Pavilions and soak up pulsating live performances from myriad global stars, and buckle up for a world of excitement as you dive into various entertainment and educational experiences. Prepare to be inspired, network with global individuals and revel in up to 60 live shows per day as you have your socks rocked off by life-changing innovations!
Your ultimate guide to Expo 2020 Dubai
Rovers can have their interests sparked at the variety of marvellous pavilions from the 191 participating countries, all of which feature an array of mind-blowing displays that exhibit and invite audiences to experience the wonders of modern-day culture and technology.
Participating countries will exhibit their innovations and achievements, designed to inspire ideas for the future. Visitors can set their sights on the world's largest 360-degree projection surface at Al Wasl Plaza, among all of the wonders! What's more Rovers, there are all sorts of international culinary creations ranging from hearty food truck dishes to culture-specific meals prepared by some of the world's best chefs – food enthusiasts, prepare those taste buds for an explosion of flavours!
Expo 2020 is the ultimate culmination of the world's most inspiring minds. It was at previous World Expos that inventions such as the typewriter, the ice-cream cone, the Ferris wheel and the IMAX cinema were first presented, so one can only imagine what will be on show at the Expo 2020!
Navigate to the UAE Pavilion, which is set to be a standout attraction designed by the renowned Spanish architect and engineer, Santiago Calatrava. It takes the form of a falcon in flight, an illustrative mark of the country's peaceful and progressive journey towards its ambitious goals.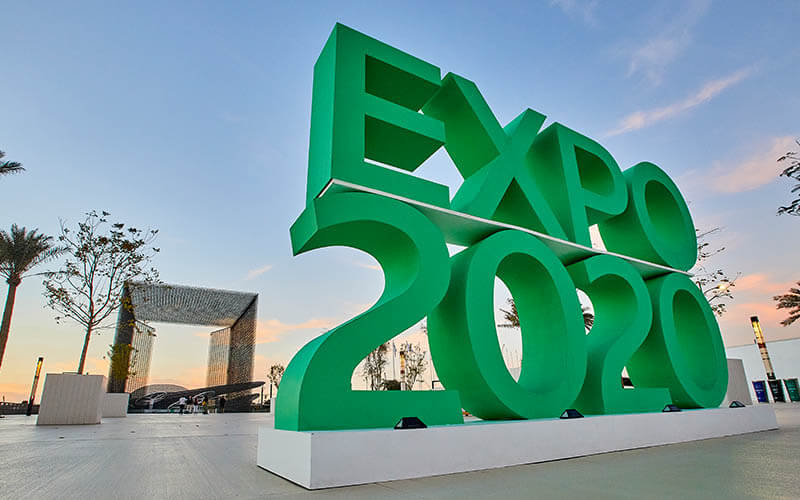 The heart of the Expo 2020 site is Al Wasl Plaza, connecting the site's three main districts: Opportunity, Mobility and Sustainability. Here's what you can expect from each of these when you visit:
Mission Possible – The Opportunity Pavilion: showcasing how even small actions can make a big impact, inspiring visitors to become a force of change, this space beckons people from all walks of life to come together and explore new ways to make a difference.
Alif – The Mobility Pavilion: take a walk through exciting technological mobility innovations spanning various ages that lead up to the possibilities for futuristic cities, artificial intelligence and robotics, spanning logistics, personal mobility, transportation, travel, digital connectivity, exploration and more.
Terra – The Sustainability Pavilion: this pavilion revolves around preserving our planet for future generations, and how everyone can play their part in creating a more sustainable world. The themes here focus on resource management, climate change, natural ecosystems, biodiversity and more.
Expo 2020 is a meeting of global hearts and minds that is set to leave a lasting impression on Dubai and the UAE, while inspiring and driving innovation among individuals and countries worldwide. With the emirate always being one step ahead, after Expo 2020 concludes, approximately 80% of its built environment will be repurposed as District 2020, a model global community for the future.
For the full lowdown on which thematic pavilions you can look forward to seeing at Expo 2020, read our blog with all the need-to-know details here. If you want to be fully immersed and at the centre of all these exciting events, make an inquiry and book a stay at the Rove Expo 2020 hotel. Now that you have Your Ultimate Guide to Expo 2020 Dubai – What to Expect, take full advantage with your front-row seat to this exciting event when you stay with us. Happy Roving!