Gear up for the plethora of leisure and entertainment activities that await in Dubai while staying at one of Rove's hotels in Sheikh Zayed Road! Rove City Walk is right on the doorstep of Dubai's main highway that takes you wherever you need to go in the city while also famously connecting all 7 Emirates. Continue reading for exciting things to keep booked and busy on the eclectic and scenic route of Sheikh Zayed Road!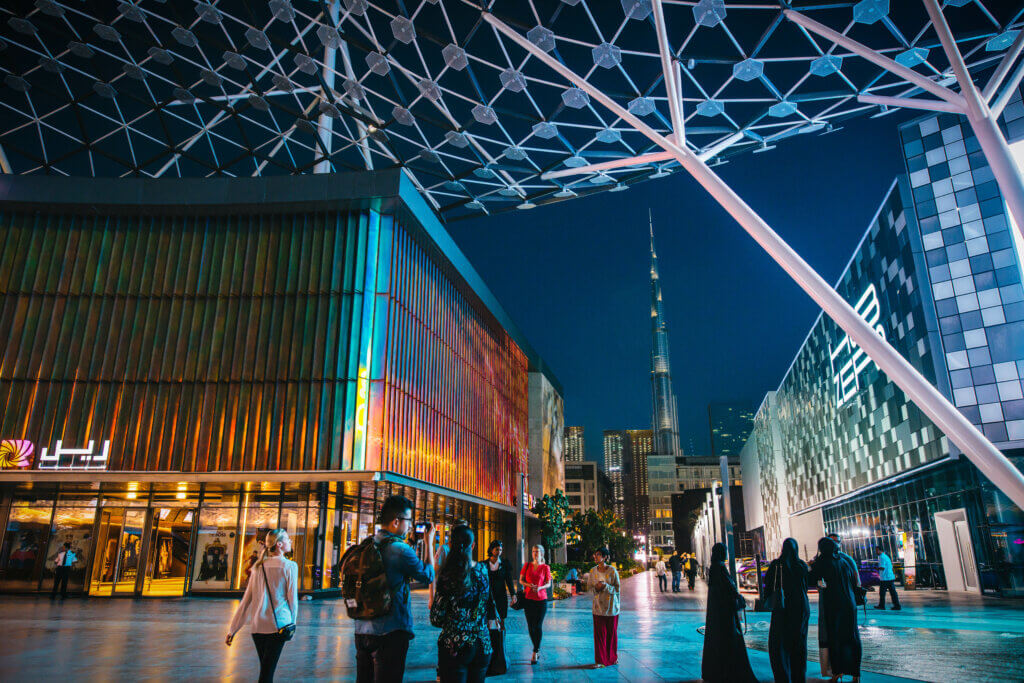 Where to Stay Near Sheikh Zayed Road
Being able to enjoy the entertainment and leisure attractions on Sheikh Zayed Road is only ever done right when you opt for accommodation nearby. Being just around the corner from this bustling highway means that Rove City Walk is technically one of the hotels in Sheikh Zayed Road. Staying at Rove's urban and artistic hotels means you get all the comfort you could want, minus the hassle of sitting in congested traffic for a long ride back to your hotel.
Rove City Walk boasts an ideal location for its wow-factor architecture and surroundings. The hotel's design was inspired by its local environment and the concept of storytelling through art. Modern travellers who visit Rove City Walk can enjoy its connectivity to the rest of Dubai, with the hotel being just 15 minutes away from the Dubai International Airport, and within reach of the iconic Coca-Cola Arena and the trendy Jumeirah Beach.
After a long day of painting the town red, head back to the hotel for a delectable meal at The Daily all-day dining restaurant on-site before retreating to your designer mattress to catch some well-deserved Z's. Your uber-stylish hotel room also features a mini-fridge, power rain shower, high-speed WiFi and other conveniences to make you feel at home. Get ready to reimagine Sheikh Zayed Road by making Rove City Walk your hotel of choice!
Must-Do Activities along Sheikh Zayed Road
Once you're all settled in and ready to traverse the streets—or should we say "street"—of Dubai, psych yourself up for these enthralling attractions you've got to visit on Sheikh Zayed Road:
1. Ski Dubai
Yes, you read that right! Ski Dubai is a ski resort right in the middle of the scorching hot desert, and also one of the most exciting places to visit. As one of the largest indoor ski resorts in the world (no surprise there), you'll get to slide your way across a frozen zipline, ride a bobsled, play with the penguins, build a snowman, and actually ski, of course. There's something for everyone at this world-class destination – and you get to people-watch from the inside too! You can find it inside the Mall of the Emirates (believe us, you won't miss it).
2. Dubai Marina Mall
Shopping enthusiasts will love this modern addition to Sheikh Zayed Road. Boasting a breathtaking waterfront location, Dubai Marina Mall is light and airy, and a relaxed shopping reprieve from the usual busyness of other malls in the city. As one of the many Emaar malls in Dubai, this shopping location sports the best views of the Dubai Marina and welcomes all shopaholics to peruse its eclectic mix of high-street fashion outlets and affordable brands. Grab a delightful lunch at one of the many waterfront eateries or enjoy a relaxing boat ride along the marina after traversing its stores.
3. The Museum of the Future
Enter into The Museum of the Future to discover possible future realities! Rove your way through various exhibitions that explore how technology could unfold in the future. With the aim of inspiring a stronger global economy and improved humanity, this landmark destination invites Rovers to enjoy an immersive experience with its interactive displays.
4. Gold & Diamond Park
If you believe that diamonds are a girl's best friend, then the Gold & Diamond Park is certainly a sight for sore eyes. This treasure-trove hosts some of the world's finest precious stones, jewellery, high-end personal accessories and more. Admire the jewellery and billions worth millions, or choose to custom-make your very own design at the hands of the expert artisans, if you can afford to! This iconic location draws in locals and tourists alike to marvel at the plethora of shiny objects it houses, so be sure to grab a coffee at one of the food and beverage outlets on-site and traipse this showstopper of a destination.
5. Take in the skyscrapers
It goes without saying that Sheikh Zayed Road is brimming with awe-inspiring skyscrapers that tower over the bustling cityscape. The Dubai skyline has continued to swell over recent years, with the undisputed Burj Khalifa claiming the spot as the world's tallest tower. However, there are many other notable buildings that are worth keeping a lookout for.
6. Reimagine the past, present and future at Dubai Frame
The Dubai Frame is an iconic structure that "frames" old and new Dubai, bridging together the past, present and future developments of the city's incredible transformation. A visit to the Dubai Frame is an absolute must, allowing you to take in the breathtaking panoramic views of the city as you witness a celebration of Dubai's transition from its humble origins to the booming metropolis that it is today, plus a showcase of its ambitious future developments.
7. Venture into the Dubai Creek
A trip to Dubai's historic natural saltwater creek has got to be on your must-visit list. Once the lifeblood of locals, Dubai Creek is where the city's very first port and pearling industry thrived. Explore old and new Dubai aboard an abra, a traditional water taxi, by purchasing a one-way ticket, or rent one for an hour to explore the waterway even further. Look forward to soaking up the scenic views of the city's traditional houses, wind towers and more, all of which are starkly contrasted by the glass facades and other modern-day buildings that represent contemporary Dubai. Fun fact: abra translates to "to cross" in Arabic!
Sheikh Zayed Road is both the gateway to the 7 Emirates of the UAE and a prime location for exciting activities suited to leisure and entertainment. It is also the road that takes you from one point of the city to the other, helping you get to just about anywhere in Dubai. Whether you decide to get your glam on at the Gold & Diamond Park, immerse yourself in futuristic ideation at The Museum of the Future, or take advantage of the easy access to downtown Dubai via Sheikh Zayed Road, there is plenty to see and do from the doorstep of your Rove City Walk hotel room near this iconic strip.
Book your Rover room at the illustrious Rove City Walk today for the most convenient stay at hotels in Sheikh Zayed Road, with access to all the attractions that invite you to play and enjoy your time in Dubai!