Get your fill of Action Adventure Sports when staying at a Rove Hotel in Dubai
Swoop, dive, fly, zip, speed, jump and soar your way through Dubai's most action-packed extreme adventure sports. Depending on your fight-or-flight response, the thought of jumping out of a plane or speeding in a supercar will either fill you with dread or have you itching for the nearest runway. If you belong to the latter of the two and prefer your dopamine-induced to Dubai proportions then this list is for you. We have scoured the sands and scaled the skyscrapers for this Emirate's most heart-racing offerings all of which are available from a Rove hotel near you.
DOWN ON THE DUNES – DUNE BASHING / SANDBOARDING / DUNE BAGGIES
Beat the sands of time with these desert-based high-speed activities. Dune bashing is an Emirati right of passage and suitable for daredevils as young as just 3yrs old, making it one of Dubai's adventure sports most loved by families that seek thrill together. Peak and dip the sand dunes at speed in a robust and reinforced SUV with its own qualified dune bashing driver. There are loads of 'desert safari' options that include pick-up & drop off with an Arabic inspired buffet and dinner entertainment. Ask one of our Rovesters for more info.
Need to know: As a special off-roading driving license is required for dune bashing, visitors can expect to be taken on the ride of their life by a qualified and capable driver.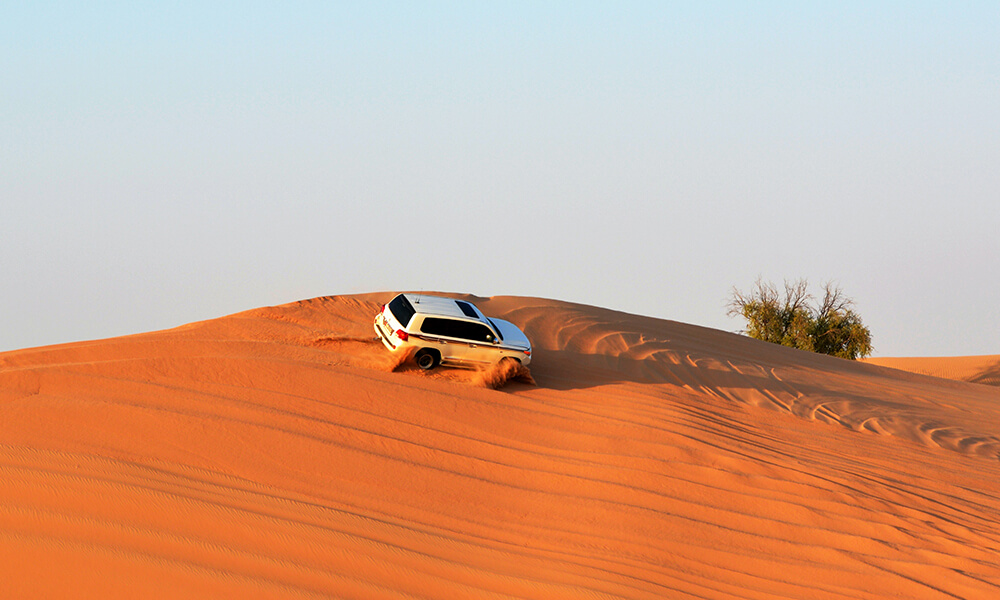 If you'd prefer more control over your desert conquering then perhaps a drive-your-own dune buggy or quad bike experience is more your style. Dune buggies have come a long way in the last ten years and Dubai has an impressive collection to choose from for the petrol heads out there. They can be super easy to operate with top safety considerations in place. Also, with the right paper-work in place, you can even find rentable 4×4's for desert driving at your own leisure.
Need to know: Passengers can be as young as 5yrs old and drivers should be 16yrs+ depending on height & weight.
Or traverse the Arabian desert by foot, dashing down the steep sandy slopes on a sandboard. Test your balance and stamina with this adaptation of its bigger sister, snowboarding (which you can also do in Dubai ) on sand dunes ranging from 100-30 meters high. Many desert safari tours offer sandboarding as a part of their package so make sure to ask if this is included before you book.
Need to know: Sandboarding is open to all ages .
SKY HIGH – HOT AIR BALLOON / ZERO GRAVITY / ZIP LINING
From down on the terra firma to soaring high above it, Hot Air Ballooning is a serene but exhilarating, once-in-a-lifetime experience 4,000m above the ground. Get a bird's eye view of the Burj Al Arab, and Burj Khalifa as the day breaks the dawn. Packages include a spot of falconry and even an overnight stay if preferred. Although experiences include a pick-up and drop-off service, staying at Rove Dubai Marina will reduce your travel time to the site. 
Need to know: Flights are dependent upon weather conditions and all take off very early in the morning for optimum conditions.
There are many ways to get an aerial view of Dubai, but hurtling face-first towards the ground isn't one recommended for the faint-hearted. Yet sky diving in Dubai remains one of the most epic action-adventure sports in the Emirate. As your plane climbs 13,000 feet into the air you'll have just enough time to summon the courage to jump out of it. Capture post-card perfect views of The Palm Jumeirah in this free-fall of your life and even get the chance to record it all on GoPro for supreme bragging rights with your friends and family with your own take-home recording to relive the memory time and time again. Just remember to give your Rovesters at Rove Dubai Marina a wave as you abseil serenely to your drop zone at the edge of the Arabian Gulf.
Need to know: To ensure availability, it is recommended that you call to book your slot well in advance of our visit. However, Sky Dive Dubai do have a wait list for last minute drop-ins.
Another Extreme sport for those with a head for heights is Zip Lining. As the country to break Guinness World Record of the longest zip line in the world just outside of Dubai in Jebel Jais, the UAE features top on zip-liners bucket lists for aerial flying at its best. Get your zip wire wings with the Xline Zipline's urban edition of the adrenalin-filled sport in Dubai Marina. Launch from 170 metres up from the JBR side of the marina, reaching speeds of up to 60km/hour on a full kilometre ride over the waterway down to the Marina Mall. Riders can zip on a double ride together or on their own, anyone not taking the plunge could always grab a cold drink and watch from the promenade as you zoom overhead. Stay at Rove Dubai Marina for a walk away from the thrill or at Rove City Centre, which is finest hotels in Deira Dubai as a close base for day-tripping to Jebel Jais.
Need to know: Xline Dubai is closed Tuesdays and Wednesdays and can be easily booked online. Zip Liners must be between 12 to 65 years of age.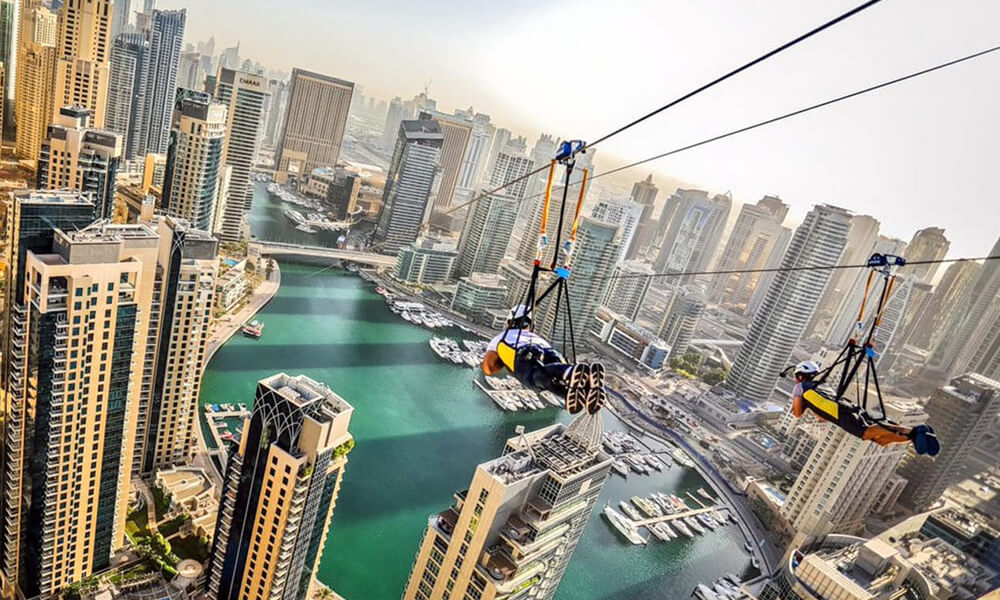 NEED FOR SPEED – SKI DUBAI / DUBAI AUTODROME / MOTIONGATE
Master the slopes at sub-zero temperatures in Ski Dubai. The first indoor slopes of their kind, with 5 slopes of varying difficulty stretching as long as 1.5 km – including the world's first indoor black diamond run with a quad & tow lift to help you to the top of the drop. Within this indoor extravaganza just 15 minutes from both Rove Downtown and Rove Dubai Marina, best hotel in Dubai Marina based in the Mall of The Emirates, you can brush up with some skiing lessons or go at it alone. There are lots of fun additions to the speedy ski slopes including a snow park with other adventure activities such as a sled and toboggan run, an icy body slide, climbing towers, zorbing snowballs and an ice cave. Ski Dubai also houses a few breeds of penguins that are available to meet and feed.
Need to know: All equipment including skis, snow suits, gloves, boots etc. is provided – handy considering most of you probably packed for warmer weather.
Give Hamilton and Schumacher a run for their money living out all your racecar driving dreams at the Dubai Autodrome. You will put every Playstation experience to shame learning how to drift and climbing the leader board behind the wheel of a goliath supercar like a 570 BHP Ferrari GT and a few others. If the Easy Drift or Prodrift Academy Experience feels like a few too many steps ahead, you can still experience white-knuckle speed from the passenger's seat with a professional instructor in the Hot Lap Experience. Stay at Rove Dubai Marina for a swift 15-minute journey to the track.
Need to know: The Autodrome is open from 8 am-midnight giving you ample opportunity to put the peddle to the metal.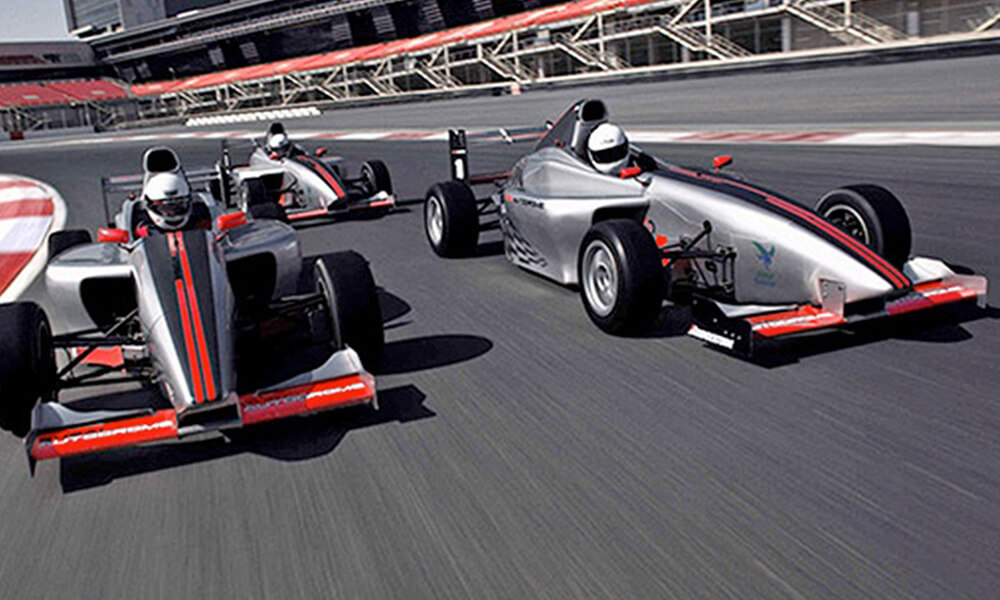 If you or anyone in the family is a roller-coaster reveller, then Motiongate Dubai is a one-stop-shop of adventure-filled entertainment that caters to thrill-seekers and dare-devil of all sizes & levels. Rip through tunnels, drop to the depths or twist and turn at near break-neck speed in this movie-themed theme park. You'll want to spend at least a whole day here enjoying the attractions and sampling the wondrous food options available to settle the butterflies in your belly. Rove At The Park is as close as you'll get to staying directly inside the park with all you Rove perks thrown in.
Need to know: Not all rides are suitable for all ages and depend upon size of the child. Lowest restriction rides are for kids measuring at least 95cm.
WET & WILD – FLYBOARDING / KITE SURFING / FEEDING SHARKS
Fulfil all your childhood superhero dreams, levitating by jet-stream out of the sea up to the heavens. Flyboarding is one of the newest and most extreme water sports to hit Dubai shores, which allows you to fly like a Silver Surfer over the waves. Strapped with to super-jet, control your elevation and maybe you'll have what it takes to loop-the-loop and perfect some impressive acrobatics through the air, over the water. Ask one of our Rovesters at Rove La Mer Beach hotel for the neighbourhood go-to of flyboarding.
Need to know: Visitors to Rove Dubai Marina will also find nearby Flyboarding experiences at JBR Beach. Ask a Rovester for more info.
Let the wind blow through your hair and against your sails taking you speeding 20mph over the sea, skimming the water below and taking flight above the waves whilst you hold on tight to your kite! Kite Surfing is a Dubai past time with a beach of its own that is totally dedicated to it. With the Burj Al Arab as your background, you can rent equipment and take a few lessons taking you from novice to hero in a few hours. Ask one of our Rovesters at any Rove Hotel for more info.
Need to know: A minimum number of hours is usually required before flyers can take equipment into the water on their own. Check with our Rovesters for rental and teaching centres nearby.
Who would have guessed that one of the most thrilling nature adventure activities could be found in a mall, the biggest mall in the world in fact! The Dubai Mall offers visitors the chance to swim amongst one of the most majestic aquatic predators known to man – the shark. Descend into the shark-infested waters of the largest indoor mall aquarium to Shark Dive for feeding time. With the largest collection of Sand Tiger Sharks in the world, alongside over 33,000 aquatic species in the tank, you can also suit up and learn to scuba through an impressive array of wildlife for a short diving course. Rove Downtown, hotel in downtown is just a two-minute walk across the road from this mega mall giving you the chance to grab a bite to eat at Fridays in the hotel, right before you offer one.
Need to know: All interactive Aquarium activities including shark diving is reserved for children ten years and above.
If your palms aren't sweaty, your heart isn't racing and your knees haven't moved a quiver at the mere thought of embarking upon one of these adventures, then Rove certifies you as a Dubai ready adrenalin junkie. So whatever your thrill level, we hope you'll be ticking off a few from this list for your next Dubai trip. With so much scattered throughout this city near a Rove Hotel, we can't wait to hear all about it.
1-2-3 – Go!