The best beach hotels in Dubai offer guests views of the Arabian Gulf to wake up to, along with all the perks of a seaside holiday. Rove Hotels has two beachfront properties, with one situated in the dazzling La Mer neighborhood and the other in the cool Dubai Marina. Here's your guide to finding the perfect beach hotel for you.
There is nothing like a trip to the beach. In Dubai, the beaches are calm and the waters are warm. With the sand beneath your feet and the sunshine on your skin, you can spend your time lounging along the shoreline and taking dips in the waters. If this sounds a little too laid-back for you, fret not, for there are many water activities too!
Trips to the beach in Dubai are an extra special treat where you can cool down from the Middle Eastern temperatures. Beachgoers can relax in a private cabana or unwind in a sun lounger. You'll even have the backdrop of the iconic skyline framing your experience. Staying close to the beach is a great option for those wanting to rest in the midst of the calmer side of the city without being too far from the thriving heart of Dubai. 
Best beachfront hotels in Dubai
The best beach hotels in Dubai are ones that are close to the ocean waters and welcome guests to an unforgettable trip. There are two Rove Hotels located at Dubai's beaches, each offering an affordable, comfortable and convenient base for your seaside adventure. 
If you're looking for a serene beach escapade, La Mer is the place to be. Palm trees guide you to the shores of this exclusive neighbourhood. Get ready to tan on the sandy beach or swim in the calm waters. You'll also be on the cusp of Jumeirah Sunset Beach, which features a dedicated section for surfers. 
La Mer is known as one of Dubai's best beach areas, with nearby water parks (hello, Laguna Waterpark) if you're looking to up the ante of waterspouts. Go from the homely hygge decor of the Rove Hotel to the stunning selection of dining options along La Mer's beachfront, at a discounted rate of 20% for Rove keycard holders.
There's plenty to do outside of the waters in La Mer too, including shopping at the nearby City Walk and Mercato Mall. To experience the cultural side of Dubai, head over to the Etihad Museum and the nearby historical Satwa neighbourhood.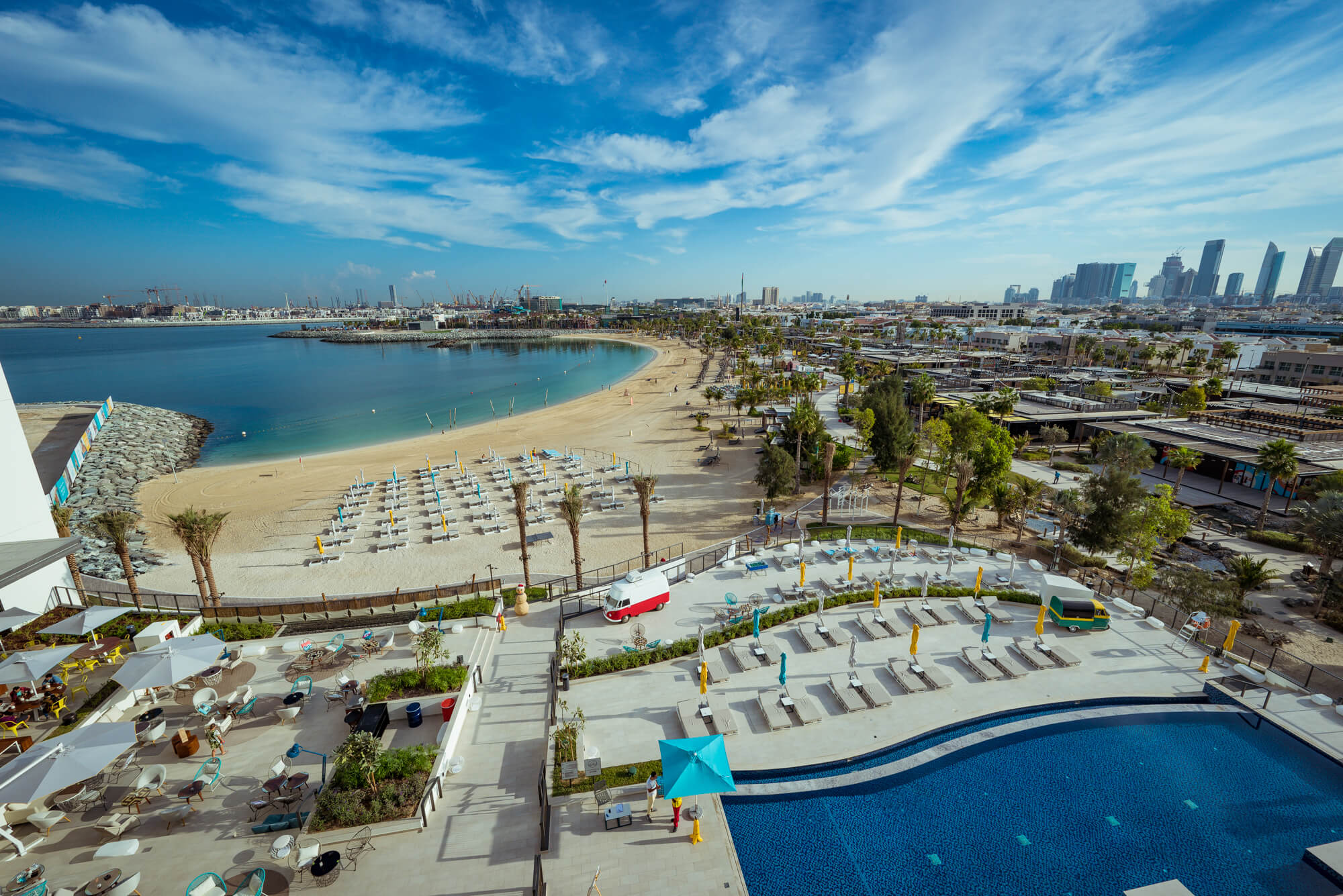 For a high-end beach escape, head to Dubai Marina. Here, you'll find one of the best and most expensive beaches in Dubai, with waters brushing up along the white sandy shore. There are lifeguards on duty, so this is a great choice for a safe swim with the whole family. 
Staying at hotel in Dubai Marina, you can partake in all kinds of adrenaline-inducing activities and also shop to your heart's content. Hop on Ain Dubai, the world's largest observation wheel located nearby, and the famed Palm Jumeirah. You can shop at the Dubai Marina Mall and spend your time dining along the promenade. 
Dubai Marina is known to offer a luxurious seaside vacation, with a flurry of yachts lining the Persian Gulf waters. Picture yourself in a private cabana with Dubai's skyscrapers behind you and an occasional camel crossing your otherwise uninterrupted ocean views. 
For an all-encompassing visit to Dubai's best beaches, you can visit Mercato Beach for quiet relaxation, Black Palace Beach as the secret gem of your trip, and Jumeirah's Palm West Beach for a pet-friendly option.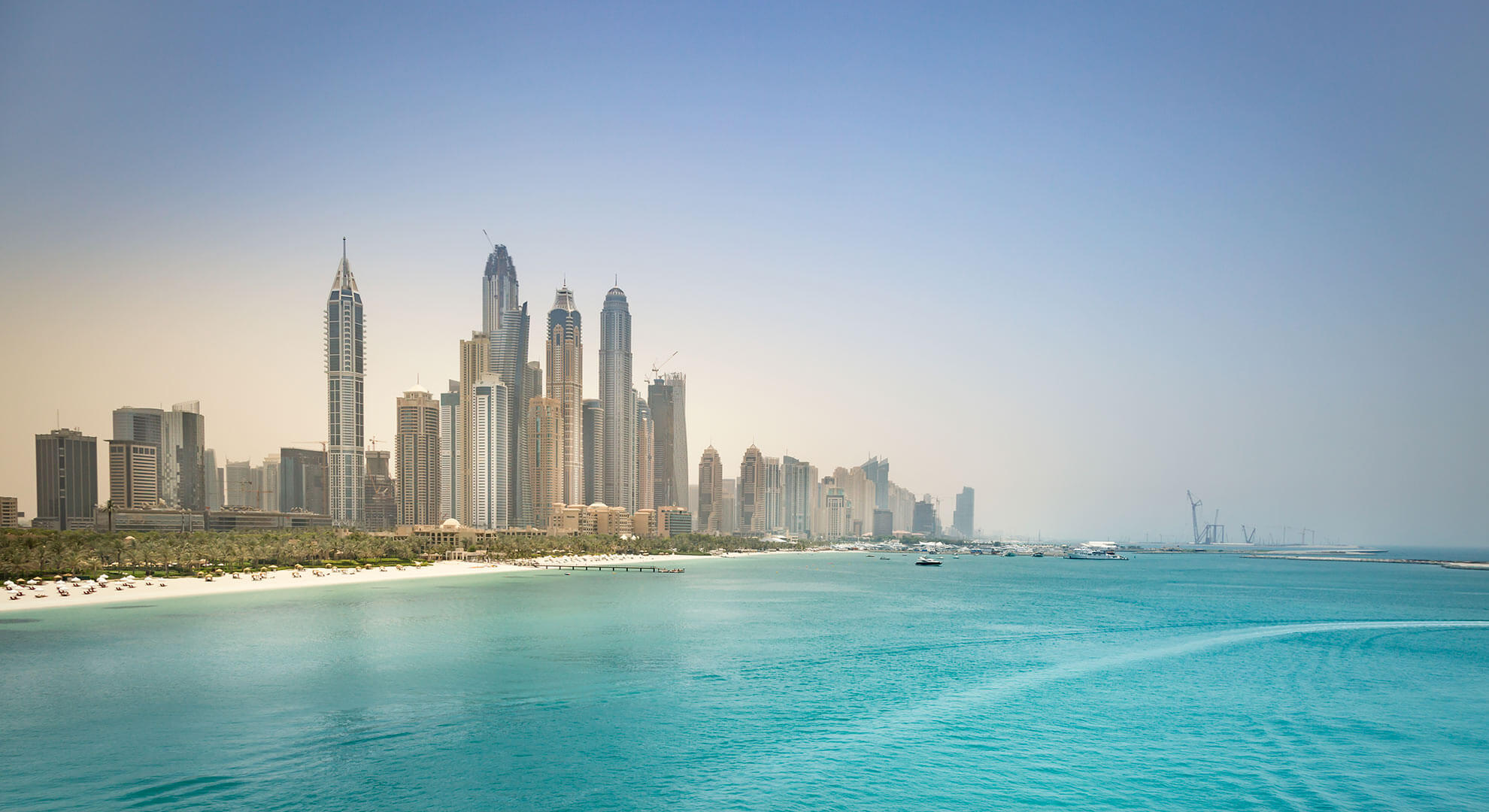 Rove Hotels near the beach
All Rove Hotels offer well-fitted and kitted Rover Rooms perfect for solo travellers and families alike. Start your day with a delicious breakfast at our on-site restaurant, The Daily, before heading out. While you're having fun, we'll keep your room tidy so that, by the time you return, you can simply tuck into the comforts of a power rain shower and designer mattress. 
If you need to work during your trip, there are co-working spaces where you can plug in and get productive, while fitness lovers can make use of our 24-hour gym. Other amenities include laundromat services and interconnecting rooms, with flexible check-in and check-out times upon request. 
That wraps up your introduction to the best beach hotels in Dubai. 
Book your stay with us at Rove Hotels and get ready to make a splash along the coast of this ever-sunny city.